Idea Nirvana Postpaid is now Vodafone RED Postpaid
Estimated reading time: 2 minutes, 21 seconds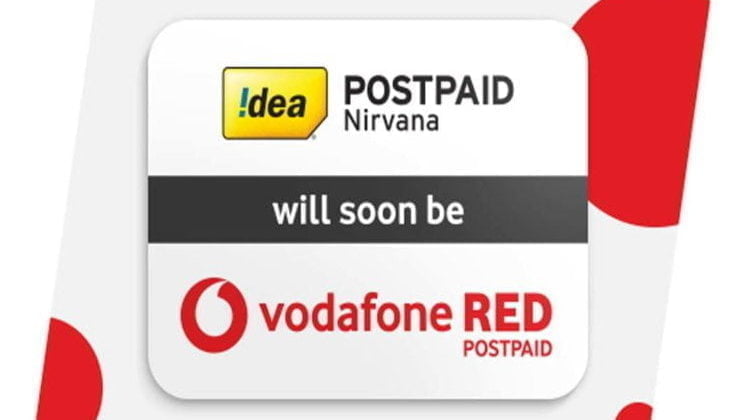 Idea Nirvana to Vodafone RED postpaid migration which kicked off earlier this year in March has finally finished with the last phase seeing 9 telecom circles shifted onto the RED brand. Idea Nirvana customers in Delhi, Maharashtra & Goa, West Bengal, Kolkata, Assam & North East, Uttar Pradesh (West), Uttar Pradesh (East), Madhya Pradesh circles have become a part of the Vodafone RED family.
The Idea customer website continues to state that 'Idea Nirvana will soon be Vodafone Postpaid RED' in the above 9 telecom circles however OnlyTech reader Avinash Meena has confirmed the migration earlier this morning. The reader belongs to Madhya Pradesh and Chattisgarh telecom circle and has been migrated to Vodafone RED. Avinash further elaborated that the migration started on 28th June at 4 PM and ended on 29th June at 6 AM.
Separately, multiple Idea Nirvana customers migrated to Vodafone RED have confirmed the migration on Twitter today. Most of the migrated customers in the last few weeks have been critical about the issues being faced by them due to the migration.
Vodafone Idea had initially planned to wrap up the entire migration by May 11 but due to COVID-19 has had to reschedule its entire timeline for migration of circles. There has been a delay of more than 30 days in migration in each phase putting Vodafone Idea's deadline target by over 45 days.
Under the migration, the number of the customer, plan benefits, and SIM remain the same. Migrated customers get additional benefits such as exciting plan options like REDX, and International Roaming across 80 countries among others.
| | | | | |
| --- | --- | --- | --- | --- |
| Phase | Initial Date | Revised Date | Telecom Circles | Status |
| Phase 1 | 9 March | – | Mumbai | Done |
| Phase 2 | 6 April | 11 May | Gujarat, Bihar, Himachal Pradesh, Haryana, Jammu and Kashmir, Odisha, Punjab, and Rajasthan | Done |
| Phase 3 | 20 April | 8 June | Karnataka, Tamil Nadu, Kerala, and Andhra Pradesh | Done |
| Phase 4 | 11 May | 29 June | Delhi, Maharashtra & Goa, West Bengal, Kolkata, Assam & North East, Uttar Pradesh (West), Uttar Pradesh (East), Madhya Pradesh | Done |
An Idea Nirvana customer on Twitter expressed his angst against the conversion of Idea Nirvana to Vodafone RED without the customer's consent. The customer belonging to Dhule region in Maharashtra comes under the Maharashtra & Goa telecom circle which was migrated to Vodafone RED in the last phase of Nirvana to RED migration.
Another Idea Nirvana user from Maharashtra and Goa who was migrated to Vodafone RED earlier today expressed his displeasure against his SMS and calling benefits becoming zero. Maharashtra and Goa circle includes the entirety of Maharashtra and Goa state except for Mumbai which is a standalone telecom circle, while Dhule comes under the Maharashtra and Goa circle.
Multiple other migrated customers have been vocal on Twitter due to issues faced by the migration. Whether Vodafone Idea manages to address the concerns of the migrated customers remains to be seen.