Vodafone Idea is soon going to ramp up its integration of Idea Nirvana Postpaid customers into Vodafone RED Postpaid with multiple banners live on Idea website informing the users about the migration. While a few days back, we had reported about the migration in 8 telecom circles, we have now across multiple announcements for 19 telecom circles which would just leave 2 telecom circles for migration.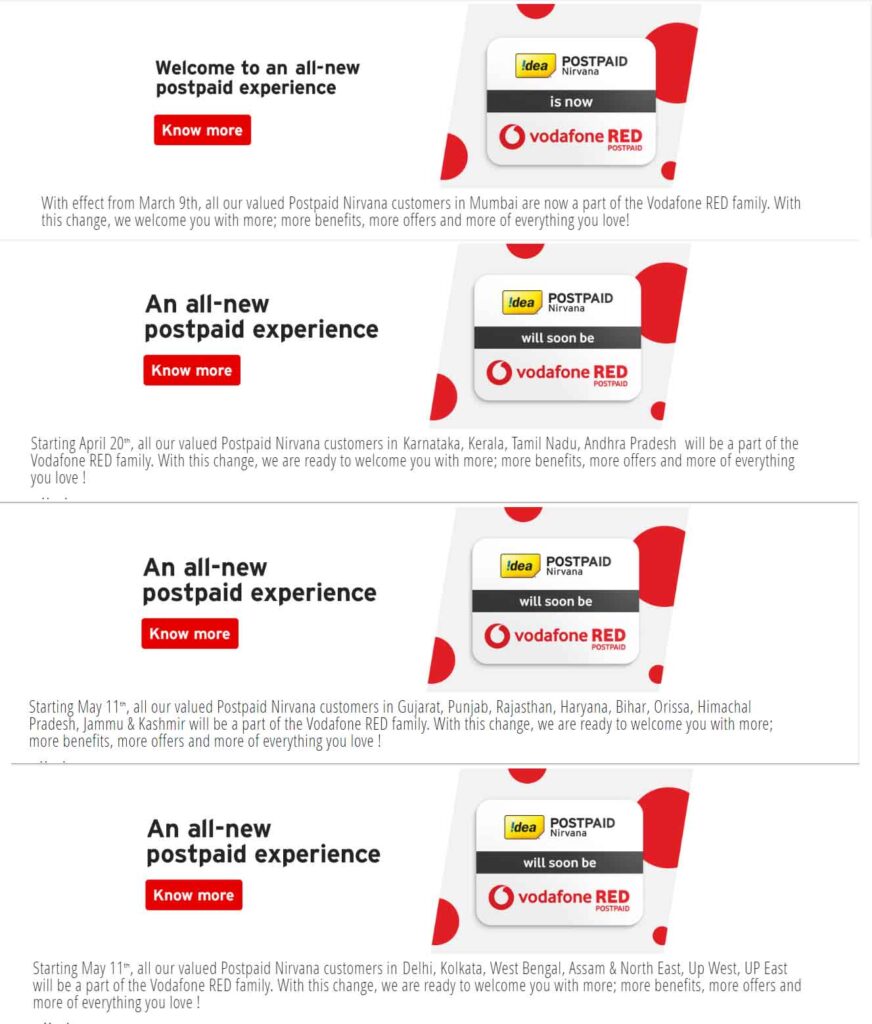 According to listings on the website, the Phase 2 migration in Gujarat, Punjab, Rajasthan, Haryana, Bihar, Orissa, Himachal Pradesh, and Jammu & Kashmir will happen on April 11 as reported earlier. The initial migration date according to a Google Snippet of the page was April 6 as we had noted in an earlier article.
Phase 3 migration starting April 20th will migrate Idea Nirvana postpaid customers in Karnataka, Tamil Nadu, Kerala, and Andhra Pradesh. Phase 4 migration starting May 11th will see Delhi, Kolkata, West Bengal, Assam, North East, UP West, and UP East Idea Nirvana customers latched onto Vodafone RED.
| | |
| --- | --- |
| When | Where |
| March 9 | Mumbai |
| April 6/May 11* | Gujarat, Punjab, Rajasthan, Haryana, Bihar, Orissa, Himachal Pradesh, Jammu & Kashmir |
| April 20 | Karnataka, Kerala, Tamil Nadu, Andhra Pradesh |
| May 11 | Delhi, Kolkata, West Bengal, Assam & North East, UP West, UP East |
| Remaining | Maharashtra and Goa & Madhya Pradesh |
Idea Nirvana Postpaid to Vodafone RED Postpaid Migration Schedule
*Phase 2 migration was initially on April 6 which was put back to May 11
Mumbai as Vodafone had announced in February was the first city for migration which finished on March 09. These migrations are in line with the Vodafone announcement back then which had stated that the migration would be in a phased manner across cities in the next months.
"Beginning with Mumbai, this initiative will be rolled out in a phased manner to cover all circles over the next few months," Vodafone Idea said in February.
Phase 2 migration is yet to start which has been confirmed to OnlyTech by our community user Manu who resides in Gujarat. There is no clarity on Phase 3 as to whether it started or not. It is highly likely that the coronavirus pandemic might have thrown a spanner into Phase 3 as well given Phase 2 is affected.
Once these 3 Phases are finished, only two circles will be left for migration. 'Maharashtra & Goa' and 'Madhya Pradesh' are two lone circles wherein Idea Nirvana to Vodafone RED migration is yet not scheduled. Notably, Idea does offer its postpaid services in these circles as well, so we might see the migration in the last phase.
As of now, Mumbai is the lone circle wherein Idea website labels 'Idea Nirvana is now Vodafone RED' notice. One can expect Vodafone Idea network integration and Idea Nirvana to Vodafone RED migration to pick up pace after the situation improves across the country.