FTTX to grow from 3 Mn to 100 Mn in next 3-4 years: Tejas Networks
Tejas further expects deeper fiberization by Indian telecos who will prepare for the 5G rollout in 2022.
Estimated reading time: 1 minute, 32 seconds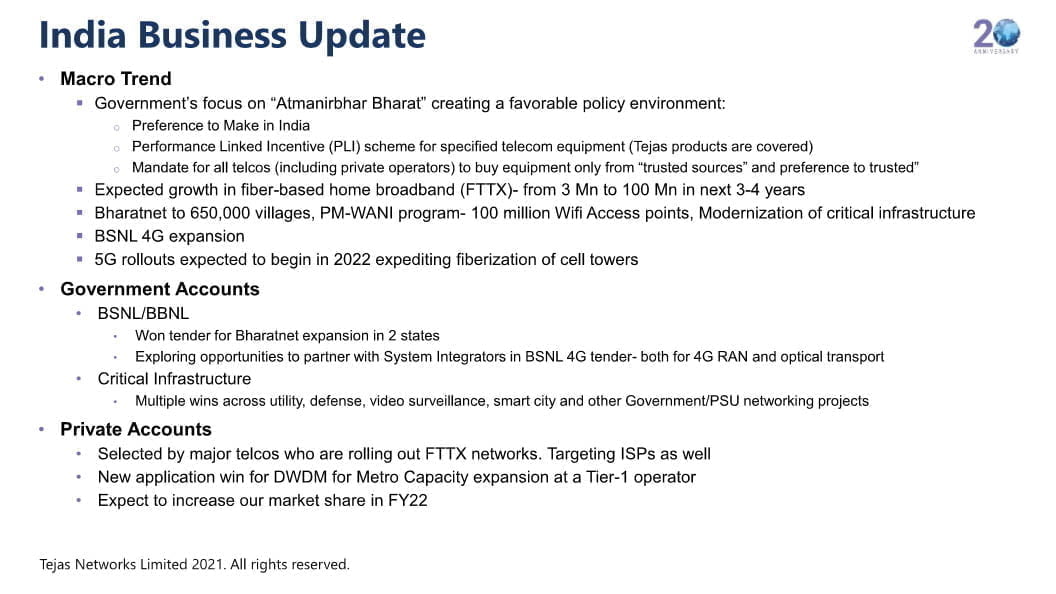 Domestic telecom manufacturer Tejas Networks earlier this week said that the expected growth in fiber-based home broadband (FTTX) will rise from 3 Mn to 100 Mn in the next 3-4 years with 100 million homes expected to be fiberized which would include $3 billion in cumulative investment. COVID-19 has accelerated the adoption of fiber broadband services globally with xPON emerging as one of the cost-effective options for business connectivity, small-cell backhaul, and campus network.
Tejas further expects deeper fiberization by Indian telecos who will prepare for the 5G rollout in 2022. The roll-out of 5G would expedite the fiberization of cell towers.
Tejas has been selected by major telecos who are rolling out FTTX networks and is targeting ISPs as well. The company expects to increase its market share in FY 22 with a new application win for DWDM for metro capacity expansion at a tier-1 operator. Tejas continued with new wins for FTTX applications- both for OLT and ONT, across telcos and ISP.
Tejas is also vying for the impending BSNL 4G expansion. The company is exploring opportunities to partner with system integrators in BSNL 4G tender for both 4G RAN and optical transport.
The BharatNet expansion to 650,000 villages, modernization of critical infrastructure, and PM-WANI program aiming at 100 million WiFi access points are interesting propositions for Tejas. The company won tender for BharatNet expansion in 2 states during Q2 FY 21 apart from multiple wins across utility, defense, video surveillance, smart city, and other Government/PSU networking projects.
Tejas has been boosted by the Government of India's sectoral policy decisions giving it a strong tailwind with immense opportunities' for Tejas to increase market share in India through application wins. The government's focus on 'Atmanirbhar Bharat' has given preference to Make in India, PLI scheme for specified telecom equipment, along with mandate for all telecos to use equipment from trusted sources and preference to be trusted.