Airtel Xstream Fiber 'Invite Now' cities down to 145
Estimated reading time: 1 minute, 32 seconds

Telecom giant Bharti Airtel has further fine-tuned the number of cities on its radar for potential expansion with only 145 cities now allowed to currently 'Invite' Airtel Xstream Fiber to their neighborhood. Airtel has over time scaled down the number of cities which initially started with over 650 plus cities at the start of the 'Invite Now' proceedings back in May.
Basti, Budaun, Dindori, Etawah, Kurnool, Lakhimpur, Nellore, Rewari, and Vizianagaram were moved to launching soon status back some time when we had reported that over 60 plus cities were on Airtel Xstream Fiber radar for immediate expansion.
Khutsokhuno and Modinagar are two new cities that have been added over the last 2 months to 'Invite' Airtel Xstream Fiber to their neighborhood. Nagpur, Patna, and Srinagar which earlier had the 'Invite Now' tag now no longer have any of the launching soon or 'Invite Now' tags indicating that Airtel has launched their services in those areas.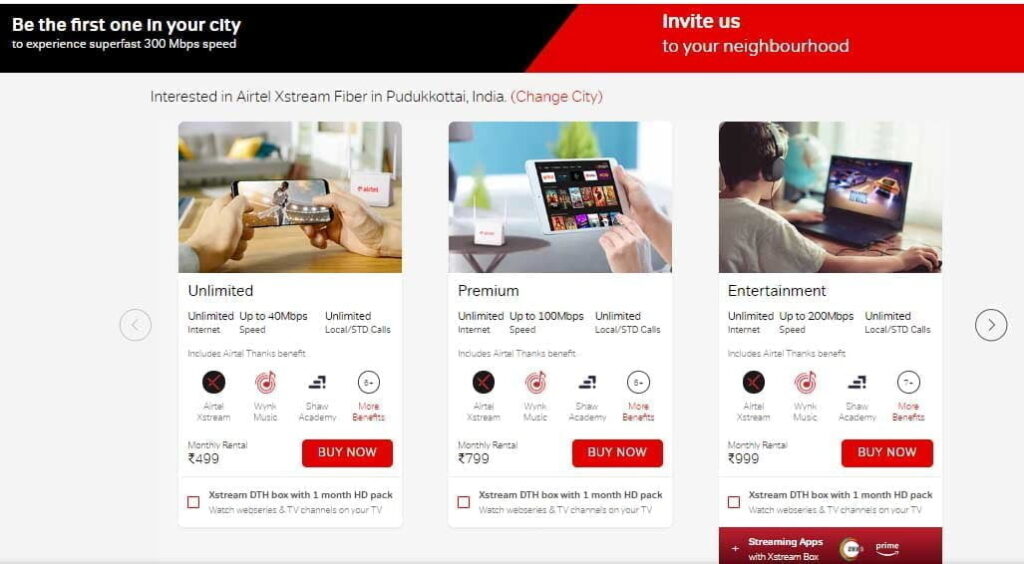 These are the 145 cities wherein prospective customers can invite Airtel Xstream Fiber to their neighborhood
The listings have been segregated alphabet wise for ease of access. You can jump to the respective alphabet listing by clicking the hyperlinked alphabets in the above table.
Agartala
Ahmadnagar
Alappuzha
Ambedkar Nagar
Amritsar
Amroha
Anantapur
Arrah
Asansol
Aurangabad
Azamgarh
Baghpat
Bahadurgarh
Balasore
Begusarai
Belagavi
Bettiah
Bhagalpur
Bharatpur
Bhiwani
Bhubaneswar
Bidar
Bijnor
Bokaro
Brahmpur
Chhapra
Chittoor
Cuddalore
Cuttack
Darbhanga
Deoria
Dhanbad
Dharampuri
Dharwad
Dindigul
East Jaintia Hills
Etah
Etawah
Faizabad
Farrukhabad
Fatehpur
Firozabad
Ganganagar
Gaya
Gonda
Gopalganj
Gulbarga
Guwahati
Hajipur
Haora
Hapur
Hardwar
Hassan
Hathras
Hazaribagh
Hengkapokt
Hisar
Hmuntha
Hoshiarpur
Jajpur
Jamshedpur
Jaunpur
Jhajjar
Jind
Kadapa
Kaithal
Kancheepuram
Kangra
Kannur
Karimnagar
Karur
Kashipur
Kathua
Katihar
Khammam
Kharagpur
Khutsokhuno (New)
Kiphire
Kollam
Kottayam
Kozhikode
Krishnagiri
Kurukshetra
Kushinagar
Madhubani
Mahbubnagar
Malapurram
Mancherial
Mau
Modinagar (New)
Mon
Moradabad
Motihari
Muzaffarpur
Nagaur
Nainital
Nalgonda
Namakkal
Nanded-Waghala
Nizamabad
Palakkad
Panbari
Panvel
Pathankot
Patiala
Phek
Pollachi
Pratapgarh
Puducherry
Pudukkottai
Purnea
Rae Bareli
Rajkot
Ralvawng
Rampur
Ranchi
Ribhoi
Roorkee
Samastipur
Sambalpur
Serchhip
Shamli
Shipaijala
Siliguri
Sisimukh
Sitamarhi
Sitapur
Siwan
Srikakulam
Sultanpur
Tapit
Tenali
Thaizawl
Theni
Thiruvallur
Thrissur
Tiruchirappalli
Tiruvannamalai
Tuensang
Varanasi
Vasai-virar
Villupuram
In case you are in any of the above cities and are keen to see Airtel Xstream Fiber anytime soon in your neighborhood, then head over to the broadband microsite on Bharti Airtel's website, open up the microsite for your city and register your interest in Airtel Xstream Fiber.