Now over 500+ cities can invite Airtel Xstream Fiber to their neighbourhood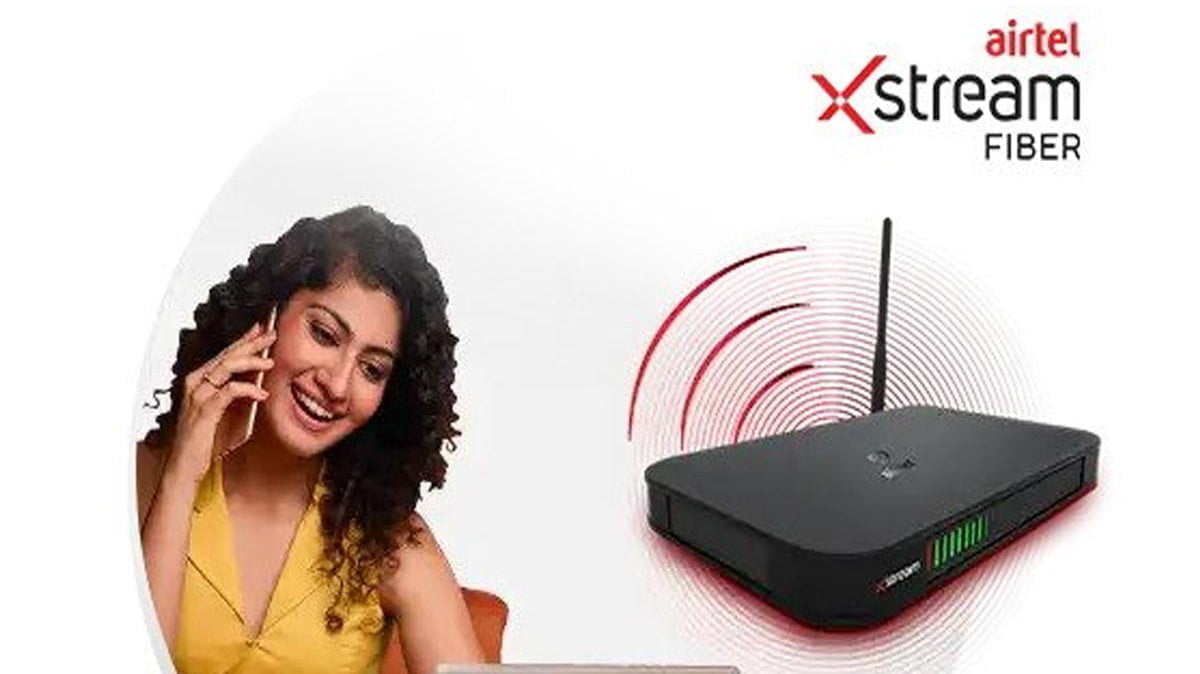 Telecom giant Bharti Airtel seems to be in an extreme expansion spree for its broadband services Airtel Xstream Fiber. While it is scheduled to launch services in 25 cities next month, it has now further added over 500+ cities on its listings which can invite Airtel Xstream Fiber to its neighbourhood.
Airtel on its website has listed these cities with the 'Invite' tag. One just needs to select the plan and then enter their details to invite Airtel to its neighbourhood with 300 Mbps blazing speed services.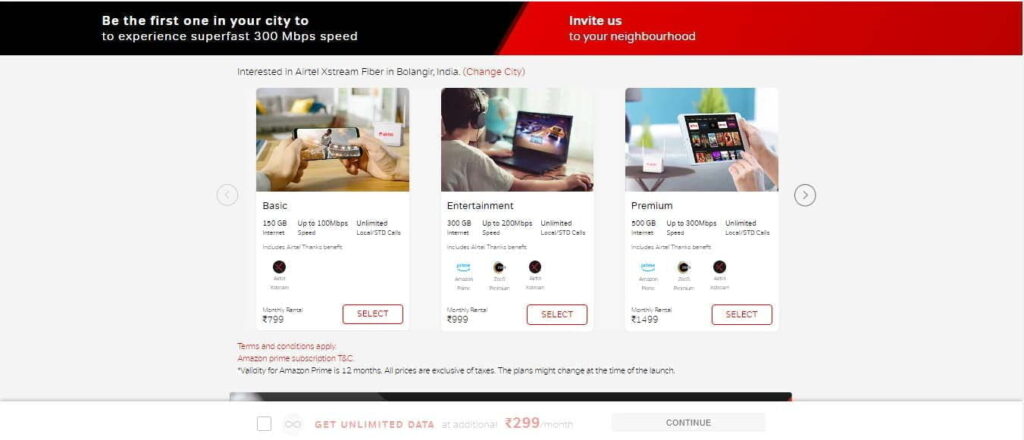 We checked a few of the cities wherein Airtel has listed its standard broadband plans. Unlimited add-on of Rs 299 is also listed in these cities. Notably, most of the cities are Tier 2 and Tier 3.
Jammu and Kashmir, North East states, Union Territories like Andaman, Daman and Diu, Dadra and Nagar Haveli, and Lakshwadeep among others get to invite Airtel Xstream Fiber. The invite is pan India as Airtel ramps up its broadband operations.
Airtel Xstream Fiber rollout in all 25 cities is scheduled for the first week of June. The 25 cities are Ajmer, Aligarh, Bhilwara, Bikaner, Bundi, Dharmshala, Ghazipur, Gorakhpur, Hosur, Jagadhari, Jhansi, Jodhpur, Kakinada, Kolhapur, Kota, Mathura, Mirzapur, Muzzafarnagar, Rohtak, Shahjahanpur, Shimla, Thanjavur, Udaipur, Yamunanagar, and Tirupati
These are the 500+ cities wherein prospective customers can invite Airtel Xstream Fiber to their neighbourhood.
Note: The listings on the Airtel website seem to have been added manually leading to human errors. We have desisted from listing some of the listings. Since this list is also made manually errors might have crept in unknowingly due to human error.
Adilabad
Ahmadnagar
Aizawl
Akola
Alappuzha
Alipurdar
Almoha
Ambedkar Nagar
Amethi
Amravati
Amreli
Amritstar
Anand
Anantpur
Anantnag
Andaman
Anugul
Araria
Aravalli
Ariyalur
Ashoknagar
Auraiya
Aurangabad
Ayeng
Azamgarh
Badgam
Bagalkot
Bageshwar
Baghpat
Bahraich
Baksa
Balaghat
Balasore
Ballia
Balrampur
Banaskantha
Banda
Bandipore
Banka
Bankura
Banswara
Barabanki
Baramula
Baran
Barddhaman
Bardez
Bareilly
Bargarh
Barmer
Barnala
Barpeta
Barwani
Bastar
Basti
Baudh
Bathinda
Buxar
Beed
Bellary
Begusarai
Betal
Bhadrak
Bhagalpur
Bhandara
Bharatpur
Bharuch
Bhavnagar
Bhind
Bhiwani
Bhojpur
Bid
Bidar
Bijapur
Bijnor
Birbhum
Bishnupur
Bokaro
Bolangir
Botad
Botagaon
Bongaigon
Budaun
Bulandshahr
Buldana
Buxar
Cachar
Cbd-n
Cbd-s
Chamarajnagar
Chamba
Chamoli
Champawat
Champhai
Chandauli
Chandel
Chandrapur
Changlang
Chatra
Chattarpur
Chhindwara
Chota Udaipur
Chikkaballapura
Chikmagalur
Chikodi
Chirang
Chitradurga
Chitrakoot
Chittaurgarh
Chhitoor
Churachandpur
Churu
Cuddalore
Cudaapah
Cuttack
Dahod
Dakshin Kannada
Dakshin Dinajpur
Daman
Dadra and Nagar Haveli
Damoh
Dantewada
Darbhanga
Darjiling
Darrang
Dausa
Davanagere
Deoghar
Deoria
Devbhoomi Dwarka
Dhalai
Dhamatri
Dhanbad
Dharmapuri
Dharwad
Dhaulpur
Dhemaji
Dhenkanal
Dhubri
Dhule
Dibang Valley
Dibrugarh
Dimapur
Dindigul
Dindori
Diu
Doda
Dumka
Dungarpur
Durgachara
East Garo Hills
East Godavari
East Jaintia Hills
East Kameng
East Khasi Hills
East Nimar
East Siang
Etah
Etawah
Faizabad
Faridkot
Farukkabad
Fatehbad
Fatehpur Sahib
Fatehpur
Fazilka
Firozabad
Firzopur
Gadag
Gadchiroli
Gajapat
Ganderbal
Ganganagar
Ganjam
Garhwal
Gaya
Gir Somnath
Giridh
Goalpara
Godda
Golaghat
Gomati
Gonda
Gondiya
Gopalganj
Gorakhpur
Hailakandi
Hamirpur
Hanumangarh
Haora
Harda
Hardoi
Hardwar
Hassan
Hathras
Haveri
Hazaribagh
Hengkapokt
Hingoli
Hissar
Hmuntha
Hoshiarpur
Hugli
Idukki
Imphal East
Imphal West
Jagatsinghpur
Jaisalmer
Jajpur
Jalaun
Jalna
Jalor
Jalpaiguri
Jamui
Jamnagar
Jashpur
Jaunpur
Jangir-Champa
Jehanabad
Jhabua
Jhajjar
Jhalawar
Jhargram
Jhunjunu
Jharsuguda
Jind
Jorghat
Junagadh
Jyotiba Phule Nagar
Kaimur
Kaithal
Kalahandi
Kalimpong
Kalyanpur
Kamrup Metro
Kamrup Rural
Kancheepuram
Kandhamal
Kangra
Kanker
Kannauj
KanniyaKumari
Kannur
Kapurthala
Kathua
Katihar
Kausambi
Kausambhi
Karauli
Kargil
Karbi Anglog
Karimganj
Karur
Karimnagar
Kawardha
Kendrapada
Keonjhar
Khagaria
Khammam
Khankawn
Kheda
Kheri
Khowai
Khurda
Khutsokhuno
Kinnaur
Kiphite
Kishanganj
Kishtwar
Koch Bihar
Kodagu
Kodema
Kohima
Kokrajhar
Kolasib
Kollam
Koraput
Korba
Koppal
Krishna
Krishnagiri
Koriya
Kottayam
Kozhikode
Kupwara
Kulam
Kullu
Kurnool
Kurukshehtra
Kurung Kumey
Kushinagar
Kutch
Lakhimour
Lakisarai
Lakshwadeep
Lalitpur
Latur
Lawangtai
Leh (Ladakh)
Lohardaga
Lohit
Longleng
Lower Subansiri
Lunglei
Madhepura
Madhubani
Maharajganj
Mahesana
Mahoba
Mahendragarh
Mahasumandh
Mahisagar
Mahbubnagar
Mainpuri
Mallapuram
Maldah
Malkangiri
Mamit
Mandi
Mandla
Marigaon
Mansa
Mau
Mayurbhanj
Medak
Mewat
Midnapore East
Midnapore West
Moga
Mon
Moradabad
Mokokchung
Morbi
Munger
Murshidabad
Muktsar
Muzzarfarnagar
Muzzarfur
Nadia
Nagaon
Nagapattinam
Nagaur
Nagpur
Nainital
Nalanda
Nalgonda
Nalbari
Namkaal
Nadedd
Nandurbar
Narmada
Narsimhapur
Navsari
Nawada
Nawanshahr
Nayagarh
Nellore
Nizamabad
None
North Cachar
North Garo Hills
North Goa
North Tripua
North Twenty Four Parghanas
Nowrangpur
Nuapada
Osmanabad
Pakur
Pallakad
Palamu
Pali
Palwal
Panbari
Panch Mahals
Panna
Papumpare
Parmani
Paschim Bardhaman
Paschim Medinipur
Pashchim Champaran
Paschcmi Singhbhum
Patna
Patiala
Patan
Pathanamthitta
Pathankot
Peren
Perambulur
Phek
Pilbhit
Pithoragarh
Ponda
Porbanadar
Prakasam
Pratapgarh
Puducherry
Pudukkottai
Pulwama
Punch
Purba Champaran
Purbi Singhbhum
Puri
Purnea
Puruliya
Raibareilly
Raichur
Raigarh
Rajgarh
Raisen
Rajkot
Rajouri
Rajsamand
Ralvawng
Ramnagara
Ramanathapuram
Ramban
Rampur
Ramgarh
Ranchi
Rangareddy
Ratnagiri
Rayagada
Reasi
Rewari
Ribhohi
Rohtas
Rudraprayag
Rupnagar
S K Nagar
Sabarkantha
Sahranpur
Saharsa
Sahebganj
Saiha
Salcete
Samastipur
Sambalpur
Sangli
Sangrur
Sant Kabir Nagar
Sant Ravidas Nagar Bhadodhi
Saraikela
Saran
Satara
Sawai Madhopur
Senapati
Seoni
Serchchip
Sibsagar
Siddharth Nagar
Sidhi
Sikim
Sindhurnagar
Sirmour
Sirohi
Sirsa
Sisimukh
Sitasari
Sitapur
Siwan
Sivaganga
South Goa
South Tripura
South Twenty Four Parganas
South West Garo Hills
South West Khasi Hills
Sonbhadra
Sonitpur
Sonpur
Solan
Solanpur
Sultanpur
Sundargarh
Supaul
Surendranagar
Surguja
Tamenglong
Tapi
Tapit
Tarn-taran
Tawang
Tehri Garhwal
Thaizawl
The Dangs
The Nilgiris
Theni
Thirivallur
Thirruvanamallai
Thiruvavar
Thoothukkudi
Thoubal
Thrissur
Tikamgarh
Tinsukia
Tirap
Tiruchapalli
Tiruppur
Tiswadi
Tuensang
Tonk
Ukhrul
Umaria
Una
Unnakoti
Unnao
Upper Subansari
Uttarkashi
Uttari Kananda
Uttari Dinajpur
Uddhampur
Udham Singh Nagar
Udalguri
Waranal
Wayanad
Washim
Wardha
West Distrcit
West Garo Hills
West Godavari
West Jaintia Hills
West Kameng
West Khasi Hills
West Nimar
West Siang
West Tripura
Wokha
Varanasi
Valsad
Vaishali
Yadgir
Yangsey
Yaripok
Yavatmal
Zunhebetto