Now over 650+ Cities can Invite Airtel Xstream Fiber to their neighbourhood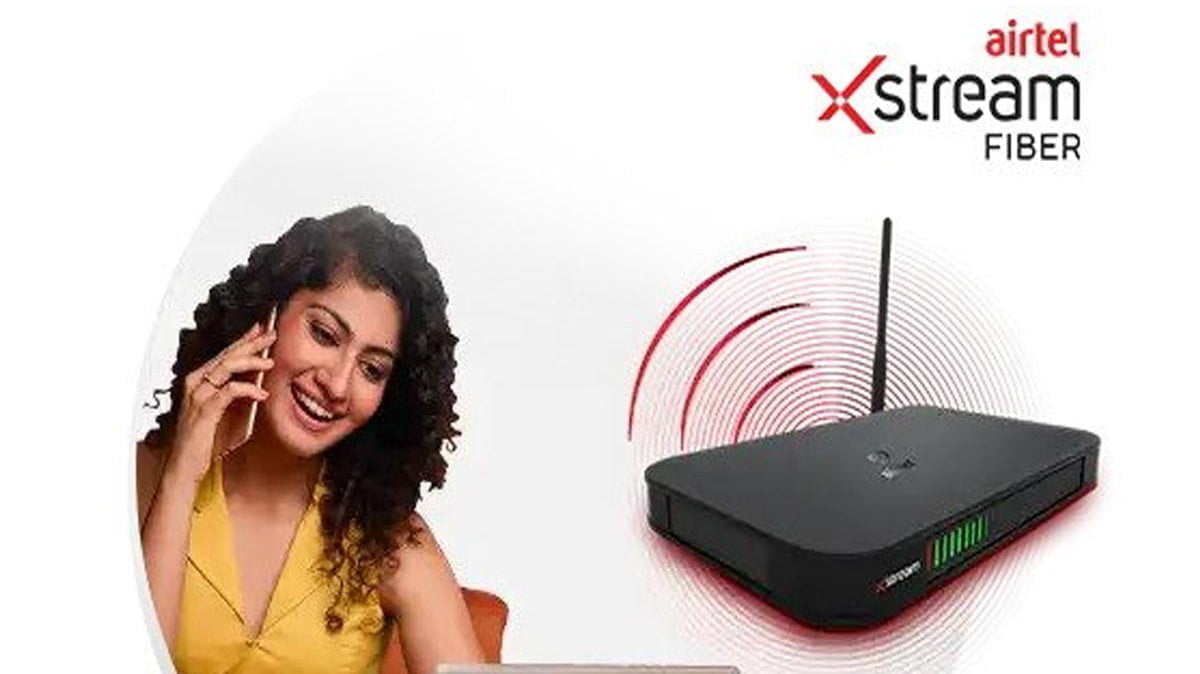 Earlier this month OnlyTech had exclusively reported Airtel's move to allow its customers in over 500+ cities to invite Airtel Xstream Fiber to their neighbourhood. Bharti Airtel has now increased the number of cities that can invite Airtel Xstream Fiber from the earlier 530+ to over 650 cities. The increased number of cities comes a week before the scheduled launch of Airtel Xstream Fiber in 25 cities in June 1st week.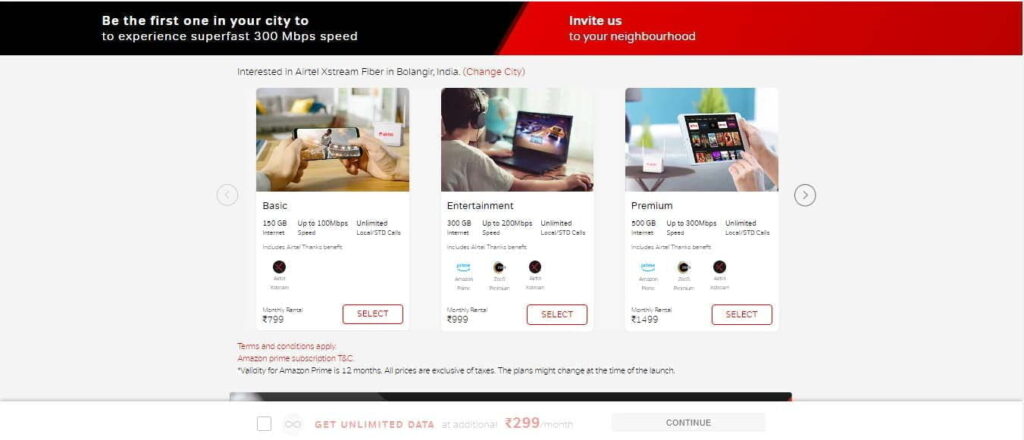 As we had noted earlier this month, the cities are Tier 2 and Tier 3 with listings ranging from Kashmir to Kanniyakumari and North East to Goa, the invite option is open to the peripheral and urban parts of the country including far remote places like Andaman. One just needs to select the plan and then enter their details to invite Airtel to its neighbourhood with 300 Mbps blazing speed services.
Bharti Airtel had recently revealed that it would expand its broadband offerings into newer cities with it already tieing up with franchises to enter markets it is not present in and tap the opportunity. As of March 2020, such operations have been launched in 11 cities and 180K wired homes through tie-ups.
Note: The listings on the Airtel website seem to have been added manually leading to human errors. We have desisted from listing some of the listings. Since this list is also made manually errors might have crept in unknowingly due to human error. Airtel's website in total has 674 Invite listings as of now with some ridden with errors.
These are the 650+ cities wherein prospective customers can invite Airtel Xstream Fiber to their neighbourhood.
The listings have been segregated alphabet wise for ease of access. You can jump to the respective alphabet listing by clicking the hyperlinked alphabets in the above table.
Adilabad
Adityapur
Adoni
Agartala
Ahmadnagar
Aizawl
Akola
Alappuzha
Alipurduar
Almora
Ambedkar Nagar
Ambikapur
Amethi
Amravati
Amreli
Amritsar
Amroha
Ananad
Anantapur
Anantnag
Andaman
Angul
Araria
Aravalli
Ariyalur
Arrah
Asansol
Ashoknagar
Auraiya
Aurangabad
Ayeng
Azamgarh
Badgam
Bagaha
Bagalkot
Bageshwar
Baghpat
Bahadurgarh
Baharampur
Bahraich
Baksa
Balaghat
Balasore
Baleshwar Town
Ballari
Ballia
Balrampur
Balurghat
Banaskantha
Banda
Bandipore
Banka
Bankura
Banswara
Barabanki
Baramula
Baran
Barddhaman
Bardez
Bargarh
Baripada Town
Barmer
Barnala
Barpeta
Barwani
Bastar
Basti
Batala
Bathinda
Baudh
Beed
Begusarai
Belagavi
Bellary
Bettiah
Betul
Bhadrak
Bhagalpur
Bhandara
Bharatpur
Bharuch
Bhavnagar
Bhimavaram
Bhind
Bhiwani
Bhojpur
Bhubaneswar
Bhuj
Bid
Bidar
Bijapur
Bijnor
Birbhum
Bishnupur
Bokaro
Bolangir
Bongaigon
Botad
Botagaon
Brahmapur
Budaun
Bulandshahr
Buldhana
Buxar
Cachar
Cbd-n
Cbd-s
Chamrajnagar
Chamba
Chamoli
Champawat
Champai
Chandauli
Chandausi
Chandel
Chandrapur
Changlang
Chatra
Chhapra
Chattarpur
Chindwara
Chhota Udaipur
Chikkaballapur
Chikmagalur
Chikodi
Chilakaluripet
Chirang
Chitradurga
Chitrakoot
Chittaurgarh
Chittoor
Churachandpur
Churu
Cuddalore
Cuddapah
Cuttack
Dadra & Nagar Haveli
Dahod
Dakshin Dinjapur
Dakshina Kannada
Daman
Damoh
Dantewada
Darbhanga
Darjiling
Darrang
Dausa
Davanagree
Deesa
Dehri-on-sone
Deoghar
Deoria
Devbhoomi Dwarka
Dhalai
Dhamtari
Dhanbad
Dharampuri
Dharmavaram
Dharwad
Dhaulpur
Dhemaji
Dhenkanal
Dhubri
Dhule
Dibang Valley
Dibrugarh
Dimapur
Dindigul
Dindori
Diu
Doda
Dumka
Dungarpur
Durgachara
East
East Garo Hills
East Godavari
East Jaintia Hills
East Kameng
East Khasi Hills
East Nimar
East Siang
Eluru
English Bazar
Etah
Etawah
Faizabad
Faridkot
Farrukhabad
Fatehbad
Fatehgarh Sahib
Fatehpur
Fazilka
Firozabad
Firozpur
Gadag
Gadchiroli
Gajapati
Ganderbal
Ganganagar
Ganjam
Ganjbasoda
Garwha
Garhwal
Gaya
Gir Somnath
Giridh
Goalpara
Godda
Godhra
Golaghat
Gomati
Gonda
Gondiya
Gopalganj
Gudivada
Gulbarga
Gumla
Guntakal
Gurdaspur
Guwahati
Gwalior
Habra
Hailakandi
Hajipur
Hamirpur
Hanumangarh
Haora
Hapur
Harda
Hardoi
Hardwar
Hassan
Hathras
Haveri
Hazaribagh
Hengkapokt
Hindupur
Hingoli
Hisar
Hmuntha
Hoshiarpur
Hughli
Ichalkaranji
Idukki
Imphal West
Jagatsinghpur
Jagdalpur
Jaisalmer
Jajpur
Jalaun
Jalgaon
Jalna
Jalor
Jalpaiguri
Jamalpur
Jamnagar
Jamshedpur
Jamui
Janjgir-Champa
Jashpur
Jaunpur
Jehanabad
Jhabua
Jhajjar
Jhalawar
Jhargram
Jharsuguda
Jhunjhunu
Jind
Jorhat
Junagadh
Jyotiba Phule Nagar
Kadapa
Kaimur
Kaithal
Kalahandi
Kalimpong
Kalyanpur
Kamrup Metro
Kamrup Rural
Kancheepuram
Kandhamal
Kangra
Kanker
Kannauj
Kanniyakumari
Kannur
Kapurthala
Karauli
Karbi Anglong
Kargil
Karimganj
Karimnagar
Karur
Karwar
Kasargode
Kashipur
Kathua
Katihar
Kausambi
Kawardha
Kendrapradda
Keonjhar
Khagaria
Khair
Khammam
Khankawn
Khanna
Kharagpur
Kheda
Kheri
Khowai
Khurda
Khutsokhuno
Kinnaur
Kiphire
Kishanganj
Kishtwar
Koch Bihar
Kodagu
Koderma
Kohima
Kokrajhar
Kolasib
Kollam
Koppal
Koraput
Korba
Koriya
Kottayam
Kozhikode
Krishna
Krishnagiri
Kulgam
Kullu
Kupwara
Kurnool
Kurukshetra
Kurung Kamey
Kushinagar
Kutch
Lakhimpur
Lakhisarai
Lakshwadeep
Lalitpur
Lawngtalai
Leh
Lohardagga
Lohit
Longleng
Loni
Lower Subansiri
Lunglei
Machilipatnam
Madanapalle
Madhepura
Madhubani
Maharajganj
Mahasamund
Mahbubnagar
Mahendranagr
Mahesana
Mahisagar
Mahoba
Maharajnagar
Mainpuri
Malapurram
Maldah
Malegaon
Malerkotla
Malkangiri
Mamit
Mancherial
Mandi
Mandla
Mansa
Marigaon
Mau
Mayurbhanj
Medak
Medinipur
Mewat
Midnapore East
Midnapore West
Mira-bhayandar
Modinagar
Moga
Mokokchung
Mon
Moradabad
Morbi
Motihari
Muktsar
Munger
Murshidabad
Murwara (Katni)
Muzafarnagar
Muzaffarpur
Nabadwip
Nadia
Nadiad
Nagaon
Nagapattinam
Nagaur
Nagda
Nagpur
Naihati
Nainital
Nalanda
Nalbari
Nalgonda
Namakkal
Nanded
Nanded-Waghala
Nadurbar
Nandyal
Narasaropet
Narmada
Narsimhapur
Navsari
Nawada
Nawanshahr
Nayagarh
Nellore
Neyveli (TS)
Nizamabad
None
North Cachar
North Garo Hills
North Goa
North Tripura
North Twenty Four Parganas
Nowrangpur
Nuapada
Pakur
Palakkad
Palamu
Palanpur
Pali
Palwal
Panbari
Panch Mahals
Panna
Panvel
Papumpare
Parbhani
Paschim Bardhaman
Paschim Medinipur
Pashchim Champaran
Paschmi Singhbhum
Patan
Pathanamthitta
Pathankot
Patiala
Patna
Ponda
Porbanadar
Prakasam
Pratapgarh
Proddatur
Puducherry
Pudukkottai
Pulwama
Punch
Purba Champaran
Purbi Singhbhum
Puri
Purnia
Puruliya
Raayachuru
Rae Bareli
Raghunathganj
Raichur
Raigad
Raiganj
Raigarh
Raisen
Rajampet
Rajapalyam
Rajgarh
Rajkot
Rajouri
Rajsamand
Ralvawng
Ramagundam
Ramnagar
Ramnagara
Ramanathpuram
Ramban
Ramgarh
Rampur
Ranaghat
Ranchi
Ranebennaru
Rangareddy
Ranipet
Ratnagiri
Raurkela
Rayagada
Reasi
Rewari
Ribhoi
Robertson Pet
Rohtas
Roorkee
Rudraprayag
Rupnagar
S K Nagar
Sabarkantha
Sadulpur
Saharanpur
Saharsa
Sahebganj
Saiha
Salcete
Samastipur
Samba
Sambalpur
Sambhal
Sangli
Sangrur
Sant Kabir Nagar
Sant Ravidas Nagar Bhadohi
Santipur
Saraikela
Saran
Sasaram
Satara
Sawai Madhopur
Senapati
Seoni
Serchhip
Shahdol
Shajapur
Shamli
Sheikhpura
Sheohar
Sheopur
Shillong
Shipaijala
Shivamogga
Shrawasti
Shupiyan
Sibsagar
Siddharth Nagar
Sidhi
Sikim
Silchar
Siliguri
Sindhudurg
Singrauli
Sirmour
Sirohi
Sirsa
Sisimukh
Sitamarhi
Sitapur
Sivaganga
Sivakasi
Siwan
Solan
Solapur
Sonbhadra
Sonitpur
Sonpur
Sorbhung
South Garo Hills
South Goa
South Tripura
South Twenty Four Parganas
South West Garo Hills
South West Khasi Hills
Srikakulam
Srinagar
Sultanpur
Sundargarh
Supaul
Surendranagar
Surguja
Suryapet
Tadepalligudem
Tadpatri
Tamenglong
Tapi
Tapit
Tarn-taran
Tawang
Tehri Garwhal
Tenali
Thaizawl
Thanesar
The Dangs
The Nilgiris
Theni
Thiruvallur
Thiruvannamalai
Thiruvarur
Thoothukkudi
Thoubal
Thrissur
Tikamgarh
Tinsukia
Tirap
Tiruchirappalli
Tiruppur
Tiruvannamalai
Tiswadi
Tonk
Tuensang
Udalguri
Udgir
Udham Singh Nagar
Udhampur
Ukhrul
Umaria
Una
Unakoti
Unnao
Upper Subansiri
Uttar Dinajpur
Uttara Kannada
Uttarkashi
Vaishali
Valsad
Vapi
Varanasi
Vasai-virar
Veraval
Villupuram
Vizianagaram
Warangal
Wardha
Washim
Wayanad
West District
West Garo Hills
West Godavari
West Jaintia Hills
West Kameng
West Khasi Hills
West Nimar
West Siang
West Tripura
Wokha
Yadgir
Yangsey
Yaripok
Yavatmal
Note: Buldana, Chickaballapur, Hardoi, Hingoli, Hissar, Kaushambi, Morvi, Purnea, Raibareily, Ramnagara, Siddharthnagar, Viluppuram are listed twice with spelling errors while East, Na, West looks like a wrong entry. This are listed on Airtel website but not in this article.