Airtel silently launches competitor to JioFiber Backup plan, all details here
The Xstream Fiber Standby plan offers 350+ live channels at an additional Rs 200/month with no bundled OTT subscriptions.
Estimated reading time: 2 minutes, 42 seconds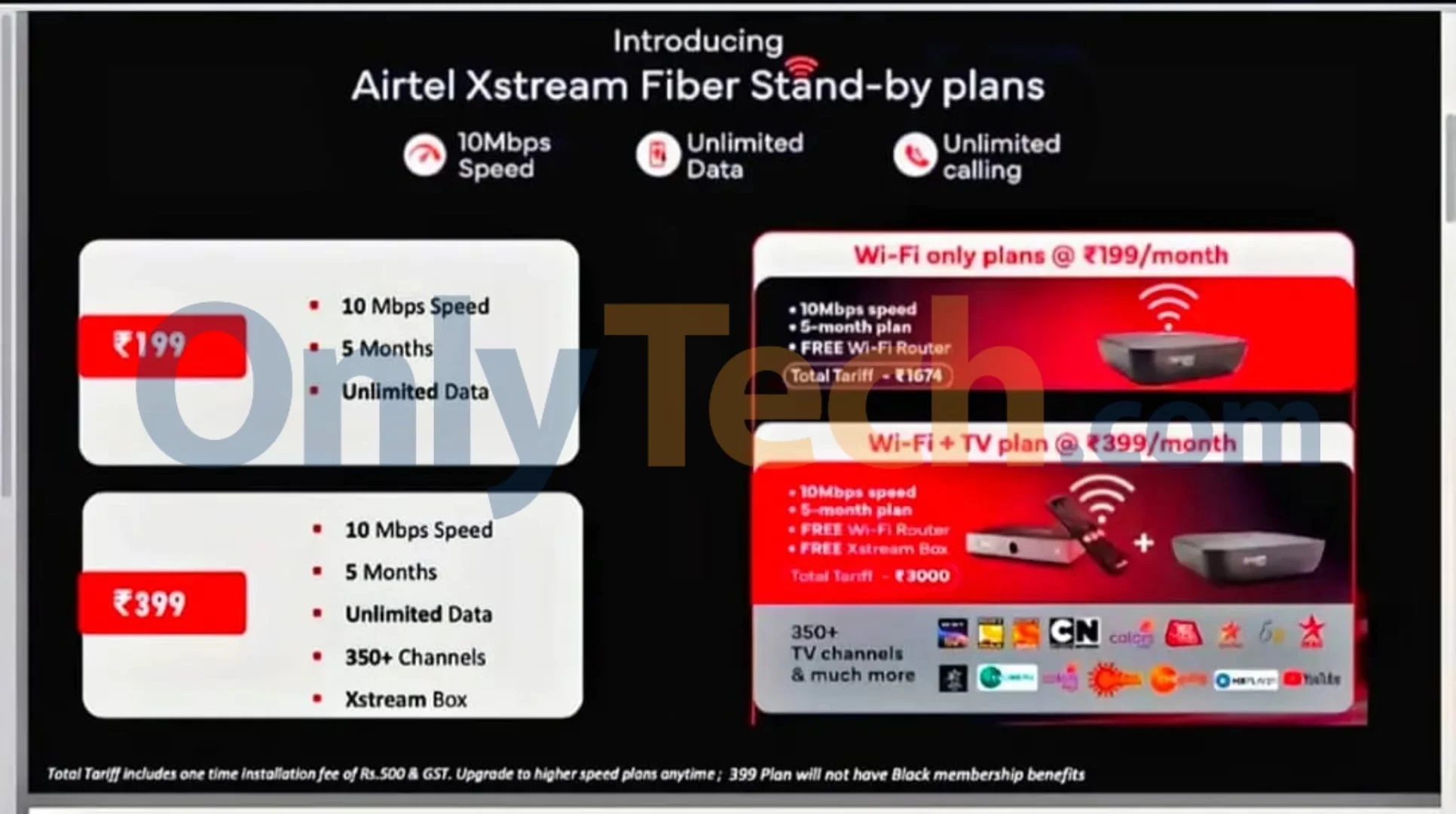 Roughly a month back market leader Jio launched the most affordable fiber broadband plan dubbed as JioFiber backup plan with the aim to become the secondary backup connection for households that already have a broadband connection other than Jio. The operator had claimed that the plan would ensure uninterrupted connectivity, especially at a time when many households have switched to streaming the IPL on JioCinema instead of traditional DTH connection. The plan is available only for new users and not for existing users who wish to downgrade.
With this plan, Jio was also aiming to cater to an underserved untapped market that needs low bandwidth but stable wifi connectivity indoors at an affordable rate, significantly lower than the base tariffs being offered by any fiber broadband provider. The JioFiber Backup plan was launched at a monthly tariff of Rs 198 plus GST offering a 10 Mbps unlimited connection. Now Airtel has silently launched its own variant of the plan called Xstream Fiber Standby Plan which offers the same benefit at Rs 199 plus GST.
How do the two plans compare?
While both Jio and Airtel's plans are pitched against each other, there are a few differences in both offerings which a potential subscriber should keep in mind before opting for either. Both plans are only available for new users and come with a minimum subscription duration of 5 months (990+GST for Jio & 995+GST for Airtel) and have a Rs 500 charge for installation though the router is free with both plans. As for the speed, both plans come with 10 Mbps bundled but Jio Fiber backup plan offers flexible 1/2/7 day speed booster packs to upgrade speeds to 30 or 100 Mbps whereas the Xstream Fiber Standby plan can only be upgraded permanently to one of the standard Xstream plans and does not offer temporary speed boosters.
As for the entertainment add-ons both plans offer optional upgrades which provide a free hybrid set-top box. While JioFiber Backup plan offers a bundled subscription to 6 OTT apps and 400 live channels at an additional Rs 100/month and 14 OTT apps and 550 live channels at an additional Rs 200/month, the Xstream Fiber Standby plan offers 350+ live channels at an additional Rs 200/month with no bundled OTT subscriptions. The main difference between the live channel offerings by both operators is that Jio STB provides it over the data network through the bundled OTT apps whereas Airtel STB provides it over the traditional DTH network.
Availability:
While the JioFiber Backup plan has been openly advertised by the operator and is available to any new subscriber to book, the Airtel Xstream Fiber Standby plan is currently only available through Airtel executives who would offer it to subscribers who don't opt for the standard Rs 499 plan due to affordability issues. Airtel has specified that the Rs 399 standby plan is not eligible for Airtel Black benefits.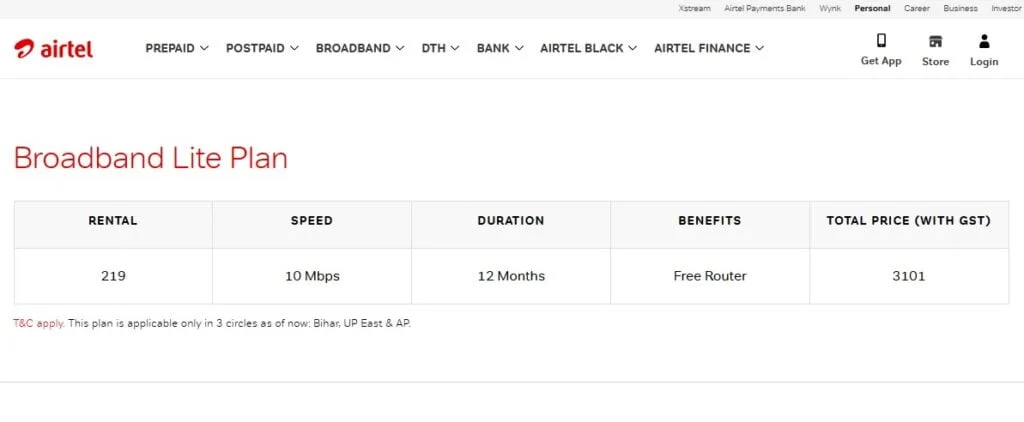 Further reading:
Airtel Xstream Fiber has also launched another 10 Mbps plan called Broadband Lite plan priced at Rs 219 plus GST and has to be subscribed for 12 months in advance, bringing the cost to Rs 3101 inclusive of GST with no additional installation charge and offers a free wifi router. This is currently available only in three telecom circles namely Bihar, UP East, and Andhra Pradesh and may be extended to other circles eventually.