Airtel leads in Download, Vodafone in Upload and Jio in Coverage: OpenSignal Report April 2020
Estimated reading time: 3 minutes, 25 seconds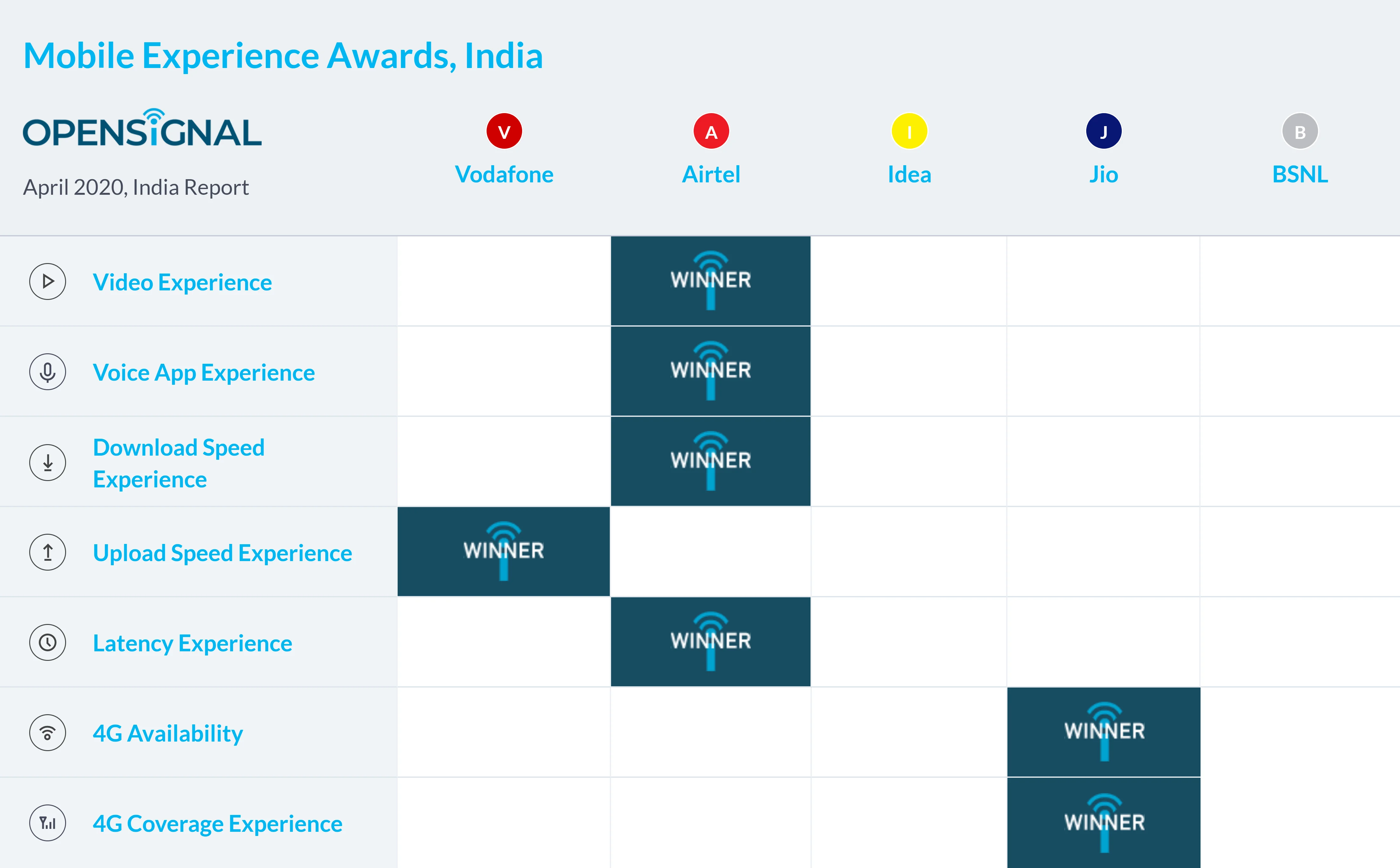 Highlights
Airtel has the best Video experience, Download speed experience, Latency experience, and Voice App experience

Jio has the best 4G Availability and 4G Coverage experience

Vodafone has the best Upload speed experience 
The mobile analytics company OpenSignal has released its April 2020 report on mobile network experience in India. For this report, the analytics company has treated Vodafone and Idea as individual operators since they still continue to operate under separate brand names and included BSNL as a 3G only operator since it lacks the scale of 4G deployment compared to the private telcos. OpenSignal has tested the 5 mobile network operators over a 90 day period starting 1st December 2019, across 48 large cities in India, and comparing the user experience.
For this report, OpenSignal grades the operators based on 7 key metrics and ranks them according to their performance. These include Video experience, Voice app experience, Download speed experience, Upload speed experience, Latency experience, 4G Availability, and 4G coverage experience. The data used for analysis is collected through crowdsourcing, OpenSignal collects billions of individual measurements every day from over 100 million devices worldwide which have its app installed. It collects data every day of the week, at all hours and in all the places people live, work and travel, no simulations, no predictions, no idealized testing conditions, to ensure it tests the actual network experience.

Video Experience:
Airtel retains its title as the network which provides the best video experience. OpenSignal measures the video quality streamed over mobile networks to devices on a 100-point scale, considering load times, stalling rates, and picture resolution. On a 100-point scale, Airtel got 58.9 points (Good), an improvement of 5.9 points in the last six months, followed by Vodafone with 56.5 points (Good). Reliance Jio and Idea got 53 (Fair) and 52.8 points (Fair), respectively. BSNL remained in the poor category with 34.9 points as the video experience was examined by only 3G users.

Voice App Experience:
Airtel won the award for the best voice app experience with a very narrow margin over Idea. OpenSignal measures the voice quality experience for over-the-top (OTT) voice services, such as Skype, WhatsApp, Facebook, etc. Airtel with 75.5 points (Acceptable) has the best voice app experience, followed by Idea with 74.4 (Acceptable) and Vodafone 73.2 points (Poor), respectively. Reliance Jio got 73.6 points (Poor), whereas BSNL got 67.9 points (Poor).

Download Speed Experience:
Airtel has retained the award for the best download speed experience with 10.1 Mbps (around 0.5 Mbps increase since the last report), followed by Vodafone with 9.5 Mbps and Idea with 9.2 Mbps (An increase of 1.5 Mbps each since the last report). Reliance Jio was far behind with 7.3 Mbps, and because of 3G-only, BSNL stood last with 2.9 Mbps.

Upload Speed Experience:
Vodafone won the award for the best upload Speed Experience with 3.9 Mbps, followed by Idea at 3.6 Mbps. Both Vodafone and Idea continue to have a fairly comfortable lead, nearly 24% faster than Airtel at 2.9 Mbps, 42% faster than Jio at 2.6 Mbps, and three times faster than BSNL at 0.9 Mbps.

Latency Experience:
Airtel won the Latency Experience award with an average response time of 54.1 ms, 3.1ms quicker than in the last report. Measured in milliseconds, latency refers to the delay users experience as data makes a round trip through the network. The ex-winner in this category, Jio, trailed closely behind at 56.3ms, but its users' average response time worsened by 2.1ms since the last report. That said, Vodafone users observed the highest improvement of 3.6ms to score 60.6ms.

4G Availability:
Jio continues to dominate 4G Availability in India. The operator once again won the award with a commendable score of 98.2%. 4G Availability shows the proportion of time Opensignal users with a 4G device have a 4G connection. Airtel's 4G Availability score has jumped by six percentage points to reach an impressive 94.5%. Both Idea and Vodafone surpassed the 80% milestone with 83.8% and 82.6% 4G Availability, respectively.

4G Coverage Experience:
Jio also won OpenSignal's inaugural 4G Coverage Experience award in India, with a score of 9.2 points. The 4G Coverage Experience metric is a measure of how mobile subscribers experience 4G coverage on an operator's network. Measured on a scale of 0-10, it analyzes the locations where customers of a network operator received a 4G signal relative to the locations visited by users of all network operators. Airtel finished second with 6.8 points. Both Idea and Vodafone were further behind with 4.5 and 4 points, respectively.