BSNL Calcutta offers discounts up to 50 percent for settling pending dues of disconnected connections
Posted in: BSNL BSNL Bharat Fiber News
Estimated reading time: 1 minute, 3 seconds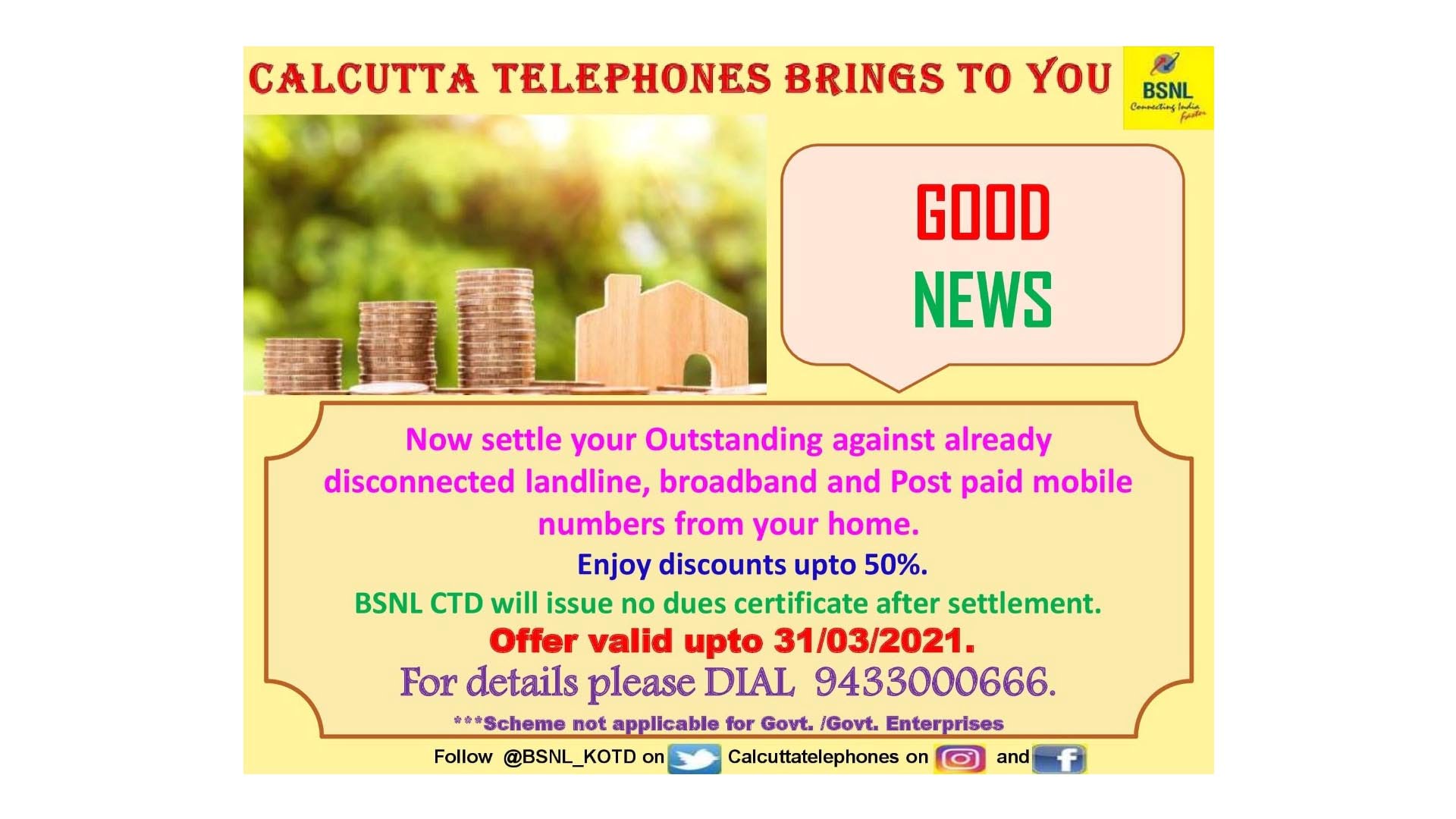 State-owned telecom operator Bharat Sanchar Nigam Limited (BSNL) Calcutta is allowing its customers to settle their outstanding dues against already disconnected landline, broadband, and postpaid mobile numbers from their homes. The company is offering the chance to only normal BSNL customers with government enterprises not eligible under the scheme.
As per a BSNL Kolkata tweet, the state unit is offering discounts of up to 50 percent. BSNL Calcutta division will issue a no due certificate post the settlement of the pending dues by the BSNL customer. The scheme will be valid till 31st March 2021. BSNL customers in the Calcutta circle can dial 9433000666 for getting more details on the same.
The one-time special settlement scheme is for defaulters whose phones were disconnected up to 31st March 2020. BSNL Calcutta had extended the scheme from 1st April 2020 to 31st March 2021. The payment to clear the outstanding dues can be done online through NEFT/RTGS transfer to BSNL's designated bank account number or in any of 20 cash collection centers in and around Calcutta.
Discount Structure
| | | |
| --- | --- | --- |
| Sl.No. | Age of outstanding dues as on 31.03.2020 | Discount admissible |
| 1 | Up to 1 (one) year old | Nil |
| 2 | > 1 year old to 2 years old | 10% |
| 3 | > 2 years old to 3 years old | 25% |
| 4 | >3 years old to 5 years old | 30% |
| 5 | > 5 years old | 50% |