We had some hands-on with Battlegrounds Mobile India. Here's what's changed since the PUBG Mobile ban
Older PUBG Mobile players can instantly recognize and get a familiar feeling in Battlegrounds Mobile India.
Estimated reading time: 9 minutes, 54 seconds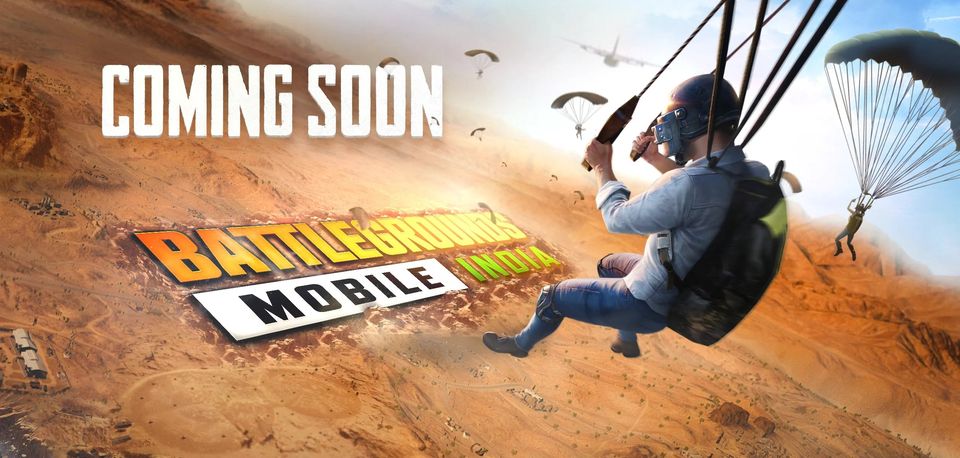 Earlier today morning, Krafton Inc had opened the Early Access Test for Battlegrounds Mobile India for a select number of users. Since the registration slots were getting filled up on a first-come-first-serve basis, we were lucky enough to sneak into the game's testing page on the Google Play Store very quickly and registered there. Within no time, the Install button for the game on our phone went live and we were able to install the game on our OnePlus 7T. We then had a few rounds of gameplay, and found many similarities with PUBG Mobile. Here are a few things we found out during our tests.
Initial Setup
Once we entered the game and downloaded mandatory resources, we were prompted to restart the game. Once restarted, we were asked to login to the game using Social Media accounts. I used my Facebook account to login to the game. After we logged in, we were led to the character creation screen. We then selected the hair style and colors for the skin and hair. At the bottom right corner of the screen, we needed to enter a user name we would use inside the game. I tried entering my PUBG Mobile Username – Sparker0i into this game, but unfortunately we couldn't use it since it was already taken. Thus, at that moment we believed that we could migrate accounts from the previous game over here.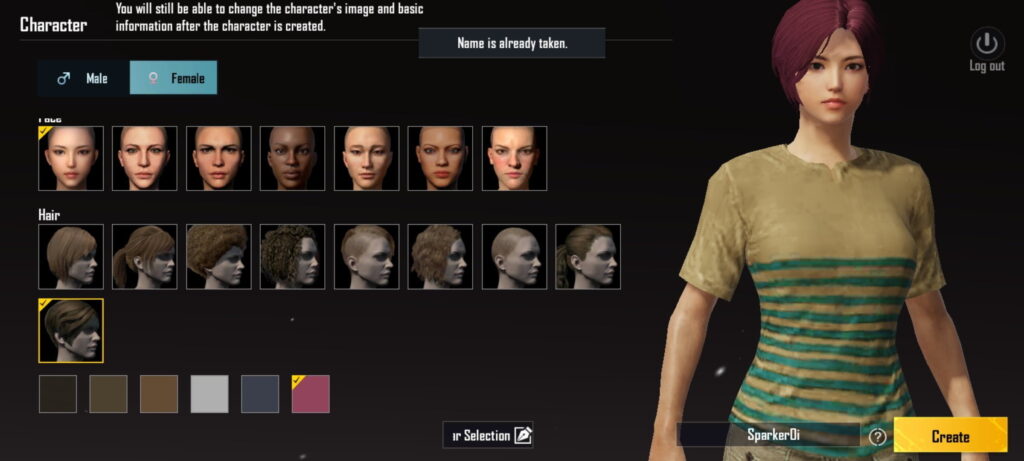 Home Screen
Once we setup the game with a dummy username, we were greeted with two pop-ups which asked us whether we reside in India and whether we are over 18 years. We are not sure how effective these popups are because players can lie and select Yes for both options in order to gain un-restricted access to the game. We believe Krafton Inc could have done better here since they are already asking people to login with their social media accounts, hence the game could have lifted the birthday from there.
Nevertheless, once we hit Yes for both pop-ups, we are greeted with a revamped home screen, one which is definitely different than the one we saw in PUBG Mobile before it got banned in India. This is because PUBG Mobile released this new homescreen experience with the release of its Version 1.0, which happened a few days after the game got banned in India. PUBG Mobile since Version 1.0 has the same homescreen as we see in Battlegrounds Mobile India today, with three tabs – one for a Personal Space where you can share and see updates, one for the Shop and the default one for playing the game.
Account Migration
The best part of Battlegrounds Mobile India is that we can migrate data from PUBG Mobile to the new game. Users will have time until December 31st 2021 to carry their data to the new game. This can be done after logging in by going to Settings from the Home Screen, and selecting the Basic tab. The first option will provide users to migrate their account. Once you click on that button, you will be greeted with a Privacy Screen which you will have to accept in order to migrate your account. You can find more details about the data transfer on this link.
Once you select 'Yes, please continue' button, you will be redirected to the in-game browser where you will have to login with the social account you used with PUBG Mobile. As of writing, only Facebook and Twitter are supported, and if you used Play Games to sign-in, you are out of luck right now. Once you login to the social account used for the older game, you will be greeted with a final confirmation popup to transfer your account details to the new game. Once done, you will be logged out and now you will have to login again with the social account that you used to login to Battlegrounds Mobile India at the beginning.
After we logged in again, we were able to see all progression from the previous game as well as Battle Pass and store purchases retained as is. Unfortunately, not all achievements were retained inside the new game. Most that were removed from our account were related to achievements based on events with cross-overs inside PUBG Mobile. We also got the Pre-registration rewards and 1 Rename Card as a compensation for Data migration.
Unfortunately, all the friends we made inside PUBG Mobile are gone from the new game. We also don't see an option to check for Friends who have linked their Facebook accounts with the new game. So is our Clan info, which is also not retained. Other information not retained from the previous game include Previous Seasons' Career Results, Statistics and Player Block lists. This also means that crossplay will not be possible with players on PUBG Mobile. Thankfully, if we select the option to add Friends into the current lobby, we see a friends icon on the left side of the connections icon. Once you select that, you would notice the section of Your Old Friends, where (possibly) our old friends will be highlighted with a separate badge. We might also have an option to add them as friends into the new game, but unfortunately none of my friends have logged in to the new game yet hence we can't verify this right now.
Now a few things did get retained from the previous game. One of which is the Player's level from the previous game. All our UC, AG, Silvers and BP from the previous game were retained intact. So is the costumes, skins and other accessories purchased inside the store or royale passes from PUBG Mobile. We would hope that migrating data over from the previous game does not cause troubles for the developers from anyone. Even though all purchases remain intact, your in-game character will get reset and will not be wearing the costume with which you last played PUBG Mobile. However, you can go back to the Inventory and equip the costumes and skins again.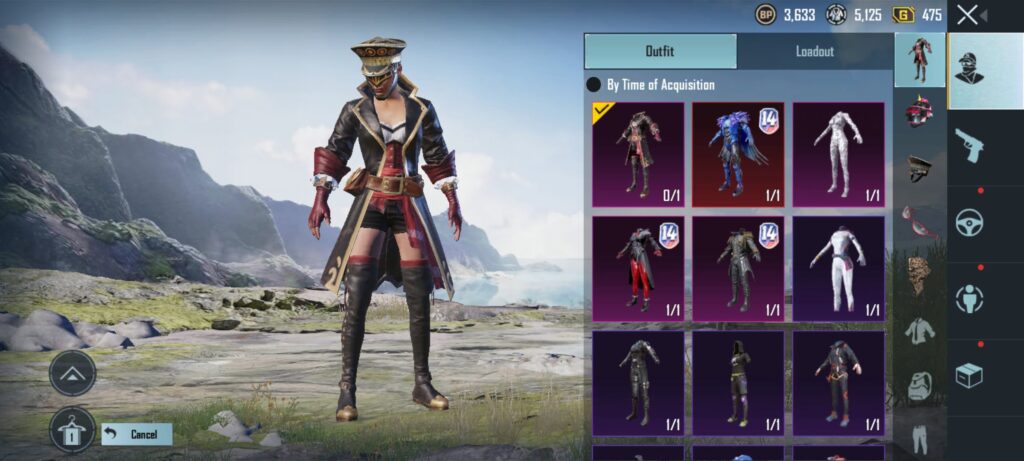 Gameplay
Gameplay options remain largely unchanged from PUBG Mobile. We still have the Classic, Arcade, EvoGround and Arena modes. Classic and Arcade modes can be played in Solo, Duo and Squad options, whereas EvoGround and Arena modes are available only in the Squad mode. In the Classic mode, the ability to play unranked – playing without any changes to the player rank – is locked out as of writing. The Erangel map has been given a rework and looks exactly the same as found on PUBG Mobile 1.0. We also see the Karakin map ported over from PUBG PC game – which is not the same as PUBG Mobile. We were surprised to see the Livik map still marked with Beta as the Karakin and Livik maps share the same area of 2km x 2km.
When you enter a game inside any mode, you will always be greeted with a voiceover saying that the game is only a simulation game in a virtual world. You will also see a corresponding message along with this voiceover. This message can also be seen everytime you launch the game. While this could get frustrating over time, this is a timely reminder to take a break for ourself. Moreover inside the classic mode, once you eject yourself out from the aircraft, you will see the message "Enter the virtual world" written in big bold letters above the health bar until you land on the ground.
It never really felt like I had left the touch from PUBG Mobile, as I had secured the 3rd position in the very first match I played in the new game inside the Livik map. Not so bad for someone who hasn't played the game in 9 months. Although you could attribute such a result to me as I have been playing other Battle Royale and Multiplayer games like PUBG PC Edition, Call of Duty Mobile, Warzone and Rainbow Six Siege regularly in the meantime. Another thing that can be attributed to this behaviour would be bots, but that will be resolved once there is a good userbase for the new game in India.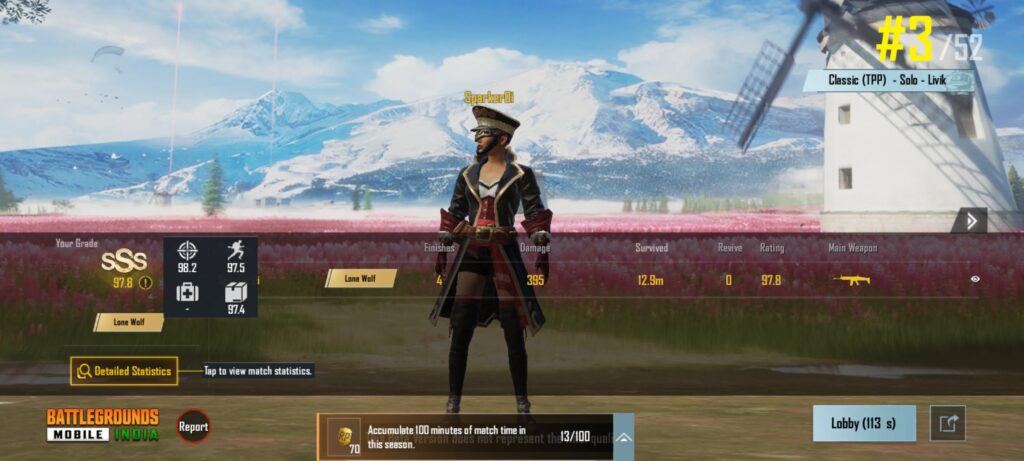 In terms of changes in weapons we did not find any changes to the way existing weapons work, but we do see two new weapons added – FAMAS, which uses 5.56mm bullets and an M1014 shotgun, which uses 12mm shotgun bullets.
Other changes
Unlike PUBG mobile, when a bullet hits the enemy, the hit effect will now be shown in a light green color instead of red. Moreover green leaves can be seen around the enemy when he is hit. This green color can be changed to either dark green or pale yellow, but not Red or any other color. Damage effect – Hit effect when the player is hit by an enemy – can only be seen in dark green or pale yellow options.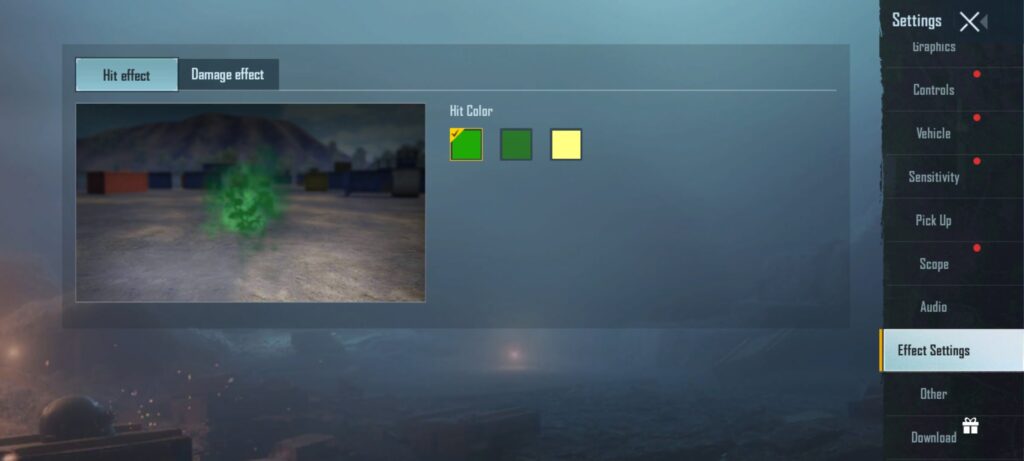 Apart from this, the training room has now moved over to inside a separate section in the Cheer Park. Players who don't have any data getting carried over from PUBG mobile will be met with a new tutorial mini-game once they start playing Battlegrounds Mobile India. This includes a training routine that will explain how basic game tactics like movement, weapon-picking and switching and weapon add ons will work.
We can also see separate graphics options for lobby as well as in-game. Both can be configured separately from Smooth to Ultra HD graphic settings. Both options will also have the 90fps Frame rate setting when the Smooth option is chosen. This is a welcome change as I always felt some amount of lagginess in the lobby inside PUBG mobile while the gameplay was very smooth on our OnePlus 7T. There's also a separate UHD graphics setting, but we are not sure why this option exists given that we already have Ultra HD option available. On our phone, there were some glitches here and there when the 90fps option wasn't selected, even on Smooth mode. However if you selected that, gameplay was buttery smooth. We haven't given it a shot on our other devices yet, but once we do, we will update the article.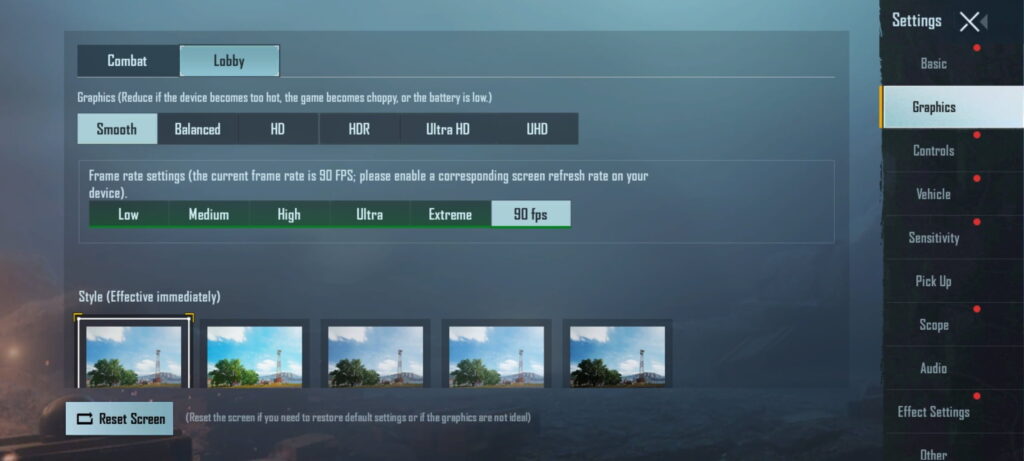 Another thing we noted is that once our data got migrated over to the new game, we were not be able to login to PUBG Mobile with the same social media account. We would be greeted with a message saying that the account has been logged in on a newer version of the game.
Apart from this we don't see any mention of Tencent, neither in the game's loading screen nor elsewhere. Users will now see a big Krafton logo upon launching the game and any instance of Tencent in the game is replaced by either Krafton or the Battlegrounds Mobile India logo. This move will likely give some confidence to the Government of India, which banned PUBG Mobile due to links with a Chinese company – Tencent. Another point that can increase this confidence is that player data will now be stored inside servers in India and Singapore. This is something that the users can also read inside the Privacy popup when they login to the new game for the first time.
While we do not have any information about the launch of the game, seeing an Early Access beta means that the launch of the game is not too far off.