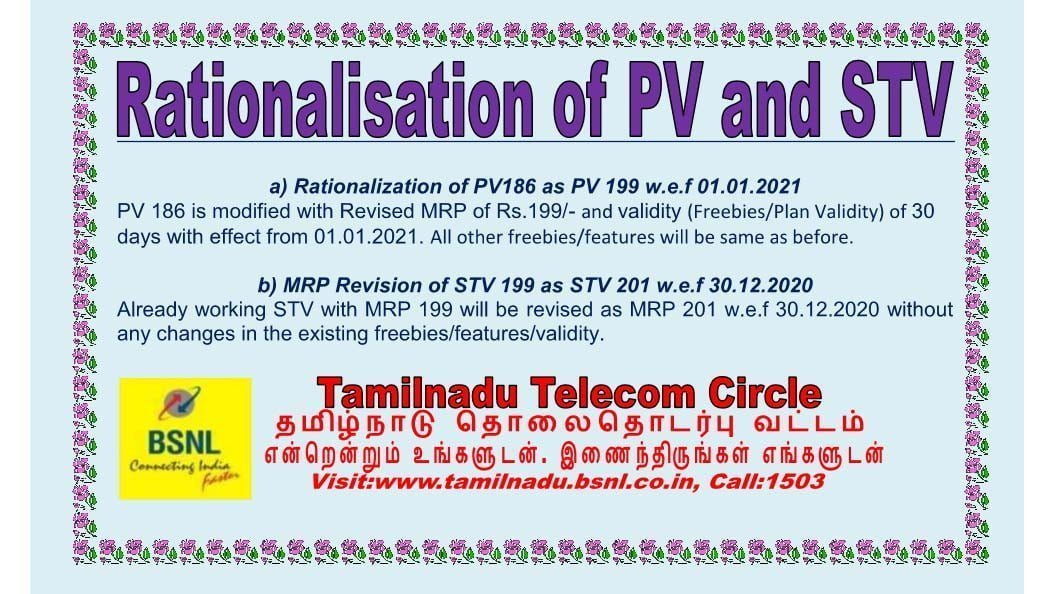 State-owned telecom operator Bharat Sanchar Nigam Limited (BSNL) is set to rationalize one plan voucher (PV) and special tariff voucher (STV). The change will happen over the next few days with one of the rationalization happening today and the last one happening on New Year.
According to a BSNL Chennai tweet, the company is rationalizing PV 186 as PV 199 effective 1st January 2021. BSNL is revising PV 186 to modify it to a revised MRP of Rs 199 with validity of 30 days for freebies and plan validity. The freebies and features of the plan remain same as before.
Separately, effective today BSNL is revising the MRP of STV 199 to STV 201. The already working STV will however have no changes in the existing freebies, features, and validity.
In other news, BSNL's network signals have emerged in Mumbai circle ahead of the reported launch of BSNL's service in Delhi and Mumbai circles which would make it a pan India operator. OnlyTech managed to catch 2G and 3G signals of CellOne in Mumbai which is however yet not live in Delhi.