Traffic, Tic Tac Toe and more coming to Airtel Xstream in September
Estimated reading time: 1 minute, 2 seconds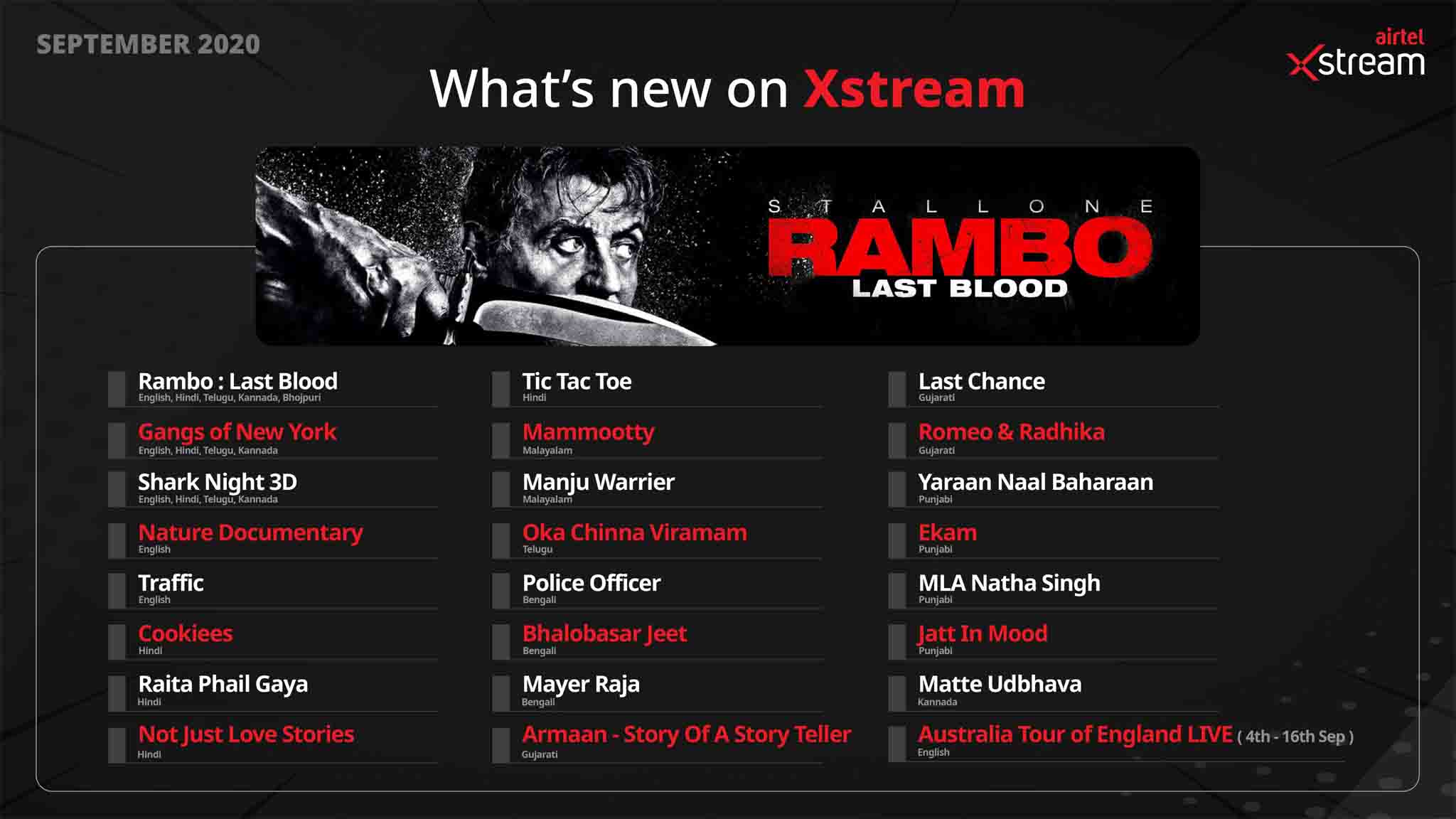 In September, Airtel Xstream multiple titles dropping in across multiple languages including English, Hindi, Telugu, Kannada, Malayalam, Gujarati, Punjabi among others. Apart from movie titles, Airtel Xstream is also currently showcasing Australia Tour of England LIVE.
Rambo: Last Blood (2019), Shark Night 3D (2011), Traffic (2016), Police Officer (1992) will also come to Airtel Xstream this month even though the date of the titles landing on Airtel Xstream is not mentioned.
Last Chance, Ekam, Nature Documentary, and Raita Phail Gaya are a few of the other titles that are landing on Airtel Xstream. Airtel has listed around 23 titles cross-cutting across multiple languages which have been listed below.
Here's the full list
Rambo: Last Blood (English, Hindi, Telugu, Kannada, Bhojpuri)
Gangs of New York (English, Hindi, Telugu, Kannada)
Shark Night 3D (English, Hindi, Telugu, Kannada)
Traffic (English)
Nature Documentary (English)
Cookiees (Hindi)
Raita Phail Gaya (Hindi)
Not Just Love Stories (Hindi)
Tic Tac Toe (Hindi)
Mammootty (Malayalam)
Manju Warrier (Malayalam)
Oka Chinna Viramam (Telugu)
Police Officer (Bengali)
Bhalobasar Jeet (Bengali)
Mayer Raja (Bengali)
Armaan – Story of a Story Teller (Gujarati)
Last Chance (Gujarati)
Romeo & Radhika (Gujarati)
Yaraan Naal Baharaan (Punjabi)
Ekam (Punjabi)
MLA Natha Singh (Punjabi)
Jatt In Mood (Punjabi)
Matte Udbhava (Kannada)
Australia Tour of England LIVE (English) 4-16th Sep