Microsoft celebrates six months of Bing Chat with new features and third-party browser support
As per Microsoft, over 1 billion chats and 750 million images have been shared with Bing Chat since its launch.
Estimated reading time: 2 minutes, 1 second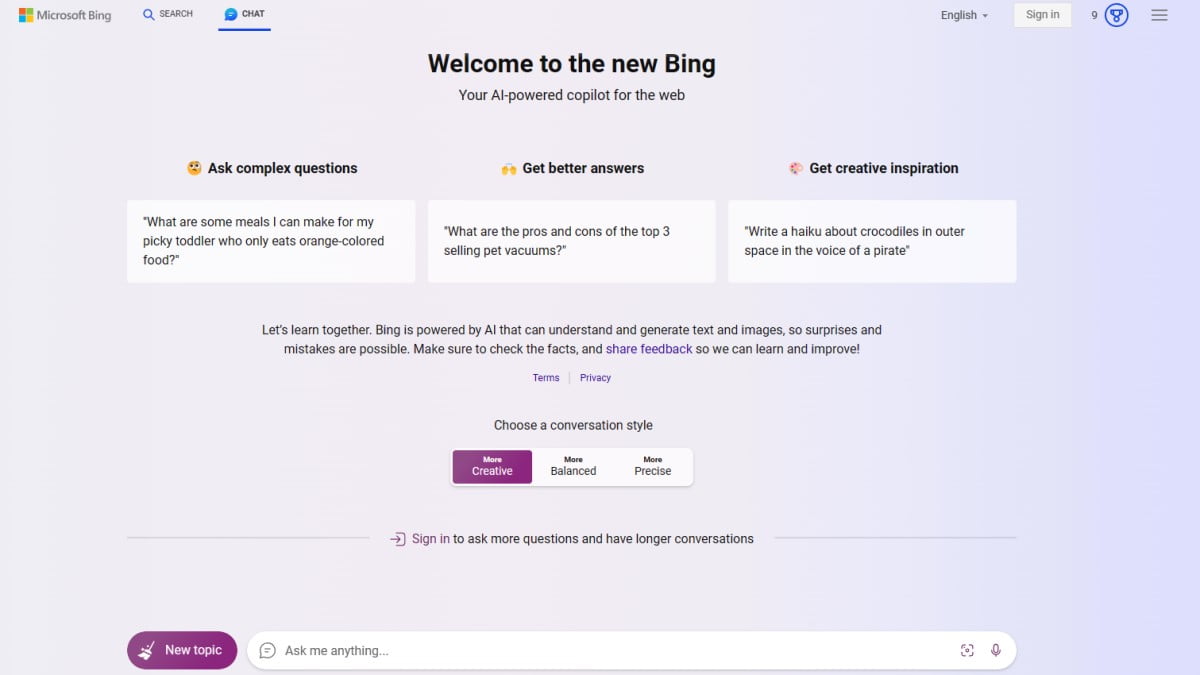 Microsoft Bing Chat has reached its six-month milestone since its launch in February 2023. Users can already access Bing Chat on desktop, iOS, and Android devices. Soon, Bing Chat will be available on Windows 11 desktops through Windows Copilot and will be integrated with other Microsoft products such as SwiftKey, Microsoft Teams, and Microsoft 365. According to Microsoft, over 1 billion chats and 750 million images have been shared with Bing Chat since its launch.
Here are the newest Bing Chat features Microsoft highlighted in its blog post.
Third-party browser support
Microsoft is already testing Bing Chat on other browsers, including Google Chrome and Apple Safari. Soon users will be able to access Bing Chat in third-party browsers on the web and mobile. Microsoft will also continue to optimize Bing Chat to meet users' needs across browsers. However, Bing Chat on third-party browsers will have some limitations, and Microsoft Edge users will have the advantage of having longer conversations, chat history, and inbuild Bing features.
Bing Chat Enterprise
Microsoft recently introduced Bing Chat Enterprise to offer organizations AI-powered chat with commercial data protection. The company says users and business data in the Bing Chat Enterprise are protected and will not leak outside the organization. Bing Chat Enterprise is now available for commercial customers licensed for Microsoft 365 E3, E5, Business Standard, and Business Premium at no additional cost.
Dark Mode
Microsoft has introduced the Dark Mode feature for Bing Chat and Bing Chat Enterprise for users on the desktop browser and Bing mobile app. Dark Mode saves battery, and it is also easier on the eyes. According to Microsoft, Dark Mode on Bing Chat was one of the top requested features.
Multimodal Visual Search in Chat
Microsoft has integrated OpenAI models that allow users to input into Bing Chat with images and ask related questions. Bing Chat can understand the context of an image, interpret it, and answer questions. For instance, users can use Visual Search to ask Bing Chat questions about the architecture of a building or ask lunch ideas by taking a picture of the contents of their fridge.
Bing Chat plug-ins
Microsoft is working on enhancing the functionality of Bing Chat through plug-ins. Plug-ins will allow Bing Chat to integrate with various services, such as Redfin, Spotify, Instacart, Kayak, TripAdvisor, Expedia, and more.
Microsoft will continue to expand its AI-powered Bing Chat features and capabilities based on user feedback and suggestions.