Jio adds subscribers at the cost of Vodafone Idea and Airtel in May 2020: TRAI Report
Estimated reading time: 1 minute, 59 seconds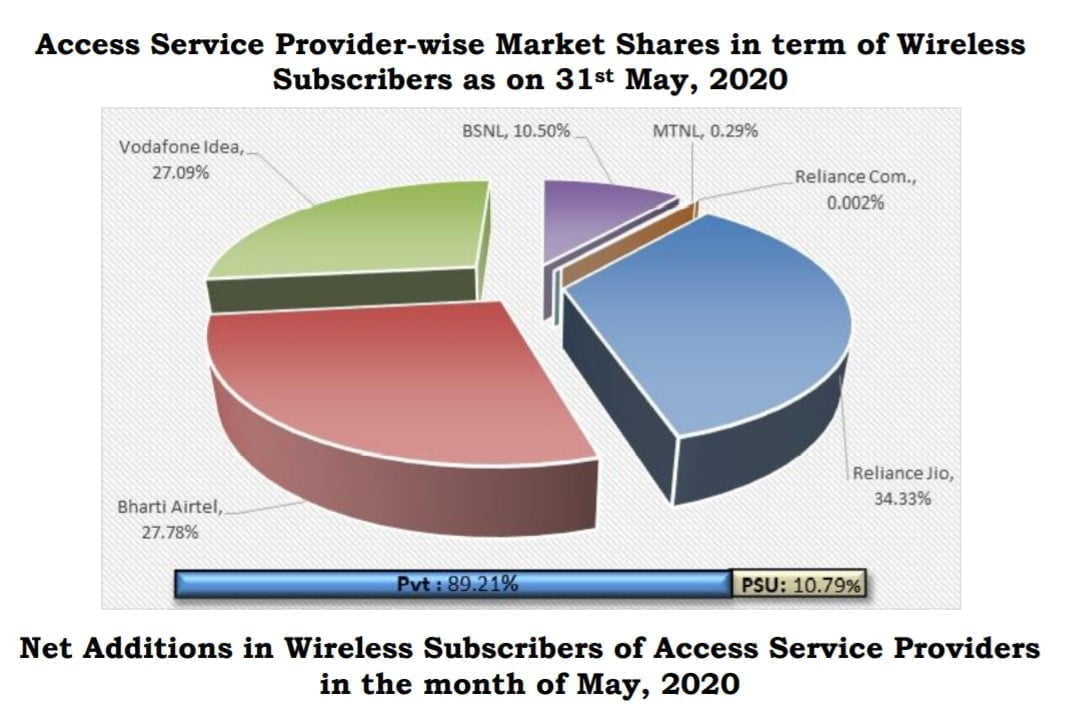 Highlights
Reliance Jio added over 3.6 Million new wireless subscribers in May
Airtel and Vodafone Idea lost over 4.7 Million subscribers each
BSNL continues to lead in wired broadband connections
The telecom subscriber figures for the third month of the national lock-down ie. May 2020 have just been released by TRAI and it shows that both the incumbent private operators Bharti Airtel and Vodafone Idea have suffered heavy subscriber losses which could be a result of low ARPU users not recharging their prepaid connections due to financial constraints and difficulty in locating a functioning recharge outlet. In stark contrast to this, Reliance Jio has continued to show strong subscriber additions in the month.
As of 31st May 2020 Reliance Jio is leading with 34.33% market share which translates to 392.7 million subscribers, Bharti Airtel is at second position with 27.78% market share (317.77 million subscribers), whereas Vodafone Idea comes third with 27.09% market share (309.88 million subscribers). BSNL commands 10.50% (120.11 million) while MTNL commands just 0.29% market share (3.31 million).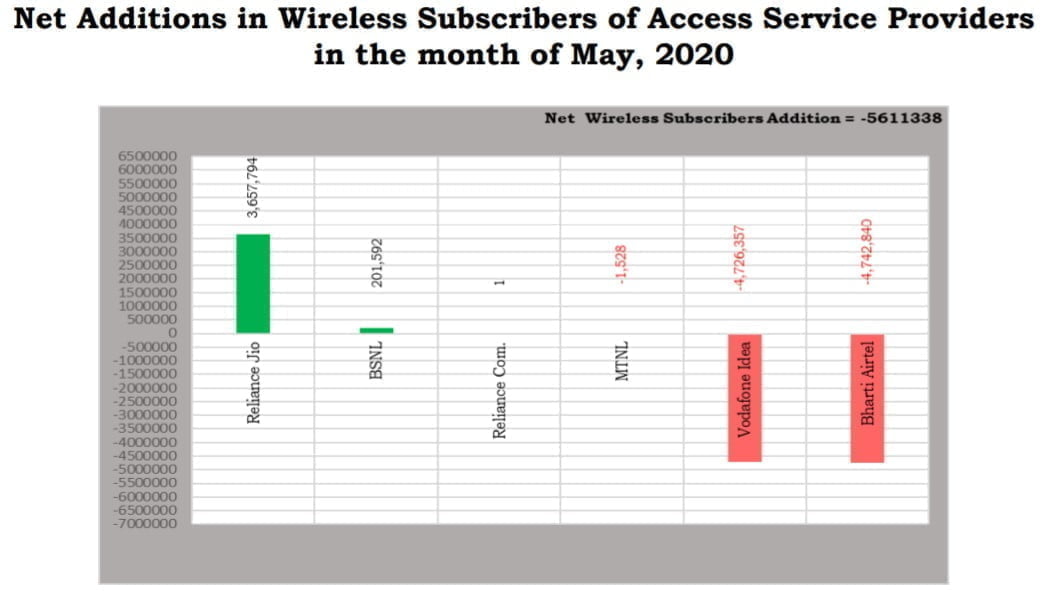 Net Subscriber Gain/Loss in May:
Jio was the only private operator who managed to add new wireless subscribers in May with 3.6 million net additions. Bharti Airtel and Vodafone Idea both lost a whopping 4.7 million subscribers each. BSNL lost over 2 lakh subscribers, meanwhile, MTNL lost over 1.5 thousand subscribers in May.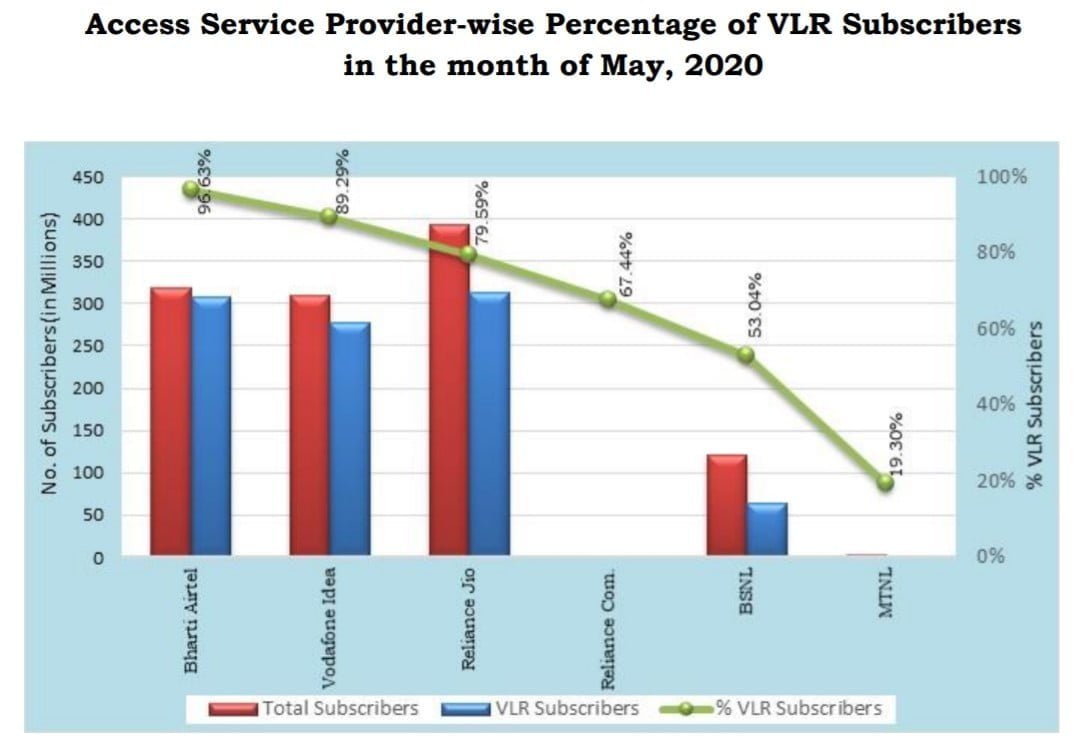 Active subscriber base, VLR data:
Visitor location register (VLR) is an indicator of what percentage of the total subscriber base is comprised of active users. Bharti Airtel leads the race in VLR numbers with over 96% of its user base being active, it is followed by Vodafone Idea with nearly 89%, Reliance Jio has nearly 79% whereas BSNL lags behind with only 53% of its total user base being active.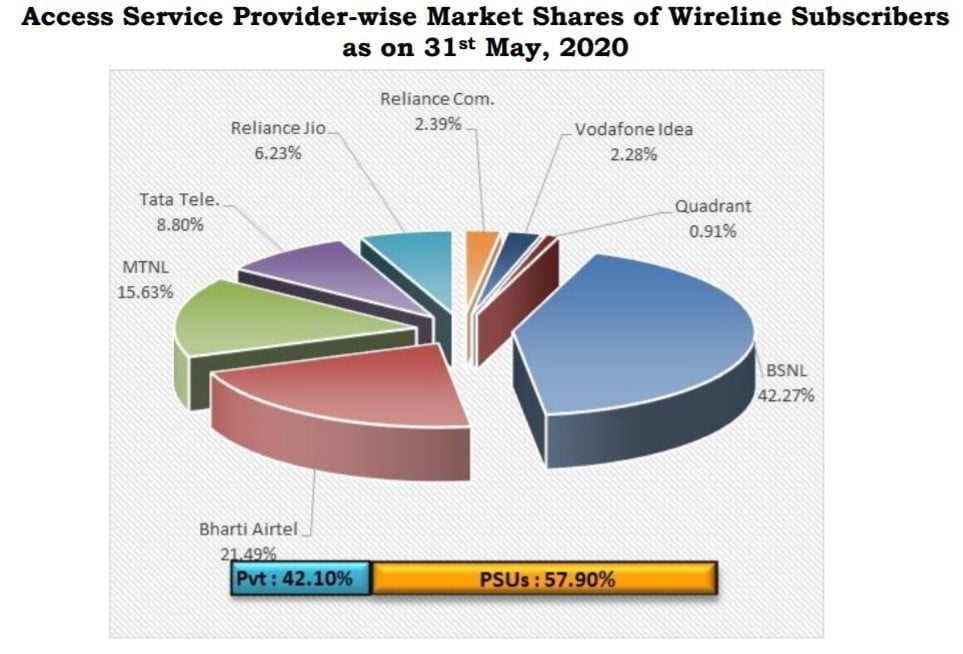 BSNL continues to lead with 42.27% share of the wireline subscriber market, even though it lost over 1.34 lakh subscribers in May 2020. Bharti Airtel commands 21.49% share though it lost over 68 thousand subscribers. MTNL follows with 15.63% share, after adding over 1.6 thousand subscribers. Reliance Jio holds 6.23% share as it added over 90 thousand subscribers. Vodafone Idea holds only 2.28% share as it lost over 9 thousand subscribers in May 2020.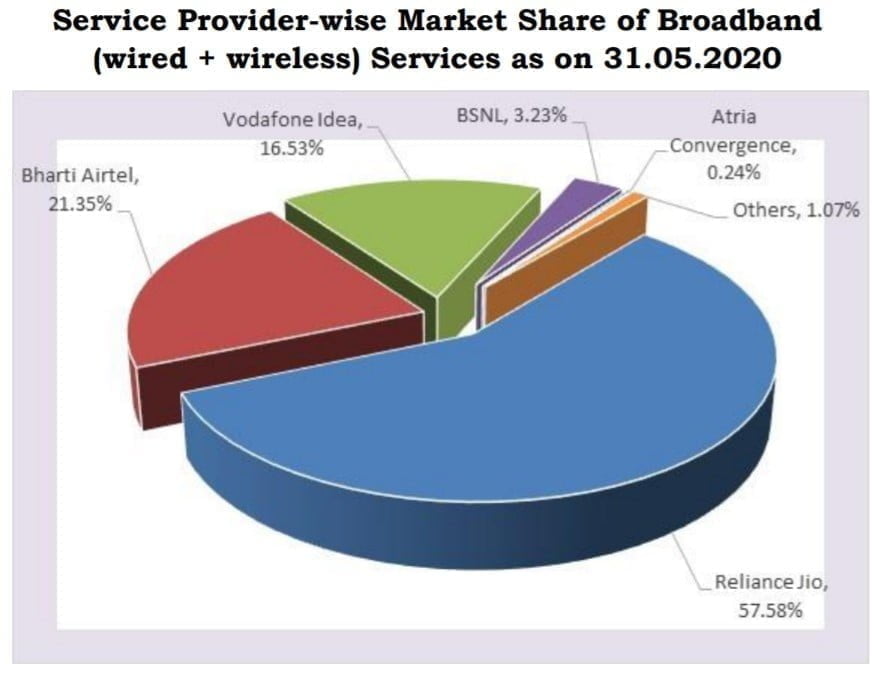 Broadband is considered when the speed offered is higher than 512 Kbps irrespective of it being a wired or wireless connection. As on 31st May 2020, the top five Wired Broadband Service providers by subscriber base were BSNL (7.93 million), Bharti Airtel (2.41 million), Atria Convergence Technologies (1.64 million), Hathway Cable & Datacom (0.97 million) and Reliance Jio Infocom Ltd (0.97 million). The top five Wireless Broadband Service providers were Reliance Jio Infocom Ltd (392.75 million), Bharti Airtel (143.55 million), Vodafone Idea (113.05 million), BSNL (14.14 million) and MTNL (0.29 million).