Vi launches Weekend Data Rollover on unlimited prepaid packs starting Rs 249
Estimated reading time: 4 minutes, 48 seconds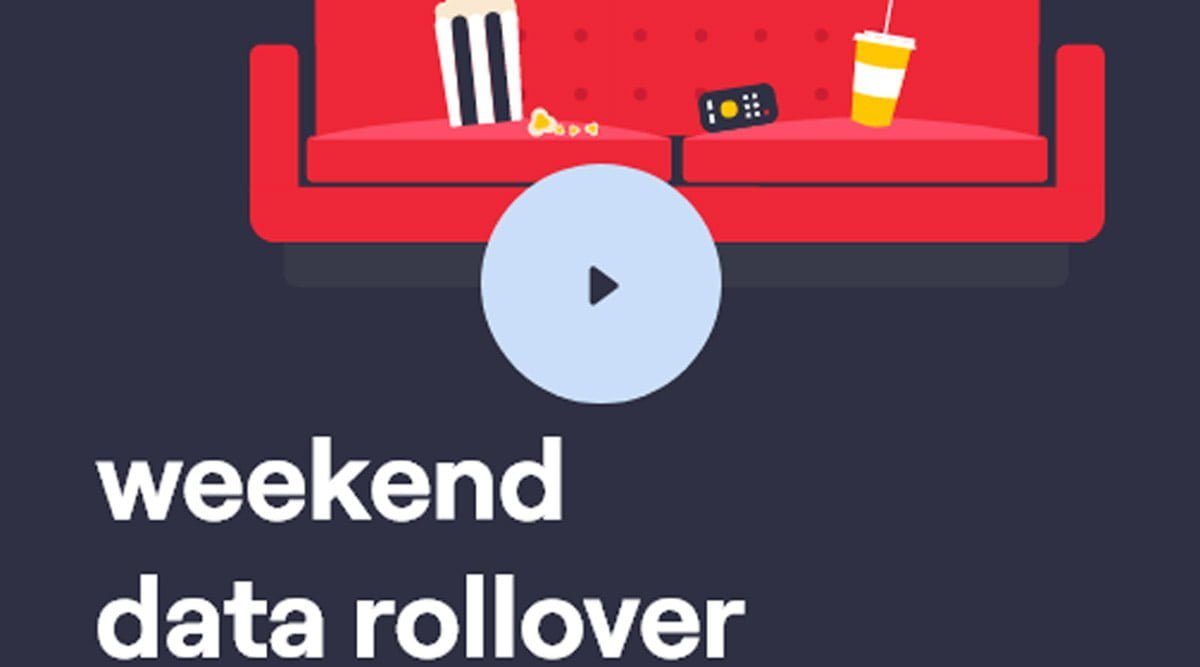 Highlights
Vi launches Weekend Data Rollover as promotional offer until 17th January 2021
WDR to allow accumulation of unused daily data quota during weekdays which can be used on weekends
No capping of accumulation of roll over benefit; Fixed Data Quota accumulated to have precedence over daily data quota during weekends
WDR applicable on all unlimited prepaid plans over Rs 249
Vi (formerly Vodafone Idea) has today rolled out 'Weekend Data Rollover' benefit which will allow Vi customers on unlimited packs to roll over their unused data which can be used on the weekend. The rollover will be available as a promotional offer which is applicable from 19th Oct 2020 to 17th Jan 2021 exclusively on VIL prepaid unlimited calling and daily data quota packs of Rs 249 and above.
The weekend data rollover feature will allow you to carry forward your unused data daily from weekdays to weekends. The data saver benefit will let you accumulate unused daily data quota from Monday to Friday for use on Saturday and Sunday.
The data saver benefit will be available free of cost on all unlimited recharge plans above Rs 249 which come with a daily data cap. The data saver benefit will be available to all Vi prepaid customers who can enjoy the benefit by recharging with the unlimited packs with daily data quota.
How does Vi Weekend Data Rollover work?
If you recharge any of Vi's GB/day unlimited packs over Rs 249 post the recharge your un-utilized data during the weekend will get carried forward automatically and transferred to weekends.
Suppose you have a 3GB daily data quota as part of your unlimited prepaid plan, you save 1GB on Monday, 0.5GB on Tuesday, 0.5GB on Wednesday, 1.5GB on Thursday, and 1GB on Friday then the unused daily data quota will accumulate to 4.5GB data which can be used along with your daily data quota on the weekends.
How does Vi Weekend Data Rollover work?
| Day of week | Daily Data Quota | Unused Daily Data |
| --- | --- | --- |
| Monday | 3GB | 1GB |
| Tuesday | 3GB | 0.5GB |
| Wednesday | 3GB | 0.5GB |
| Thursday | 3GB | 1.5GB |
| Friday | 3GB | 1GB |
Enjoy the additional data collected over the weekends (4.5GB) plus daily data quota on the weekend
The fixed data quota accumulated will have precedence for use over the daily data quota during the weekends with the daily data quota only kicking in on weekends after you have exhausted the rollover data. There will be no capping on the accumulation of the unused rollover quota.
Any accumulated data which is left unused will be forfeited post applicable week i.e post 24 hours of Sunday. The weekend rollover data accumulated will be available in the Active Packs & Services section of the app. Alternatively, one can check the same through *199# USSD code as well.
The weekend rollover will apply to the full double data quota on unlimited plans which currently offer double data benefit. Vi will also offer weekend data rollover benefit with additive validity from subsequent recharges only incase of unlimited packs offering additive validity.
Incase the unlimited plan expires while having unutilized roll over quota and there is a gap between previous pack expiry and new eligible unlimited recharge then the previous unused roll-over benefit will get forfeited and new quota will start afresh from the new UL recharge date.
MRPs applicable for Vi Weekend Data Rollover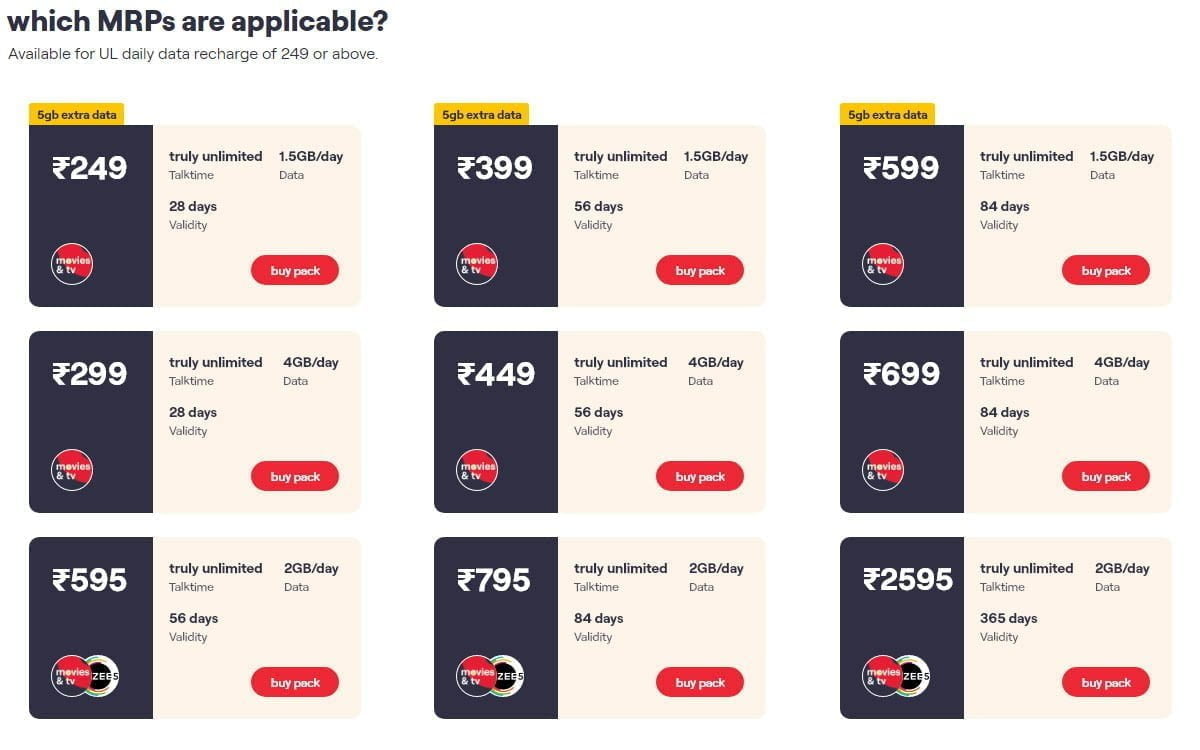 The data rollover benefit will be available on Rs 249 unlimited plan, Rs 399 unlimited plan, Rs 599 unlimited plan, Rs 299 unlimited plan, Rs 449 unlimited plan, Rs 699 unlimited plan, Rs 595 ZEE5 Premium bundle, Rs 795 ZEE5 Premium bundle, and Rs 2595 ZEE5 Premium bundle.
While the dedicated microsite for weekend data rollover lists only few prepaid plans, the microsite for prepaid plans lists all the prepaid plan above Rs 249 eligible for the weekend data rollover benefit.
Rs 297 unlimited plan, Rs 497 unlimited plan, Rs 647 unlimited plan, Rs 1197 unlimited plan, Rs 555 unlimited plan, Rs 819 unlimited plan, Rs 398 unlimited plan, Rs 499 unlimited plan, Rs 558 unlimited plan, and Rs 2399 unlimited plan are also applicable for Vi's WDR benefit.
MRPs applicable for Vi Weekend Data Rollover
Unlimited Plan
Bundled Benefits
Validity
Rs 249 (5GB Extra Data – App/Web Exclusive Offer)
Truly unlimited talktime, 1.5GB/day, 100 SMS/day, and access to Vi Movies and TV
28 days
Rs 399 (5GB Extra Data – App/Web Exclusive Offer)
Truly unlimited talktime, 1.5GB/day, 100 SMS/day, and access to Vi Movies and TV
56 days
Rs 599 (5GB Extra Data – App/Web Exclusive Offer)
Truly unlimited talktime, 1.5GB/day, 100 SMS/day, and access to Vi Movies and TV
84 days
Rs 299
(Double Data Offer)
Truly unlimited talktime, 4 GB/day, 100 SMS/day, and access to Vi Movies and TV
28 days
Rs 449
(Double Data Offer)
Truly unlimited talktime, 4 GB/day, 100 SMS/day, and access to Vi Movies and TV
56 days
Rs 699
(Double Data Offer)
Truly unlimited talktime, 4 GB/day, 100 SMS/day, and access to Vi Movies and TV
84 days
Rs 595 (ZEE5 Premium Bundle)
Truly unlimited talktime, 2 GB/day, 100 SMS/day, and access to Vi Movies and TV and ZEE5 Premium for 1 year
56 days
Rs 795 (ZEE5 Premium Bundle)
Truly unlimited talktime, 2 GB/day, 100 SMS/day, and access to Vi Movies and TV and ZEE5 Premium for 1 year
84 days
Rs 2595 (ZEE5 Premium Bundle)
Truly unlimited talktime, 2 GB/day, 100 SMS/day, and access to Vi Movies and TV and ZEE5 Premium for 1 year
365 days
Rs 398
Truly unlimited talktime, 3GB/day, 100 SMS/day, and access to Vi Movies and TV
28 days
Rs 598
Truly unlimited talktime, 3GB/day, 100 SMS/day, and access to Vi Movies and TV
56 days
Rs 499
Truly unlimited talktime, 1.5GB/day, 100 SMS/day, and access to Vi Movies and TV
70 days
Rs 555
Truly unlimited talktime, 1.5GB/day, 100 SMS/day, and access to Vi Movies and TV
77 days
Rs 819 (1 year Extended Warranty for Vivo Smartphones)
Truly unlimited talktime, 2GB/day, 100 SMS/day, and access to Vi Movies and TV
84 days
Rs 2399
Truly unlimited talktime, 1.5GB/day, 100 SMS/day, and access to Vi Movies and TV
365 days
Rs 297 (First Recharge Plan)
Truly unlimited talktime, 1.5GB/day, 100 SMS/day, and access to Vi Movies and TV
28 days
Rs 497 (First Recharge Plan)
Truly unlimited talktime, 1.5GB/day, 100 SMS/day, and access to Vi Movies and TV
56 days
Rs 647 (First Recharge Plan)
Truly unlimited talktime, 1.5GB/day, 100 SMS/day, and access to Vi Movies and TV
84 days
Rs 1197
Truly unlimited talktime, 1.5GB/day, 100 SMS/day, and access to Vi Movies and TV
180 days