Flipkart to launch Nokia branded Air Conditioners in India with Smart Climate Control, Self-cleaning technology
Estimated reading time: 1 minute, 11 seconds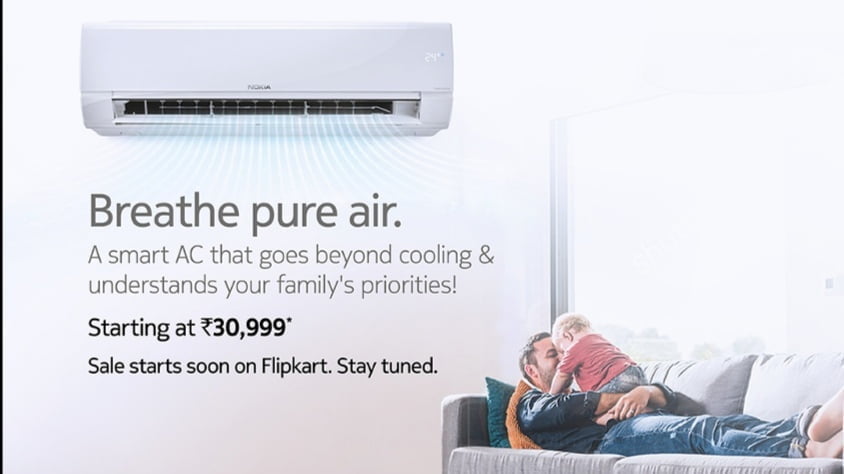 Homegrown e-commerce platform Flipkart has announced Nokia branded Air Conditioner range which are made in India. Flipkart is using Nokia brand for Air Conditioners after successfully launching Smart TVs, Laptop, and streaming media player in India.
Nokia Air Conditioner's specifications and features
The Nokia Air Conditioner's features include Assorted 6-in-1 Filters and Negative Ionizer for healthy and hygienic air, Intelligent Motion Sensor for Smart Climate Control, 4-in-1 adjustable Inverter, and Self-cleaning technology. The air conditioner range is equipped with dual rotary compressors, brushless DC motors, a dual rotary compressor, and a 4-way swing.
Nokia Air Conditioner's price and Availability
The Nokia Air Conditioners will be priced starting at Rs. 30,999 and will be available on Flipkart from December 29. No further details regarding the variants in the range have been made public yet.
"We are excited to extend our collaboration with Nokia to bring 'Made-in-India' Nokia air conditioners to consumers. Over the course of last year, we have launched superior products, at the back of our extensive consumer understanding, to bring offerings that are customized for the needs of Indian consumers. Smart home appliances have paved their way into households that ask for 'more' from their devices, and hence with this latest launch of Nokia air conditioners we wanted to bring innovation beyond just cooling – to give both multifunctional and environmentally friendly experience to consumers." said Dev Iyer, Vice President, Private Brands, Flipkart in his prepared statement.