Reliance Jio offering 4X Benefits through Partner Voucher on all Jio recharge plans above Rs 249 this June
Estimated reading time: 1 minute, 19 seconds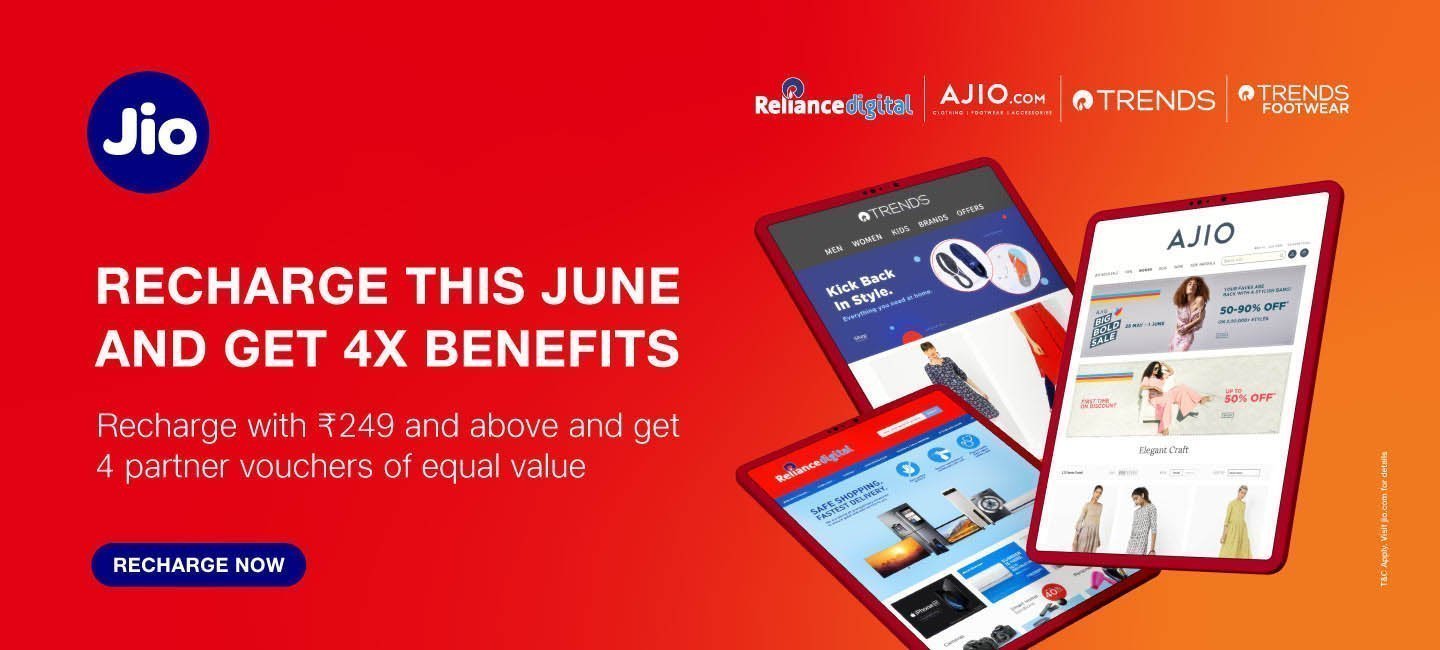 Reliance Jio today announced the launch of its '4X Benefits Offer' wherein it is offering its customers 4 partner vouchers of equal value on recharge plans of over Rs 249. The offer went live yesterday and will be valid until the end of this month.
Jio in partnership with Reliance Digital, AJio, Trends Footwear, and Trends is offering '4X Benefits' offer to Jio customers wherein users can get discount on electronics, apparel (both offline and online) and footwear on recharging during June.
The offer provides 4x benefits in form of discount coupons that can redeemed for attractive discounts at Digital, AJIO, Trends, and Trends Footwear. The eligible subscribers will get the coupons which will be credited in the coupons section MyJio app. The offer is for both new and existing Jio customers with those on active plans also eligible to avail the benefits of the offer by opting for an eligible recharge. It will act as an advance recharge with it queued up in the 'My Plans' section of the MyJio app.
According to infographics provided by Jio, a single AJIO/Trends/Trends Footwear coupon will offer Rs 300 off on Rs 999 worth items, with the number of coupons provided varying as per the recharge plan. Jio's Rs 4999 annual plan offers 17 coupons each of AJIO, Trends and Trends Footwear. Reliance Digital vouchers will offer discount equivalent to the recharge plan amount, however it comes with a rider that you need to have a minimum purchase of Rs 10,000. Jio recharges over Rs 999 will get coupons of different denominations. The limited period offer is valid until 30th June.