Explained: RCOM-DoT telecom license agreement saga
Here's why RCOM and DoT are involved in a faceoff over telecom licensing with 18 UASL licenses at stake.
Estimated reading time: 4 minutes, 5 seconds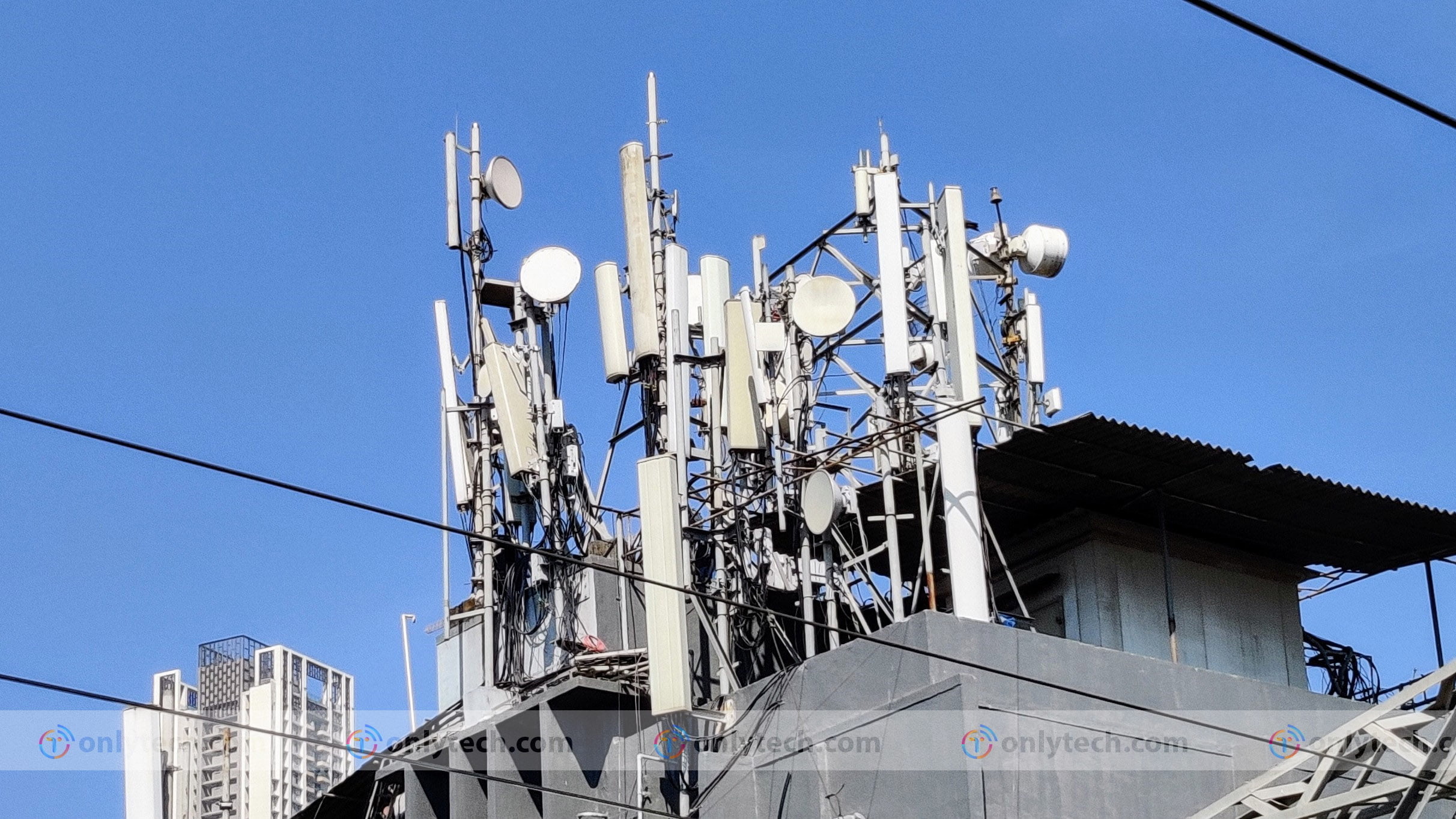 Bankrupt telco Reliance Communications is currently pursuing two separate petitions in the Telecom Disputes Settlement Appellate Tribunal (TDSAT) and the National Company Law Tribunal (NCLT) in a desperate bid to renew its expiring telecom licenses as it aims to salvage its spectrum holdings. The outcome of the petitions is ongoing with a hearing ongoing in NCLT and TDSAT waiting for NCLT's decision because of the jurisdictional issue raised by RCOM before NCLT and TDSAT.
RCOM's telecom petition comes up for hearing in the TDSAT this coming Monday while NCLT will hear RCOM's petition on 23rd August 2021. RCOM for the time being continues to have interim protection from both NCLT and TDSAT as the matter remains to be heard in full.
What is the problem with RCOM's telecom licensing?
Reliance Communications had on 25th October 2020 filed applications with the Department of Telecommunications (DoT) for the migration of various telecom licenses namely Unified Access Service License (UASL), National Long Distance (NLD), and International Long Distance (ILD).
DoT on 15th June 2021 issued a letter to RCOM requiring payments of various categories of certain amounts such as 10% of yearly-AGR dues payable by TSPs in terms of the order dated 01.09.2020 passed by the Hon'ble Supreme Court, spectrum auction installments due between 2013-16, license fee dues pertaining to FY 2016-17 and FY 2017-18 linked to the telecom licenses obtained pursuant to the merger with M/s Sistema Shyam Teleservices Limited, deferred spectrum installments falling within the CIRP period, other license fee-related dues in respect of certain circles pertaining to FY 2015-16, FY 2016-17 and FY 2018- 19, for which show-cause notices were issued in the year 2020, other purported LSA-wise dues ostensibly payable by RCOM, etc against the telecom licenses.
DoT stated such dues to be in the nature of current dues and prescribing such payment as a pre-condition to the consideration of the migration applications.
RCOM on 25th June 2021 issued a letter to DoT clarifying that the various categories of dues stipulated by DoT are not in the nature of the current dues and are to be resolved within the framework of the code and not payable at present. RCOM requested payments not be mandated as a precursor for further processing of the migration application filed by the Corporate Debtor.
RCOM's Resolution Professional then moved NCLT praying DoT to be inter alia be restrained from taking any action which may interfere with the continued holding of the telecom spectrum of the Corporate Debtor. NCLT back then adjourned the matter to 2nd September 2021.
RCOM then filed a writ petition in the Delhi High Court seeking issuance of an order directing DoT to migrate the telecom licenses to Unified License without any insistence on payment of dues set out in the DoT letter. The High Court directed the issue on current dues to be decided by the NCLT and provided interim protection till 30th July 2021.
NCLT was then apprised of the order of the High Court and RCOM was provided interim protection till 12th August 2021. RCOM now has extended interim protection till 23rd August 2021 while NCLT considers the matter relating to the dues being claimed by DoT for the purposes of processing the license renewal/ migration applications.
RCOM simultaneously filed a petition in TDSAT on 23rd July 2021 seeking directions for the migration of the telecom licenses apart from the extension of interim protection offered by the Delhi High Court. The tribunal due to jurisdiction issues related to NCLT and TDSAT is waiting for the order of NCLT for passing appropriate interim orders.
The matters are currently sub judice before the NCLT and the TDSAT. RCOM's petition is now listed in NCLT for 23rd August 2021 while TDSAT will hear the case on 16th August 2021 which might be postponed for another hearing pending NCLT order.
RCOM's argument is that the 2016 Guidelines do not envisage payment of (i) Deferred Spectrum Dues, (ii) AGR Dues, or (iii) other dues by a licensee, as a precondition for migration of existing licenses to UL.
What's at Stake
RCOM currently has 18 telecom licenses expiring this year in 18 service areas apart from the NLD and ILD licenses. The company holds spectrum holdings in the 800 MHz, 900 MHz, 1800 MHz, and 2100 MHz frequency bands across multiple circles. The continued holding of the wireless spectrum assets in these 18 service areas is at stake with DoT potentially withdrawing telecom spectrum granted to RCOM if it cancels RCOM's telecom license pending sub judice matters.
RCOM's UASL license expired on 19th July 2021 in Kerala, Karnataka, Himachal Pradesh, Haryana, Bihar, Delhi, Mumbai, West Bengal, Andhra Pradesh, Uttar Pradesh-E, Uttar Pradesh-W, Rajasthan, Maharashtra, Madhya Pradesh, Odisha, Kolkata & Punjab circles while Tamil Nadu circle expires on 25th September 2021.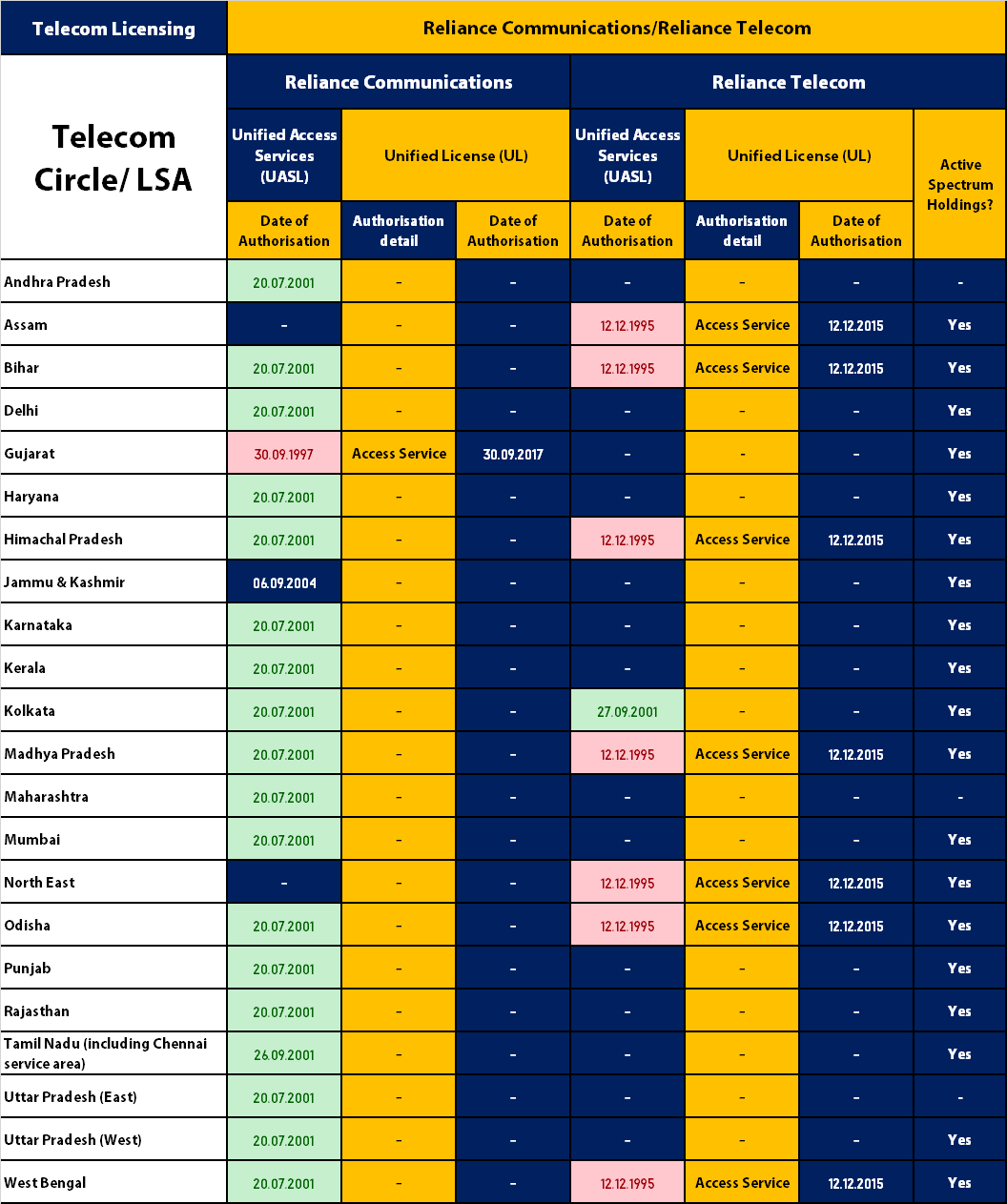 RCOM's spectrum holding is divided between the parent company and subsidiary Reliance Telecom which holds a Unified License in 7 service areas. The exact quantum of spectrum at stake due to the telecom licensing issue is currently unknown. The outcome of the judicial challenge is pending.