BSNL Kerala tweaks Rs 1098, Rs 429 and Rs 47 Prepaid Plan
Estimated reading time: 1 minute, 45 seconds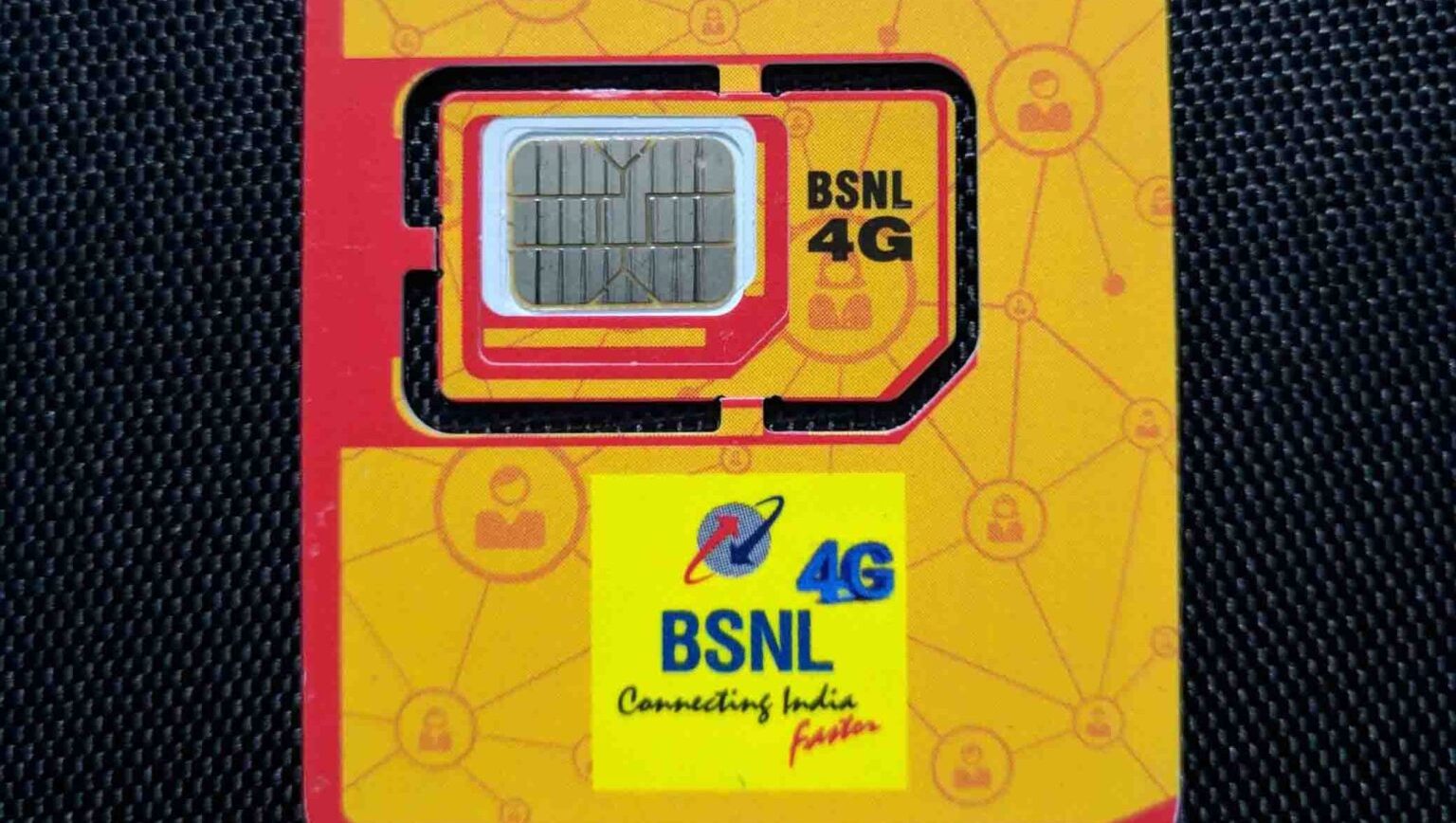 On top of the earlier BSNL Kerala prepaid plan changes we reported on 5th June, few more changes in the prepaid portfolio of BSNL Kerala have come to the front after BSNL Kerala yesterday published the June 2020 Tariff Card. BSNL Kerala has tweaked its Rs 1098, Rs 429 and Rs 47 prepaid plan.
BSNL Kerala has upped the validity on its Rs 1098 plan and Rs 429 plan. The Rs 47 Combo STV has seen a major revamp of its offerings while the pack rental remains the same. The changes took place on 4th June and 5th June with BSNL Kerala notifying its POS Card today. The tariff card has mentioned a 'New' banner against these plans along with other two plans.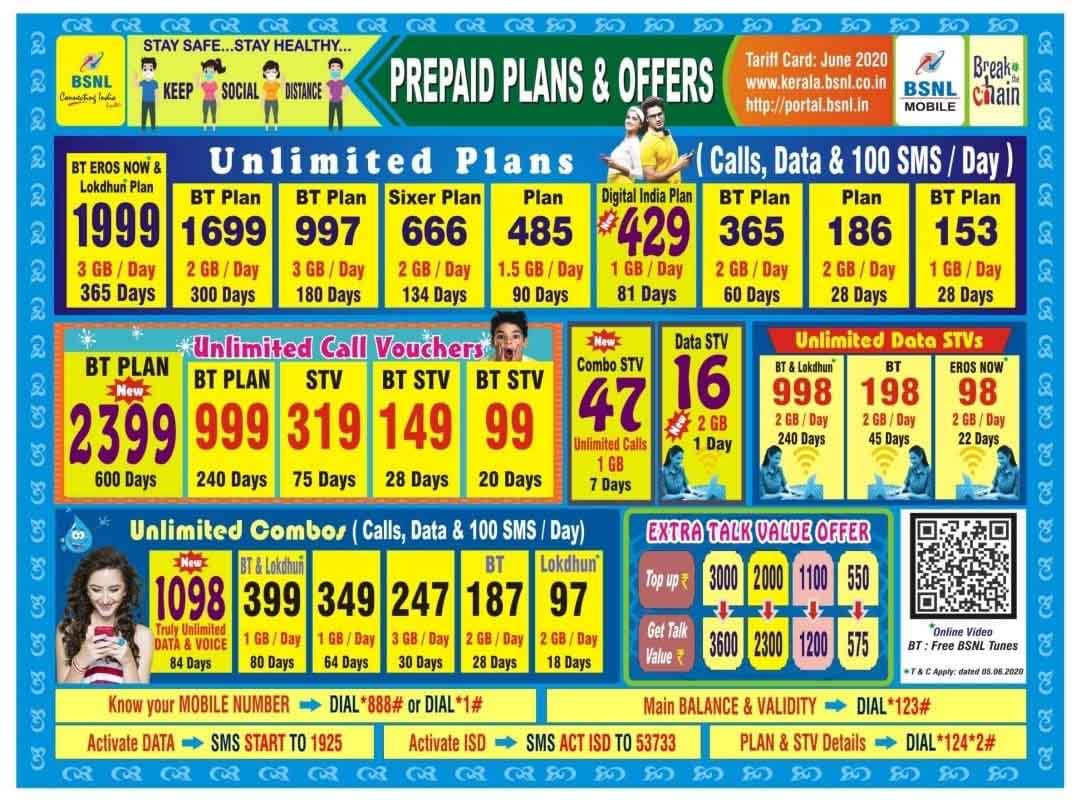 Rs 47 Combo STV Revamped
BSNL Kerala's Rs 47 Combo Voice 47 earlier offered talk value of Rs 20 with local BSNL calls charged at Rs 0.2 per minute. The Combo Voice plan came with a validity of 21 days.
The plan is now revamped into BSNL Combo STV Rs 47 which offers unlimited calling, 1 GB of high speed data, and 7 days validity.
BSNL Kerala Rs 1098 and Rs 429 Prepaid Plan Validity tweaked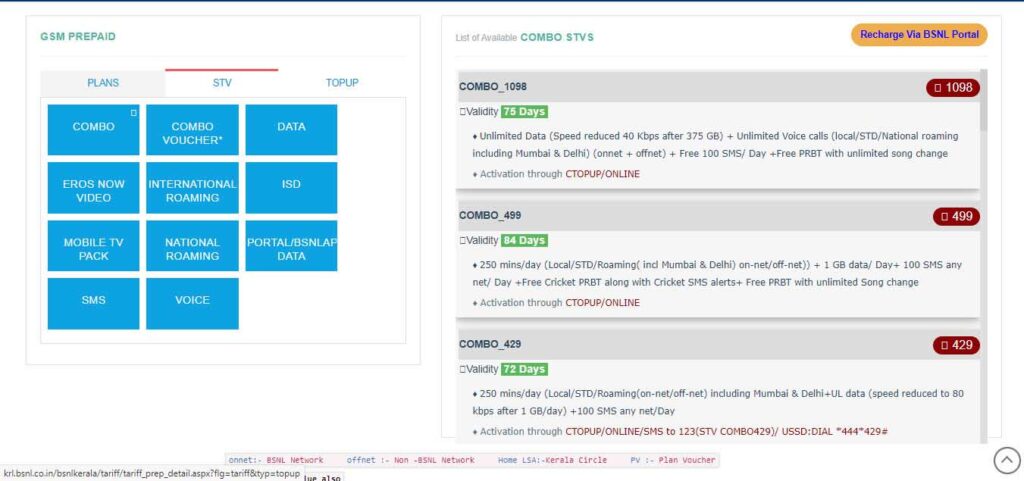 BSNL Kerala has now upped the validity of its Rs 1098 prepaid plan and Rs 429 prepaid plan. BSNL's Rs 1098 prepaid plan in Kerala earlier offered 75 days validity with 375 GB high speed data followed by 40 Kbps FUP speed, unlimited voice call, 100 SMS per day and Free Personalized Ring Back Tone with unlimited song change.
BSNL's Rs 1098 prepaid plan now offers unlimited data without speed restriction, unlimited voice calls, 100 SMS per day, and BSNL Tunes (earlier PRBT) with an increased validity of 84 days.
BSNL's Digital India Rs 429 prepaid plan now offers 81 days validity, up from 72 days. It continues to offer similar plan benefits i.e unlimited calling, 1 GB of high speed data per day, and 100 SMS per day.
These changes are in addition to the withdrawal of Kerala Plan 446, STV 14, STV 39, and STV 125, introduction of Data STV Rs 16, extended validity of Sixer Plan 66, Combo STV 349, Combo STV 499, and Combo STV 109, along with increase in validity and change in plan benefits of Plan 485 and Plan 153 in Kerala circle which we reported on 5th June.