Airtel starts converting existing broadband plans with unlimited data for existing users
Posted in: Airtel Xstream Fiber News
Estimated reading time: 1 minute, 25 seconds

Telecom giant Bharti Airtel has started converting all its existing broadband plans with unlimited data for existing users as it gears up to respond to the recent revamp of JioFiber plans which will spur up the competition in the wired broadband landscape and cheapen the price point of broadband plans with JioFiber offering its entry-level plan at as low as Rs 399.
Airtel has started converting all existing broadband plans namely Basic, Entertainment, Premium, and VIP to offer unlimited internet instead of the earlier fixed GB data caps. The upgradation of plans is being currently rolled out to existing customers while the website remains to reflect the same as of now.
Airtel has taken down the unlimited data add-on at Rs 299 from its website as well which confirms that Airtel is in the process of revamping its broadband plans as it prepares to counter JioFiber's move.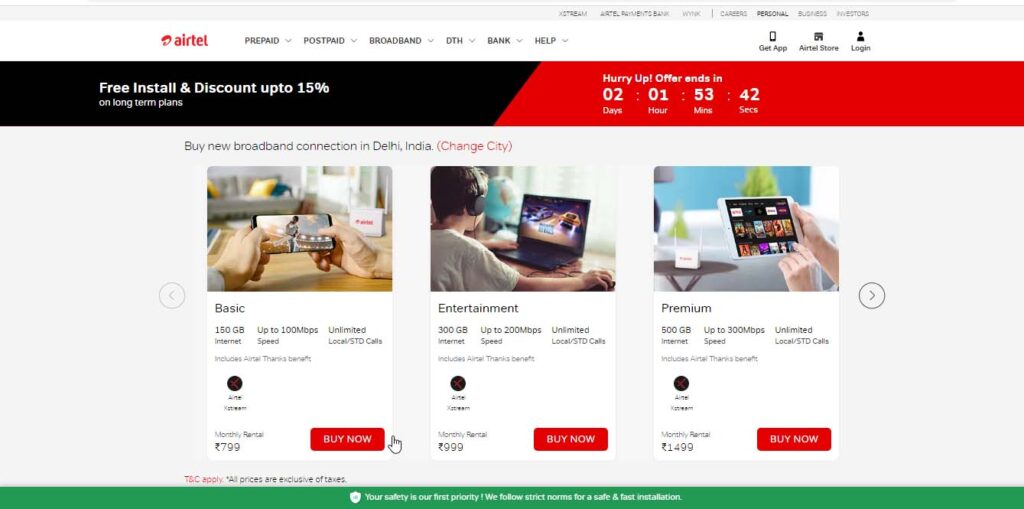 Airtel has separately also delisted the additional benefit of Prime Video to Airtel Xstream Fiber broadband plan users even though the same still reflects within the Airtel Thanks app for registered users. Airtel had recently also withdrawn ZEE5 benefits available to its Airtel Thanks Platinum customers.
Airtel now has to both up his OTT content gameplay and revamp its existing broadband plans to match JioFiber's revamped broadband plans as JioFiber looks to finally make its mark in the broadband landscape. Reliance Industries has an ambitious target of penetrating 20 million households through JioFiber.
For the unaware, Airtel has for long offered unlimited plans in Andhra Pradesh and Gujarat without the need for unlimited data add-on at the existing prices. The unlimited plans in those states had a cap of 3.3TB data usage followed by a post FUP speed of 1 Mbps.