Airtel and Reliance Jio planning to reach 1000 cities with FTTH rollouts in first phase: STL
Estimated reading time: 0 minutes, 51 seconds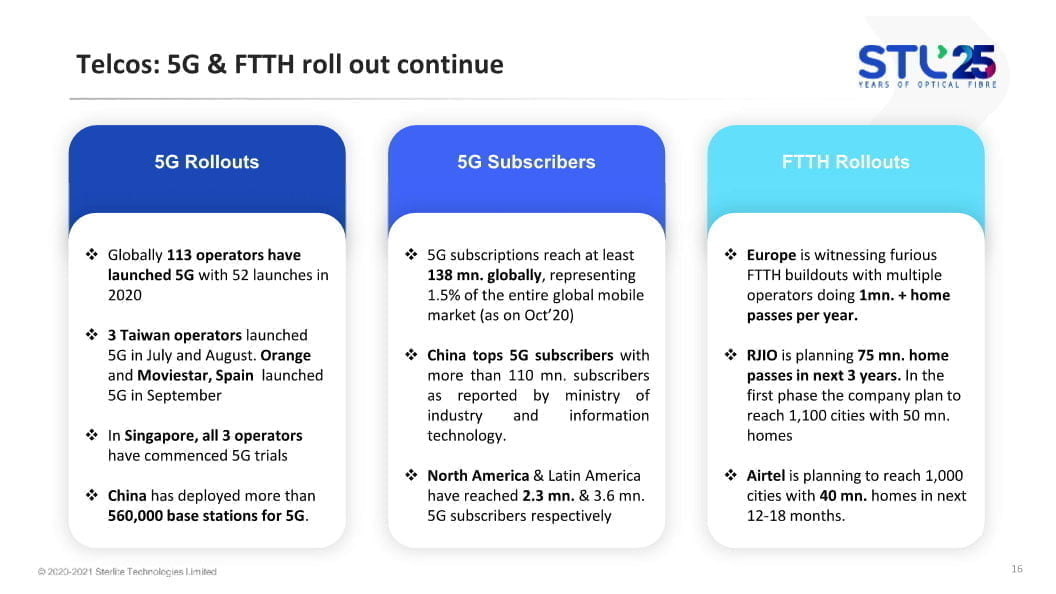 Bharti Airtel and Reliance Jio are said to be targeting to achieve Fiber-to-the-Home (FTTH) rollouts in around 1000 cities in the first phase according to telecom equipments major Sterlite Technologies.
The targets from Reliance Jio and Bharti Airtel were revealed by Sterlite Technologies in its recent investor presentation for Q2 FY 21 Earnings Call.
STL has stated that Bharti Airtel is looking to reach 1,000 cities in the next 12-18 months across India with an aim to reach around 40 million in homes. Bharti Airtel had recently mandated STL to roll out fiber network in around 10 telecom circles for expansion of its FTTH business.
STL further revealed that Reliance Jio was targeting to reach 75 million home passes in the next 3 years with the first phase involving expansion plan to reach 1,100 cities. Similar to Airtel, Reliance Jio's target for the first phase is slightly higher than Airtel at 50 million homes.
HFCL is currently laying down the fiber network for Reliance Jio in around 300 cities with entire range of fiber optic cable for FTTH in a large volume.