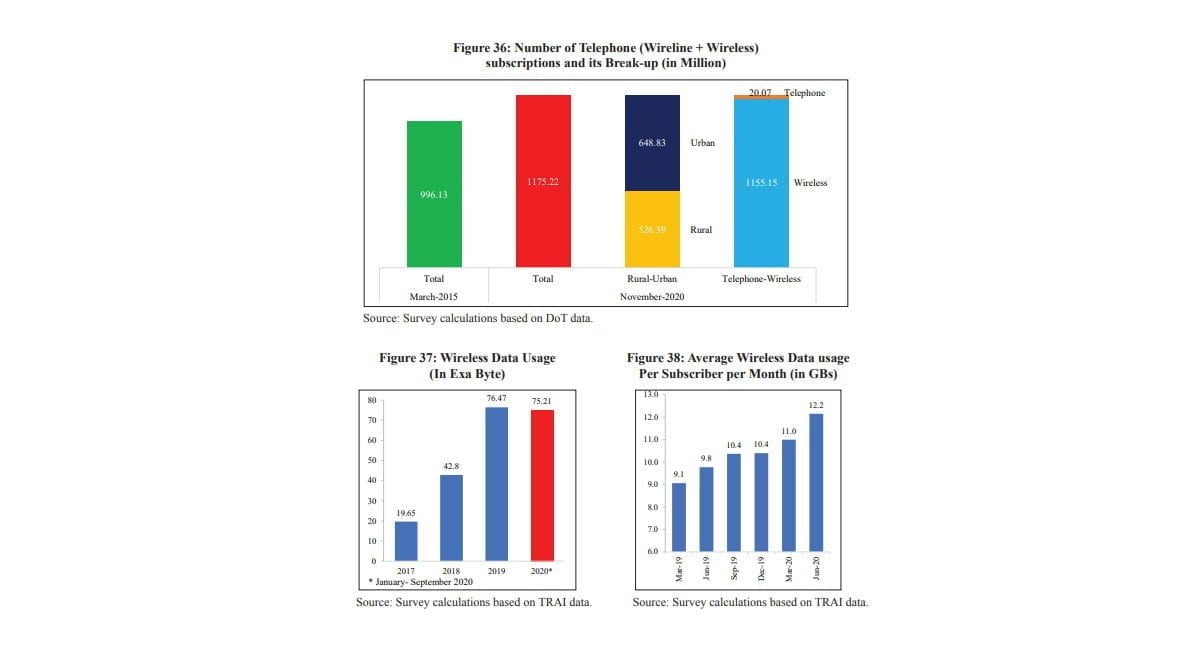 The wireless data usage grew exponentially in the first 9 months almost hitting the 12 month usage in 2019 in just 9 months in 2020. The Economic Survey released by the Government of India highlighted the performance of telecom sector in 2020 based on TRAI and DoT data sourced through survey calculations.
As per the Economic Survey, the wireless data usage stood at 75.21 Exa Byte in January-September 2020 compared to 76.47 Exa Byte in 2019. India consumed merely 1.26 Exa Byte data less than 2019 in just 9 months in 2020. The wireless data usage of 2020 would undoubtedly be far greater than that of 2019 once the data for the last three months of 2020 is available.
The average wireless data usage per subscriber per month hit a 14 month high in 2020 increasing from 9.1GB in March-2019 to 12.2GB in June-2020. The reduced cost of data enabled affordable internet access at a rapid pace with wireless data cost at Rs 10.55 per GB as of June 2020.
Wireless telephony constituted 98.3 percent of all subscriptions whereas the share of landline telephones now stands at 1.7 percent only. The overall tele-density stood at 86.6 percent as of November 2020 whereas the tele-density in rural and urban areas stood at 59.1 percent and 139 percent respectively.
The number of internet subscribers stood at 776.45 million at the end of September 2020 as compared to 636.73 million in March 2019. Internet and broadband both penetrated both in urban and rural areas at a rapid pace.
The Government of India has undertaken various initiatives such as BharatNet for the goal of Digital India programme wherein network infrastructure is being established for broadband highways accessible on a non-discriminatory basis to provide affordable broadband services to citizens and institutions in rural areas in partnership with States and the private sector.
As of 15th January 2021 about 4.87 lakh kilometeres of optical fiber cable has been laid to cover 1.63 lakh Gram Panchayats (GPs) and nearly 1.51 lakh GPs have become service ready.