Vivaldi 6.0 for desktop brings Custom Icons and Workspaces
Workspaces allow users to organize their tabs into separate workspaces and switch between them.
Estimated reading time: 8 minutes, 40 seconds
Vivaldi is rolling out version 6.0 of its desktop browser, which brings new features, bug fixes, and enhancements. The update comes with Custom Icons that allow users to modify the look of the browser and personalize the interface. Another major feature includes Workspaces, which lets users organize their tabs into separate workspaces and switch between them.
"We build the browser. You make it a home. We want you to see Vivaldi as your home on the internet, so it should reflect your personality. Providing a browser with ultimate freedom and flexibility is at the heart of what we do. Workspaces and the next-level user interface customization will give people a browser experience that is special and truly unique," said Vivaldi CEO Jon von Tetzchner in a blog post.
Vivaldi browser already supports themes, but it was limited to colors and backgrounds. Now, Vivaldi 6.0 comes with the ability to customize the icons of the toolbar and menu. Users can choose themes with custom icons from the Themes Gallery or modify their own custom icons using the Themes settings page.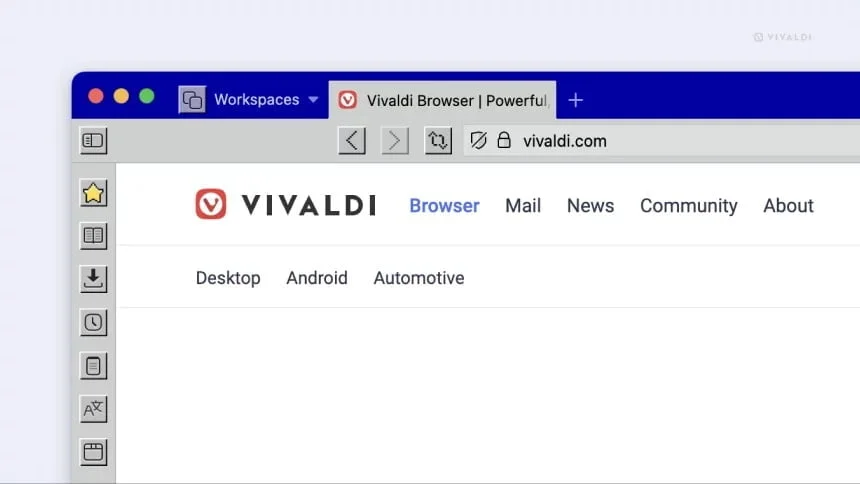 Moreover, this update brings a new tab management feature called Workspaces. "Workspaces are like different rooms of your home, each with a different purpose. And just like you organize your rooms at home, you can keep the rooms in your browser organized! You can now focus on a single project at a time by grouping tabs in one place with Workspaces. They function similarly to virtual desktops. Each workspace holds whichever tabs are related to a given task or category." the company explains.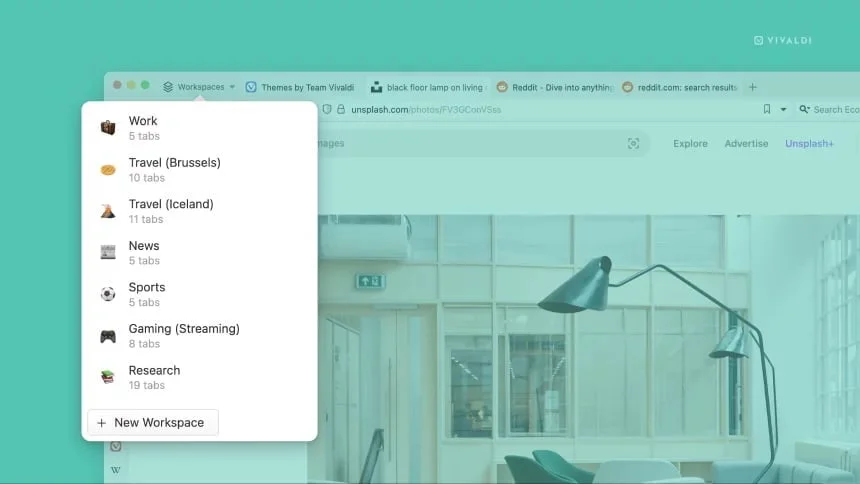 Here's the full changelog for Vivaldi browser 6.0
New
[New] Enable Workspaces
[New][Themes][Icons] Allow for icon customisation in themes (VB-90222)
[New][Mail][Drag-and-drop] Allow dragging a mail to a label, flags, custom folders (VB-56533)
Address Bar
[Address bar] Adding a space in the URL field doesn't unselect item (VB-95720)
[Address bar] Cannot hide address field with escape unless the input is focused (VB-67300)
[Address bar] Don't autocomplete on domains for URLs found in bookmarks (VB-96153)
[Address bar] IDN-Domains are not shown as they should (VB-95111)
[Address bar] Misclassifies URL as search when auto-complete encounters second forward-slash (VB-96116)
[Address bar] Run wrong item when using search engine nickname (VB-95605)
[Address bar] Search not added to typed history from dropdown (VB-95284)
[Address bar] The address field is repositioned after loading extension buttons (VB-96098)
[Address bar] Typed history dropdown ignores first item (VB-95411)
[Address bar] Wrong item when going back to first item (VB-94960)
Downloads
[Download] Executable downloads getting stuck (VB-96216)
[Downloads] Intentional download protection bypass breaks downloads when downloading from a private IP address (VB-94568)
Extensions
[Extensions] Badge is not updated between windows (VB-83875)
[Extensions] Button not hidden when extensions aren't enabled (VB-96230)
[Extensions] Event missing when opening links in new tabs (VB-94302)
Languages
[Languages] Add Catalan (VB-80698)
[Languages] Add Punjabi (VB-82009)
Linux
[Linux] Glitchy text on tab titles (VB-89891)
[Linux] "Show Quit Confirmation Dialog" option not bound to Ctrl+Q on Linux (VB-58771)
macOS
[macOS] Setting up a Gmail account via Mail app with Vivaldi as default browser you get a black window (VB-95984)
[macOS] Window controls overlap toolbar buttons with low UI zoom (VB-96372)
[macOS] Window does not restore to fullscreen after restart (VB-92099)
[macOS][Address bar][Zoom] Size should follow UI zoom (VB-95592)
[macOS][Menus] Show UI toggle in menu doesn't update menu state (VB-94067)
Notifications
[Notifications] Deduplicate identical, similar, and updated notifications (VB-95610)
[Notifications] "You have # new mails" doesn't open Mail (VB-96386)
Panels
[Panels] Width not remembered when narrower than default (VB-93838)
[Panels] "Windows" panel is still named "Window" (VB-95329)
Quick Commands
[Quick Commands] Enabling both "Keep last entered value" and "open on nickname match" makes QC otherwise unusable (VB-94987)
[Quick Commands] First character sometimes gets swallowed with quick typing (VB-96214)
Search
[Search] Change the default search engine to DuckDuckGo for unsupported regions
[Search] Esc hides search field popup if the text is unconfirmed (VB-92708)
Sessions
[Sessions] Add command to toggle panel and menu container for session list (VB-96311)
[Sessions] Can't close "Open session" with Escape key (VB-94780)
Settings
[Settings] Add a Setting to "Disable Title Bar": needs further work (VB-51942)
[Settings] Add option to reset all toolbars (VB-94541)
[Settings] Change name of "Hide Title Bar when Tabs Are Not on Top" to "Show Title Bar" (VB-96318)
[Settings] Configure Client Hints Brand list ['Sec-Ch-Ua' in Network settings or via search]: work in progress (VB-95508)
[Settings] Enable 'Hide Title Bar when Tabs Are Not on Top' by Default (VB-96133)
[Settings] Start Page settings scrollbar doesn't respect the "Use Simple Scrollbars" (VB-94791)
[Settings] Text overlaps in Sec-Ch-Ua (Client Hints) preview (VB-96563)
[Settings] Window controls and Menu misaligned when 'Tab Bar disabled' and 'Hide Title Bar When Tabs Are Not on Top enabled' (VB-95259)
[Settings][Sec-Ch-Ua] Custom brand masking validation (VB-95508)
[Settings][Themes] Preview background clips through border (VB-94804)
Speed Dial
[Speed Dial] Open all bookmarks context menu does not work (VB-95309)
[Speed Dial] Transitions on mail panel auto-toggle (VB-96097)
[Speed Dial] Settings height doesn't match the view (VB-95131)
[Speed Dial] Thumbnail name not visible when dragging over (VB-90047)
Tabs
[Tabs] Can not detach tabs or move them between windows (VB-96139)
[Tabs] Can spill out of viewport if the activated tab is in an accordion (VB-96325)
[Tabs] Close tab does not focus next tab at right but 2nd next (VB-93784)
[Tabs] Do not change active tab when tabs from closed window are moved (VB-94749)
[Tabs][Keyboard] Recently Used does not cycle over all tabs (VB-95229)
Themes
[Themes] Setting PNG as background as repeating image doesn't work (VB-78506)
[Themes] Use a higher resolution image in the Beach theme (VB-95810)
Toolbars
[Toolbar editor] Elements become invisible in defaults bar (VB-96234)
[Toolbars] Artefacts in Extensions and Zoom control buttons (VB-95125)
[Toolbars] Add confirmation dialog to toolbar reset (VB-95348)
[Toolbars] Editor closes on toolbar clicks (VB-95343)
[Toolbars] Editor has empty defaults when toggling UI (VB-95401)
User Interface
[UI] The sharing dialog should say Vivaldi and not the ext-id (VB-94741)
[UI][Settings] Increase height of main bar, with "Hide Title Bar when Tabs Are Not on Top" setting (VB-96310)
Windows
[Window management] Pinned tabs are not saved when closing window with Alt+F4 (VB-92921)
[Windows] Menu and window controls misaligned (VB-95112)
[Windows][Downloads] Downloading executables never finishes (VB-96216)
[Windows][Settings] Extra space in maximized view with hidden toolbar, tabs at edge, and tabs hidden. (VB-96340)
[Windows][Updates][Installer] Delta updates are not working, resulting in the full installer being fetched on second check for updates (VB-96225)
Crash
[Crash] On opening links from external app (VB-96321)
[Crash] Opening private window (VB-96576)
[Crash][Mail] Setting up Gmail with Oauth (VB-96169)
[Crash][Profiles] Closing a secondary window after having used Guest profile once (VB-96419)
[Crash][Profiles] When closing Guest windows (VB-96322)
Other
[Blocker] Clearer ad & tracker blocker state icon(VB-95717)
[Bookmarks][History] Always display full URL (VB-95633)
[Chromium] Upgraded to 112.0.5615.132
[Clock] Default icon doesn't display time (VB-96549)
[Commands] Add a command for default page zoom (VB-95031)
[Developer Tools] No window controls (VB-96089)
[Drag-and-drop] URI list can not hold multiple URLs and this should be handled (VB-95836)
[Keyboard][Speed dial] Keyboard movement in speed dial on a subfolder no longer works (VB-82549)
[Performance] Enable Profile-guided optimization by default
[Reader] Upgrade readability (VB-95544)
[Status bar] Missing fragment part of URL (VB-95582)
[Status] Overlay has transparent background (VB-95573)
[Welcome page] Adjust to new toolbar layout (VB-95691)
Mail, Calendar and Feeds 1.5
Calendar
[Calendar] Broken VTIMEZONE data, and some more small issues (VB-95260)
[Calendar] CalDAV multi get now retries with smaller batch in case of error (VB-94722)
[Calendar] Can not drag to copy event exception (VB-96118)
[Calendar] Can not invite non-contacts as event participants (VB-95429)
[Calendar] Can not navigate to tasks without time in tasks list (VB-91642)
[Calendar] Continuation "arrows" look wrong (VB-96297)
[Calendar] Dialog editor input element context menu limited (VB-94496)
[Calendar] Editing a long event shifts view away from editor (VB-95280)
[Calendar] Error "Username or URL missing" trying to sync local event (VB-95452)
[Calendar] Event pasted with wrong time (VB-96039)
[Calendar] Include time and location in invitation emails (VB-95459)
[Calendar] Long recurring events do not show in view if start day is not visible (VB-95262)
[Calendar] No reminder for recurring event if more than one hour before event (VB-95522)
[Calendar] Occasional error on Start Page (VB-96158)
[Calendar] Reminder for recurring event shows repeatedly (VB-95698)
[Calendar] Setup, space character before "visit our help pages" link (VB-95162)
[Calendar] With multiple accounts using the same username can result in passwords not being retained (VB-96006)
[Calendar][CalDAV] Make sure calendar data is not re-loaded to often from db (VB-94988)
[Calendar][Mail] Consistent margins and change colors for Calendar Invite emails (VB-95607)
[Calendar][Mail] Event invite doesn't include email signature (VB-95458)
[Calendar][Panels] Tasks panel event icons overlap title (VB-93856)
[Calendar][Settings] Cannot delete Google Calendar (VB-95663)
Mail
[Mail] Added commands for moving to/from Archive (VB-91639)
[Mail] Align flexible spacer to panel width in all toolbars (VB-96463)
[Mail] Asks permission to open PDF attachment (VB-96188)
[Mail] Compose opening in reading tab (VB-89530)
[Mail] Compose tab contents partly lost on restart (VB-91134)
[Mail] Drag to 'Archive' does nothing when account has no archive folder (VB-96104)
[Mail] Feeds don't show if no mail accounts set up (VB-96440)
[Mail] Hide the Reply-To address when it matches the From address (VB-95135)
[Mail] Messages with Junk flag but not in actual Spam folder are not shown in All Messages / Junk (VB-94145)
[Mail] Nothing happens when archiving and setting "add archive folder when missing" enabled (VB-96110)
[Mail] Only warn on From/Reply-To mismatches cross origins (VB-95118)
[Mail] Search field not above mail list (VB-96268)
[Mail] Search jumps upon navigating to mail tab (VB-96344)
[Mail] Sent messages not uploaded to IMAP /Sent (VB-96189)
[Mail] Things break when composing and sending a large message (VB-93168)
[Mail] Toolbar doesn't show menu button with title bar hidden (VB-95977)
[Mail] Upload command stuck in buffer for Gmail messages (VB-96541)
[Mail][Feeds] Offline accounts and RSS feeds removed from panel after update (VB-96072)
[Mail][Keyboard] 'g' key does nothing if returning from an added tab (VB-96174)
[Mail][Panels] Don't adjust mail search width with panel on right side (VB-96412)
[Mail][Pop3] Can not delete mail on server (VB-95654)
Feeds
[Feeds] Respect encoding when importing OPML (VB-95568)
Vivaldi browser is available for Windows, Linux, and MacOS, and users can download it by visiting vivaldi.com/download.