Twitter brings disappearing tweets feature 'Fleets' in India
Estimated reading time: 1 minute, 39 seconds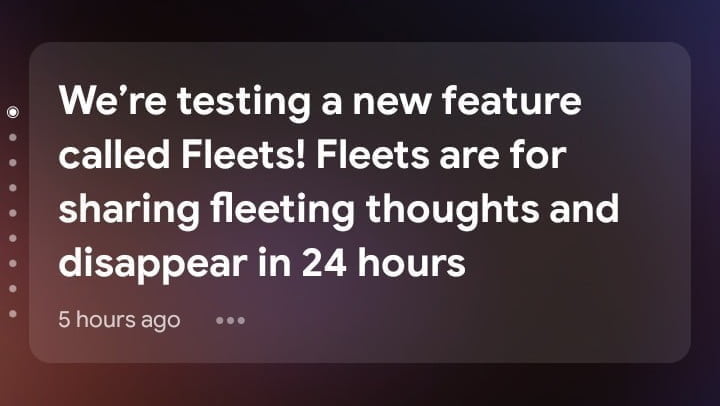 Twitter on Tuesday announced its new feature called 'Fleets' in India. This new feature is under testing and will be rolled out in a phased manner for all Android and iOS users in the country. India is among the first markets after Brazil to get this new feature.
Fleets are self-disappearing tweets that will vanish in 24 hours and will not have retweets, likes or public comments. Similar to tweets, Fleets are based primarily on text, but people can include videos, GIFs or photos in them.
"We are excited to bring the Fleets experiment to India and make it one of the first three countries in the world to experience this new product. From the test in India, we'll learn how adding a new mode of conversation changes the way Indians engage on Twitter," said Manish Maheshwari, MD, Twitter India.
To create a new Fleet, tap your avatar on the top left of your profile and start typing or tap a media icon to add photos or videos then tap 'Fleet' to post.
Fleets can be seen by your followers on top of their timeline and on your profile page by anyone who can see your full profile. People can see who's seen their Fleet by looking underneath a post.
"We want people to be able to have conversations on Twitter in different ways, with less pressure and more control. That's why we're testing a way to share their fleeting thoughts," said Mo Al Adham, Twitter Group Product Manager.
Fleets cannot be liked or retweeted but you can add your reply privately by tapping on it and sending a Direct Message or emoji, thereafter the conversation can continue in your DMs.
Twitter will maintain a copy of each Fleet for a limited period of time beyond 24 hours to analyse how Fleets are being used and to enforce against Fleets that violate Twitter rules. Users can also report fleets that are violating the platform's rules.