Reliance Jio launches True 5G services across the 33 districts of Gujarat
Starting November 25, 2022, Jio customers in Gujarat will be invited to the Jio Welcome offer to experience unlimited 5G data at up to 1 Gbps speeds at no additional cost.
Estimated reading time: 1 minute, 42 seconds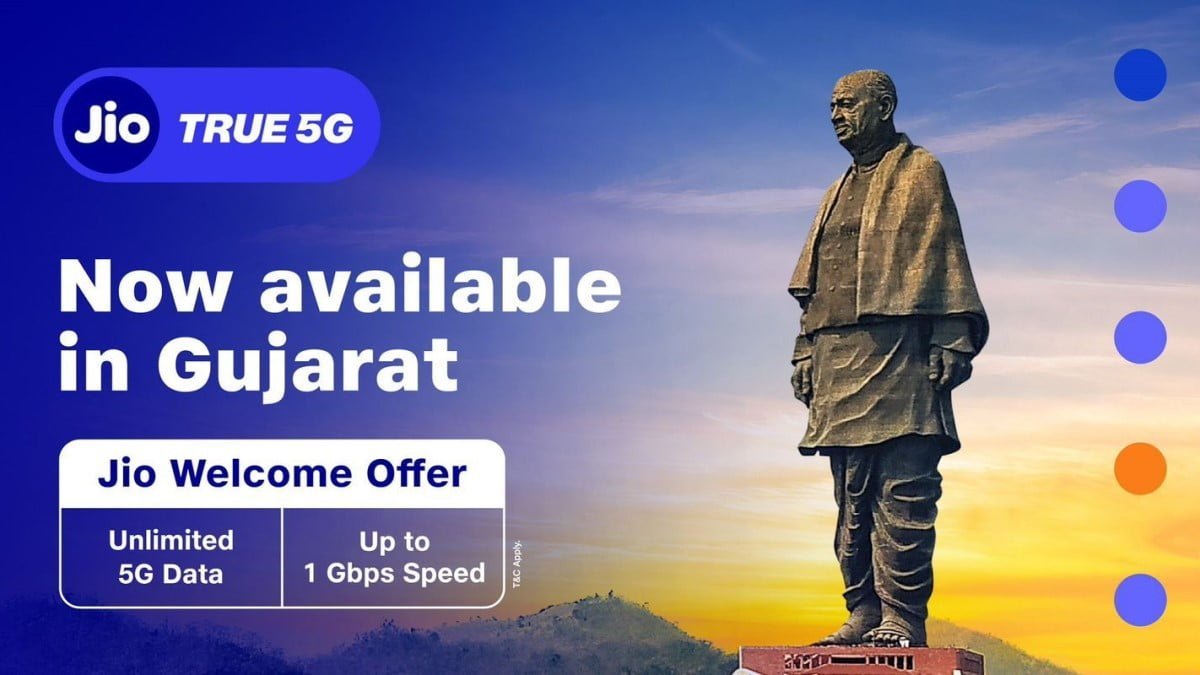 Telecom service provider Reliance Jio has launched its True 5G services across the 33 district headquarters of Gujarat. According to the telco, Gujarat is the first state in India to receive the Jio True 5G network coverage in 100 percent of the district headquarters. Recently, Jio has also launched its 5G services in Pune.
"We are proud to share that Gujarat is now the first state to have 100% district headquarters connected with our robust True 5G network. We want to showcase the real power of this technology and how it can impact a billion lives," said Mr. Akash M Ambani, Chairman of Reliance Jio Infocomm Limited.
"5G cannot remain an exclusive service available to the privileged few or those in our largest cities. It must be available to every citizen, every home, and every business across India. Only then can we dramatically increase productivity, earnings, and living standards across our entire economy, thereby creating a prosperous and inclusive society in our country. This is our constant belief, inspired by our We Care philosophy," he added.
Reliance Jio will launch True 5G-powered initiatives in Gujarat across education, healthcare, agriculture, industry 4.0, and IoT sectors. The company also plans to expand its True 5G-powered initiatives across India. The telco said it would begin its first 5G-powered initiative called 'Education-For-All' in Gujarat, where Reliance Foundation and Jio will initially digitize 100 schools in the state.
This initiative will connect schools with Jio True 5G connectivity, advanced content platform, teacher & student collaboration platform, and school management platform. Reliance Jio believes that with this technology, "millions of students across the country will be facilitated on a digital journey of empowerment through quality education."
Jio True 5G network is based on standalone (SA) 5G technology with no fallback to the 4G network. The company is using 700 MHz, 3500 MHz, and 26 GHz bands in India to deliver its True 5G services.
Starting November 25, 2022, Reliance Jio customers in Gujarat with 5G smartphones will be invited to the Jio Welcome offer to experience unlimited 5G mobile data at up to 1 Gbps speeds at no additional cost.