Reliance Jio now the largest operator by subscriber base, VIL loses 36 million subscribers in November 2019- TRAI Report
Estimated reading time: 1 minute, 52 seconds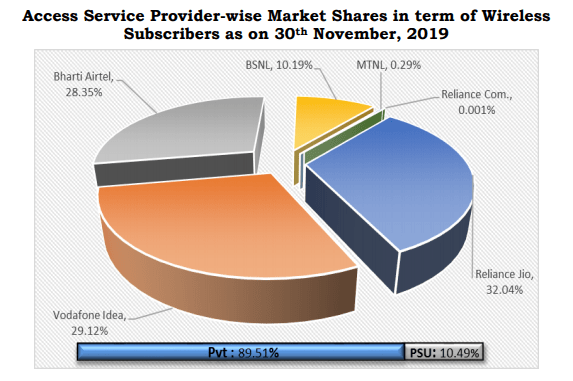 According to the telecom subscription data released by TRAI, as of 30th November 2019 Reliance Jio has surpassed Vodafone Idea to become the largest operator by subscriber base. Jio now commands 32.04% subscriber market share with a subscriber base of 369.93 million, Vodafone Idea commands 29.12% share with a subscriber base of 336.25 million and Bharti Airtel commands 28.35% share with a total subscriber base of 327.30 million. Together the 3 private operators command 89.51% market share whereas the two public sector operators command 10.49% subscriber market share.
Subscriber Gain/Loss in November:
Reliance Jio added 5.6 million new wireless subscribers in November even though it had started charging for off-net calls at 6p/min since mid-October. Vodafone Idea lost 36.4 million subscribers taking its total subscriber loss to 105.4 million since September 2018. Bharti Airtel added 1.6 million new subscribers in November whereas BSNL added 0.3 million new subscribers.
Active subscriber base, VLR data:
Bharti Airtel leads the race in VLR (Visitor location register) numbers with over 95% of its userbase being active, it is closely followed by Vodafone Idea with over 88% userbase being active, Reliance Jio has over 81% active userbase whereas BSNL lags behind with only 54% of its total userbase being active.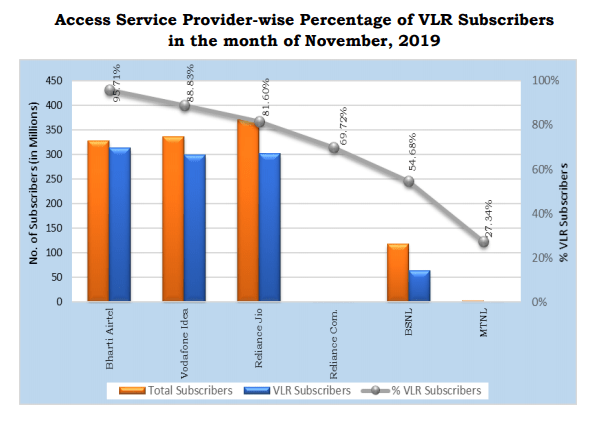 Wireline subscriber market share:
The PSU operators BSNL and MTNL combined still dominate a lion's share of the wireline telephony market with their combined share being 61% whereas that of all private operators put together is 39% where Bharti Airtel leads the race with 20.24% and newcomer Reliance Jio who recently launched its Jio fiber commercially, now commands 4.81% of the wireline customer market share.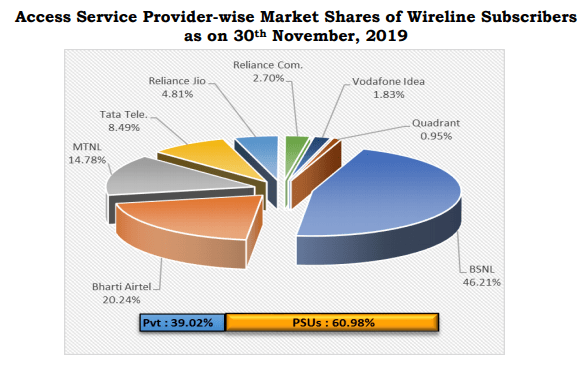 Broadband subscriber market share:
Broadband is considered when the speed offered is higher than 512 Kbps irrespective of it being a wired or wireless connection. When considering the combined broadband market share, Reliance Jio leads with 56% market share followed by Bharti Airtel at 21% and Vodafone Idea at 18% whereas BSNL trails behind with only 3.4% market share.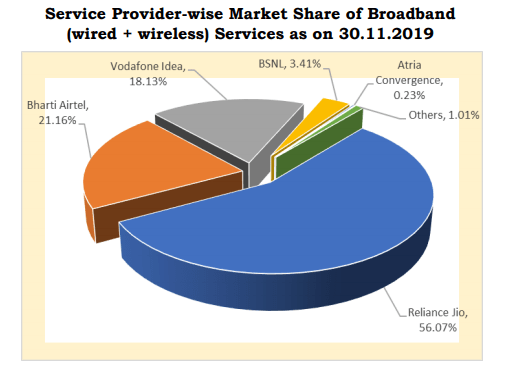 Overall teledensity:
The overall Tele-density in India declined from 91.17 at the end of Oct-19 to 88.90 at the end of Nov-19. The Urban Tele-density declined from 161.27 at the end of Oct-19 to 157.33 at the end of Nov-19. Rural Teledensity also declined from 58.21 at the end of Oct-19 to 56.69 at the end of Nov-19. The share of rural and urban subscribers in total number of telephone subscribers at the end of Nov-19 was 56.64% and 43.36% respectively.