JioFiber tops Netflix ISP Index in April with 3.6 Mbps speed
Netflix ISP Index includes broadband ISPs that consistently have >1% of Netflix view hours in the country.
Estimated reading time: 1 minute, 27 seconds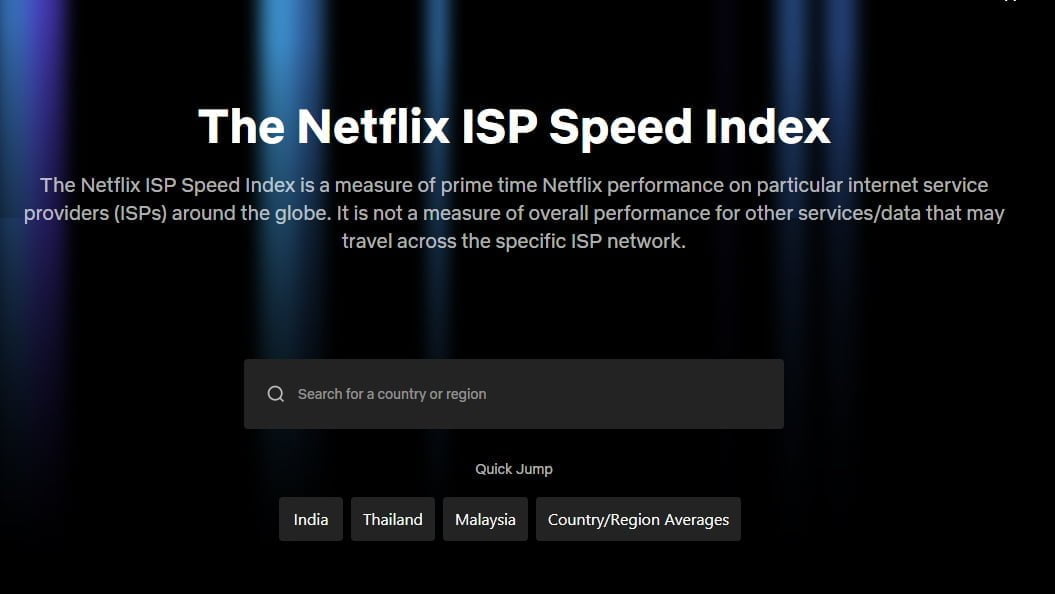 Reliance Jio's Fiber-to-the-Home (FTTH) service JioFiber topped the Netflix ISP Index for India in April 2021. The internet service provider emerged as the leader with Airtel, ACT, and Tata Sky Broadband dropping down a place that was joint-top in March 2021 with Reliance Jio.
JioFiber topped the leaderboard with 3.6 Mbps in April, up from 3.4 Mbps in the trailing month. Airtel, ACT Fibernet, and Tata Sky Broadband came second on the table with 3.4 Mbps speed same as the trailing month but not enough to claim the leadership spot. The trio dropped from Rank 1 in March 2021 to Rank 2 in April 2021.
7 Star Digital, Alliance Broadband, D-VoiS, Excitel Broadband, Hathway, One Broadband, and YOU Broadband came joint third on the ISP Index with 3.2 Mbps speed.
GTPL, Spectra, and Syscon Infoway came joint fourth on the ISP Index with 3.0 Mbps speed. State-owned Bharat Sanchar Nigam Limited (BSNL) along with Tikona stood joint fifth on the ISP Index with 2.8 Mbps speed. State-owned Mahanagar Telephone Nigam Limited (MTNL) as usual came first on the ISP Index from the bottom with 2.4 Mbps and ranked sixth.
The Netflix ISP Index measures prime time Netflix performance on particular internet service providers (ISPs) around the globe. The ISP Index is not a measure of overall performance for other services that may travel across the specific ISP network.
On the Country/Region Averages index, India stood joint-third with Argentina, Austria, Bolivia, Chile, France, Greece, Japan, Mexico, Paraguay, Poland, Taiwan, Trinidad & Tobago with 3.2 Mbps speed.
| | | | |
| --- | --- | --- | --- |
| ISP | Technology | Speed | Rank |
| Jio Giga Fiber | Fiber | 3.6 | 1 |
| Airtel | Fiber|DSL | 3.4 | 2 |
| Atria Convergence Technologies | Fiber | 3.4 | 2 |
| Tatasky Broadband | Fiber | 3.4 | 2 |
| 7 Star Digital | Wireless|Fiber|Cable | 3.2 | 3 |
| Alliance Broadband | Fiber | 3.2 | 3 |
| D-VoiS | Wireless|Fiber|DSL | 3.2 | 3 |
| Excitel Broadband | Fiber|Cable | 3.2 | 3 |
| Hathway | DSL|Cable | 3.2 | 3 |
| One Broadband | Fiber|Cable | 3.2 | 3 |
| YOU Broadband | Fiber|Cable | 3.2 | 3 |
| GTPL | Fiber|Cable | 3 | 4 |
| SPECTRA | Fiber | 3 | 4 |
| Syscon Infoway | Wireless|DSL | 3 | 4 |
| BSNL | Wireless|Fiber|DSL | 2.8 | 5 |
| Tikona | Wireless | 2.8 | 5 |
| MTNL | WIreless|Fiber|DSL | 2.4 | 6 |
Netflix ISP Index – India (April 2021)