Jio leads wireless subscriber additions, Vodafone Idea leads wireline additions in January 2020: TRAI report
Estimated reading time: 2 minutes, 31 seconds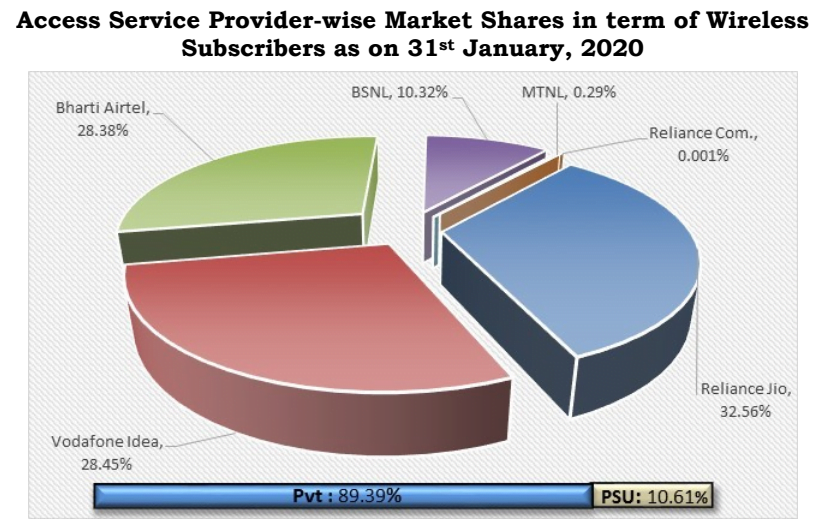 Highlights
Reliance Jio added 6.5 million new wireless subscribers while Vodafone Idea lost 3.6 million
Vodafone Idea added 36.2 thousand new wireline subscribers while BSNL lost 4.28 lakh.
Bharti Airtel has the highest VLR score with over 95% user base being active.
Reliance Jio, India's largest operator by subscriber and revenue market share has added the highest number of new wireless subscribers in January 2020 as per the TRAI telecom subscription data report. The operator has managed to stabilise its subscriber additions after an initial churn on account of the company's decision to charge for off-net calls. It is good to see steady additions even after the December 2019 tariff hike by all 3 private operators where tariffs rose by 14-33%.
As of 31st January 2020 Reliance Jio is leading with 32.56% market share which translates to 376.57 million subscribers, Vodafone Idea is at second position with 28.45% market share (328.98 million subscribers), whereas Bharti Airtel comes third with 28.38% market share (328.15 million subscribers). BSNL commands 10.61% (119.34 million) while MTNL commands just 0.29% market share (3.35 million).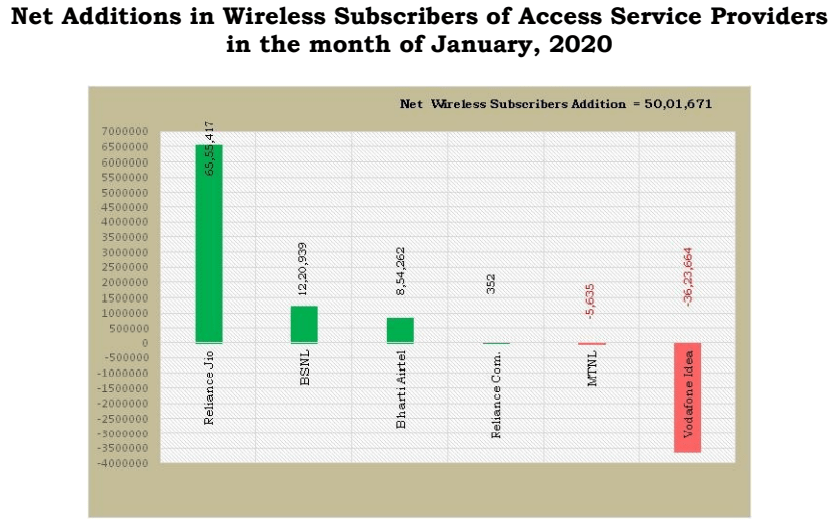 Net Subscriber Gain/Loss in January:
Jio was leading with 6.55 million new wireless subscriber additions followed by BSNL with 1.22 million and Bharti Airtel with 0.8 million additions. Vodafone Idea ended up losing over 3.6 million subscribers on account of the uncertainty of the Operator's future in India after the Supreme court's ruling on the AGR dues. Meanwhile, MTNL lost over 5.6 thousand subscribers in January.
Zone 1 service area (circle)
MNP request Jan
(Million)
Zone 2 service area (circle)
MNP request Jan
(Million)
Delhi
0.29
Andhra Pradesh
0.37
Gujarat
0.38
Assam
0.02
Haryana
0.17
Bihar
0.28
Himachal Pradesh
0.03
Karnataka
0.29
Jammu & Kashmir
0.01
Kerala
0.17
Maharashtra
0.66
Kolkata
0.09
Mumbai
0.19
Madhya Pradesh
0.35
Punjab
0.20
North East
0.01
Rajasthan
0.31
Odisha
0.08
U.P. (East)
0.54
Tamil Nadu
0.33
U.P. (West)
0.38
West Bengal
0.21
Total
3.16
Total
2.20
Mobile Number Portability (MNP):
During the month of Jan-20, a total of 5.36 million new MNP requests were received. Of which 3.16 million were from Zone-1 and 2.20 million were from Zone-2. In MNP Zone-1 (Northern and Western India), the highest number of requests were received in Maharashtra (0.66 million) whereas, in Zone-2 (Southern and Eastern India), the highest number of requests were received in Andhra Pradesh (0.37 million).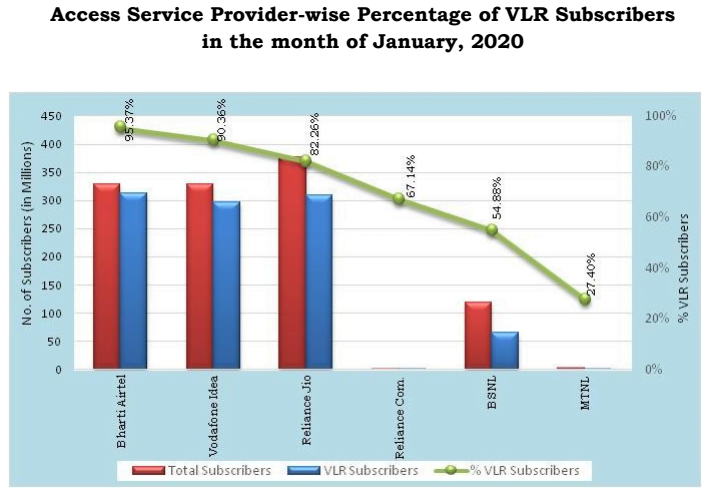 Active subscriber base, VLR data:
Visitor location register (VLR) is an indicator of what percentage of the total subscriber base is comprised of active users. Bharti Airtel leads the race in VLR numbers with over 95% of its userbase being active, it is closely followed by Vodafone Idea with over 90% userbase being active, Reliance Jio has over 82% active userbase whereas BSNL lags behind with only 54% of its total userbase being active.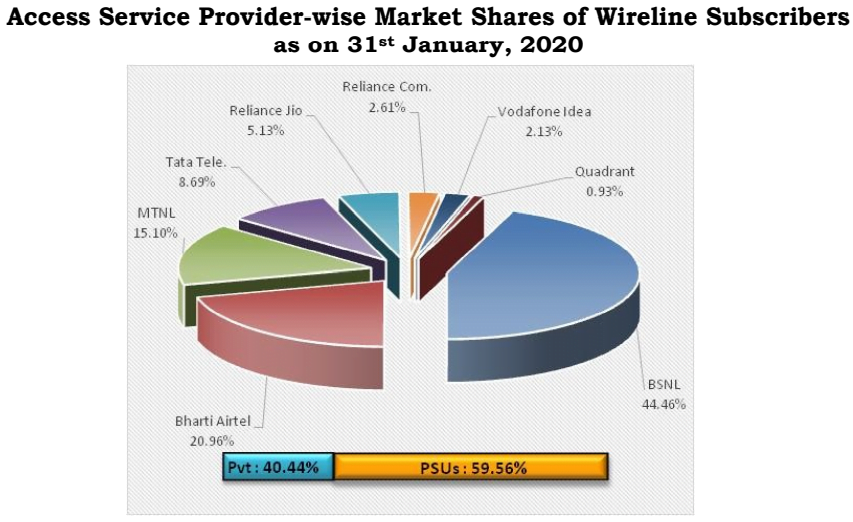 BSNL continues to lead with 44.46% share of the wireline subscriber market, even though it lost over 4.28 lakh subscribers in Jan 2020. Bharti Airtel commands 20.96% share as it added 5.2 thousand new subscribers. MTNL follows with 15.10% share, though it lost over 14.6 thousand subscribers. Reliance Jio holds 5.13% share as it added over 4.6 thousand subscribers. Vodafone Idea holds only 2.13% share though it added the highest number of subscribers with over 36.2 thousand new additions.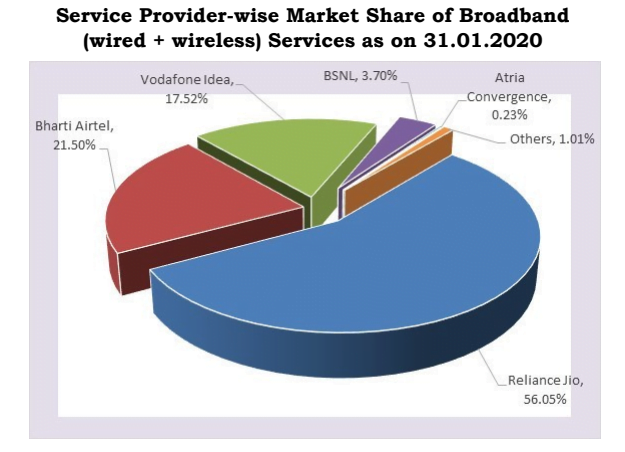 Broadband is considered when the speed offered is higher than 512 Kbps irrespective of it being a wired or wireless connection. When considering the combined broadband market share, Reliance Jio leads with 56.05% market share (377.41 million) followed by Bharti Airtel at 21.50% (144.77 million) and Vodafone Idea at 17.52% (117.93 million) whereas BSNL trails behind with only 3.70% market share (24.9 million).