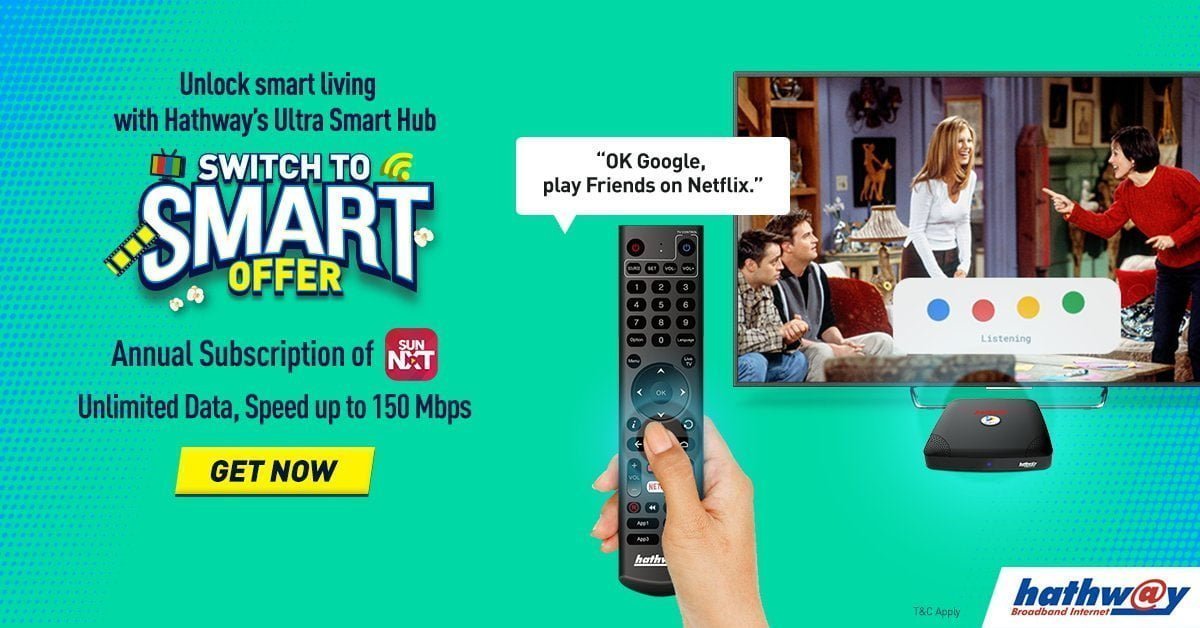 Cable television and broadband service provider Hathway has recently rolled out a new 'Switch to Smart' offer allowing its customers to upgrade to a smarter living in the New Year with the offer. The company yesterday announced the offer on its Twitter handle which is available in select cities only.
"Upgrade to smarter living in the New Year with #SwitchToSmart Offer*. Get smarter with the power of Ultra Smart Hub at 150 Mbps and Unlimited Data. Get it here – http://bit.ly/2HxHhv1 *Valid for select cities only. #BroadbandPlans #BroadbandConnection #Wifi," read Hathway Broadband's tweet on Twitter.
The 'Switch to Smart' offer is currently only available in Chennai, Bengaluru, and Hyderabad. The hybrid box will be provided free of cost by Hathway with GPON plans in Bengaluru offering 100 Mbps and 150 Mbps speed. Hathway customers however will have to pay Rs 999 as one-time non-refundable installation charges for the Hybrid box.
The company hasn't specified the plans on which Hybrid box will be available in Hyderabad and Chennai although the listings show the 'Switch to Smart' offer on those pages. Hathway will be offering an annual subscription to Sun TV Network's OTT app Sun NXT along with Hathway's Ultra Smart Hub for those customers who register themselves for the upgrade offer.