Gaslight movie review: Crisp storytelling and scary in parts
Gaslight is a fresh take on the typical murder mystery which borders on the horror genre. Based on the plot and execution by the cast, we would rate it a solid 3.5/5
Estimated reading time: 1 minute, 36 seconds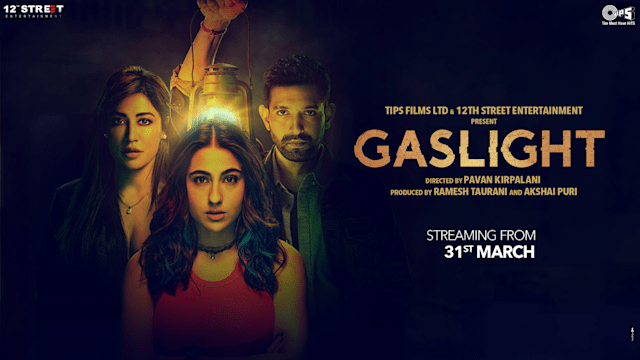 Gaslight, the Sara Ali Khan and Vikrant Massey starer is a direct-to-OTT release and is now streaming on Disney+ Hotstar. The movie manages to pack in a good number of twists in the plot, considering a run time of under two hours. both the lead actors have done justice to their roles.
Plot:
Meesha (Sara Ali Khan) returns to her estranged father's (Shataf Figar) Estate after 15 years on receiving a letter inviting her. When she reaches there she discovers that her father is missing and is told by her stepmother (Chitrangada Singh) that he is out on a business trip and will be back in a few days. What follows is a series of unexplainable events which convince Meesha that her father is dead and she suspects he has been murdered and wants to discover the reason behind his disappearance. Kapil (Vikrant Massey) who is Meesha's father's loyal employee turns out to be resourceful and helps her uncover the truth.
Review:
The movie starts off slow but picks up pace as the plot thickens. Its a classic whodunit thriller that is scary in parts. The movie does get predictable in the middle but as it nears the climax it does throw in a fair share of twists in the tale and the end is rather unexpected but does full justice to the storyline. The run time is short, which helps in keeping the storytelling crisp and prevents the viewer from losing interest.
Verdict:
Gaslight is a fresh take on the typical murder mystery which borders on the horror genre. Based on the plot and execution by the cast, we would rate it a solid 3.5/5. If you have a subscription to Disney+ Hotstar we would recommend watching it at night so as to add to the fear factor.
Gaslight Movie Details
Name: Gaslight (2023)
Genre: Thriller Drama
Cast: Vikrant Massey, Sara Ali Khan
Production: 12th Street Entertainment
Online Video Platform: Disney+ Hotstar
Language: Hindi
Streaming Date: March 31, 2023