Digital Savings Account coming soon to MyJio
Estimated reading time: 0 minutes, 56 seconds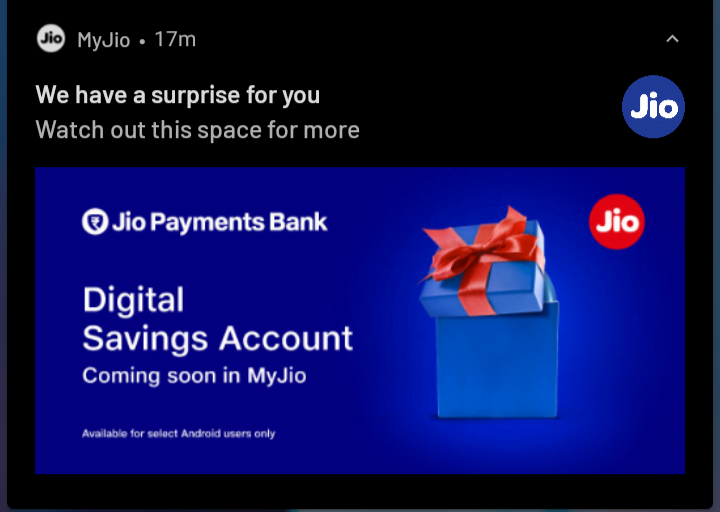 Telecom service provider Reliance Jio is all set to strengthen the offerings on MyJio platform soon with the introduction of JioPayments Bank within the MyJio app.
Reliance Jio through push notifications a few days ago teased the introduction of Digital Savings Bank on the MyJio app. The company however hasn't revealed much about the same urging customers to watch the space for more with the surprise in store.
The notification further highlighted that the Digital Savings Account would be available only for select Android users only. There is no clarity whether the same will be available for iOS users or not.
MyJio currently has many mini-apps catering to JioMart, UPI, Finance, JioSaavn, JioCinema, JioNews, JioEngage, JioGames, JioCloud, Stories, EasyGov among a range of other Jio apps and work from home essentials. Based on what's been teased JioPayments Bank is probably coming soon to MyJio as a mini-app.
Reliance Jio is now also offering Netmeds vouchers for recharge over Rs 249 and above with up to 50 percent cashback redeemable as a gift voucher on Netmeds. Separately, one can get up to Rs 100 rewards on Amazon Pay by recharging on Amazon Pay.