Chinese apps crash from 81% to 29%: BARC Nielsen Report
Posted in: Mobile Apps News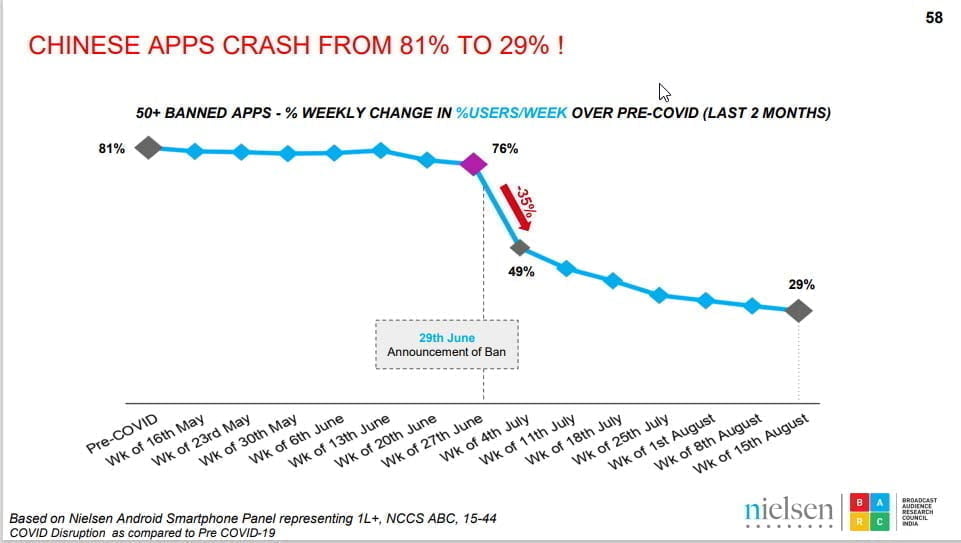 The ban on dozens of Chinese apps has led to the crash of usage of such apps from 81% to 29% if compared to pre-COVID levels according to a BARC Nielsen report which took a look at where these banned apps stand now.
The major drop came after the announcement of the ban on 29th June which took the usage of chinese apps by users on a weekly basis from 76% in the week of 27th June to 49% in the week of 4th July withnessing a drop by 35%. It has further taken a hit with a 20% fall between then and August 15th.
The number of hours spent per day on smartphones has also been hit because of the ban on certain apps as per BARC Nielsen. Social Networking has been a 21% downward trend in time spent in the current week (over pre-COVID).
The Ministry of Information Technology (MeitY) had on 29th June banned 59 mobile apps invoking section 69A of the Information Technology Act to protect the interest of crores of Indian mobile and internet users. The decision is moved to ensure the safety and sovereignty of Indian cyberspace.