Airtel Recharge Bonanza: Win iPhone XR, Gold Bar, and much more
Estimated reading time: 1 minute, 21 seconds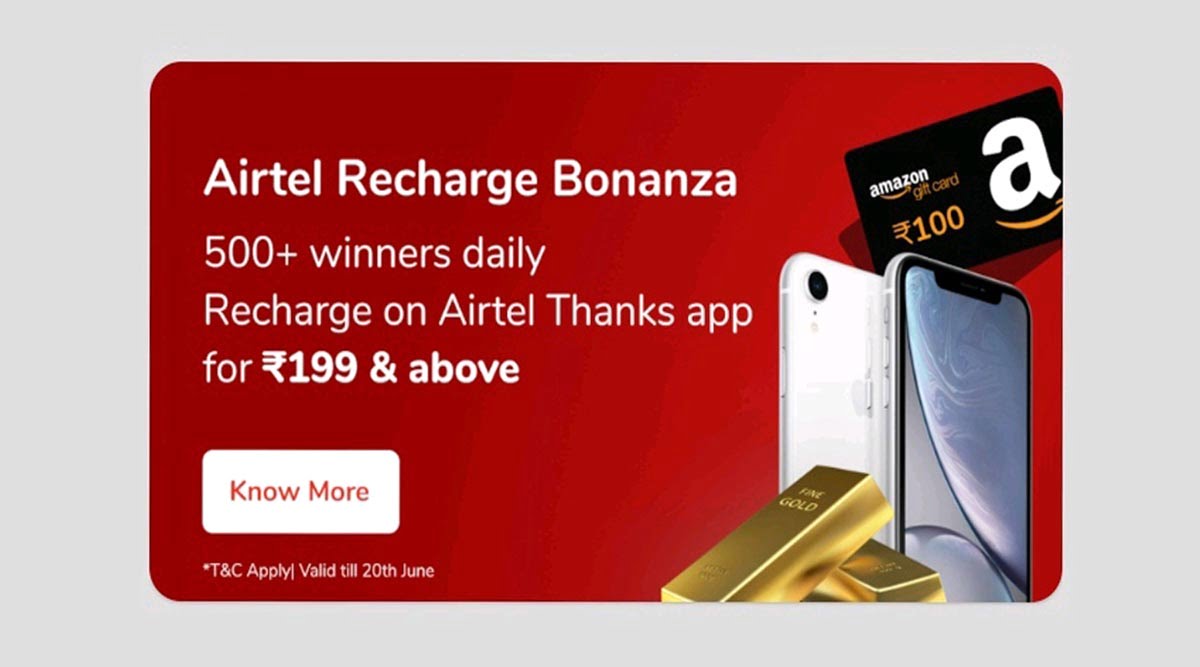 Telecom service provider Bharti Airtel has launched Airtel Recharge Bonanza contest wherein prepaid customers of Airtel can participate to stand a chance to win an iPhone XR daily, Amazon gift voucher worth Rs 100 daily, and a 100gm 24K Gold bar once a month.
The recharge contest went live on 20th May 00:00 hours IST with OnlyTech able to spot a separate listing within the Airtel Thanks app on 21st May. Bharti Airtel is now promoting the offer through notifications and popup dialogs within the Airtel Thanks app.
According to the terms and conditions on the Bharti Airtel website, prepaid subscribers need to recharge with an unlimited recharge pack of a minimum value of Rs 199 within the contest period through the Airtel Thanks app which can be downloaded from the Playstore and the App Store. This is a must for being able to participate in the contest for a subscriber.
The contest is open to all prepaid customers residing in India with the contest ending on June 21 23:59 hours. Airtel states that the winner will be chosen on a computerized random selection, with one maximum winner daily for the iPhone XR, 500 winners daily for the Amazon voucher worth Rs 100, and 1 lucky winner a month to win a 100gm 24K Gold bar under the contest. Airtel will announce the winner within 3-5 working days post qualification.
The winners will be intimated through SMS or the App registered number. The winner's list will also be listed on the Airtel Recharge Bonanza webpage link. The iPhone XR will be delivered through Airtel's delivery partners whereas the Amazon Gift vouchers can be used to purchase any Amazon merchandise.