Airtel Auto-Pay for prepaid customers goes live, offers select prepaid plans to users depending on current plan
Posted in: Bharti Airtel Mobile Apps News
Estimated reading time: 1 minute, 35 seconds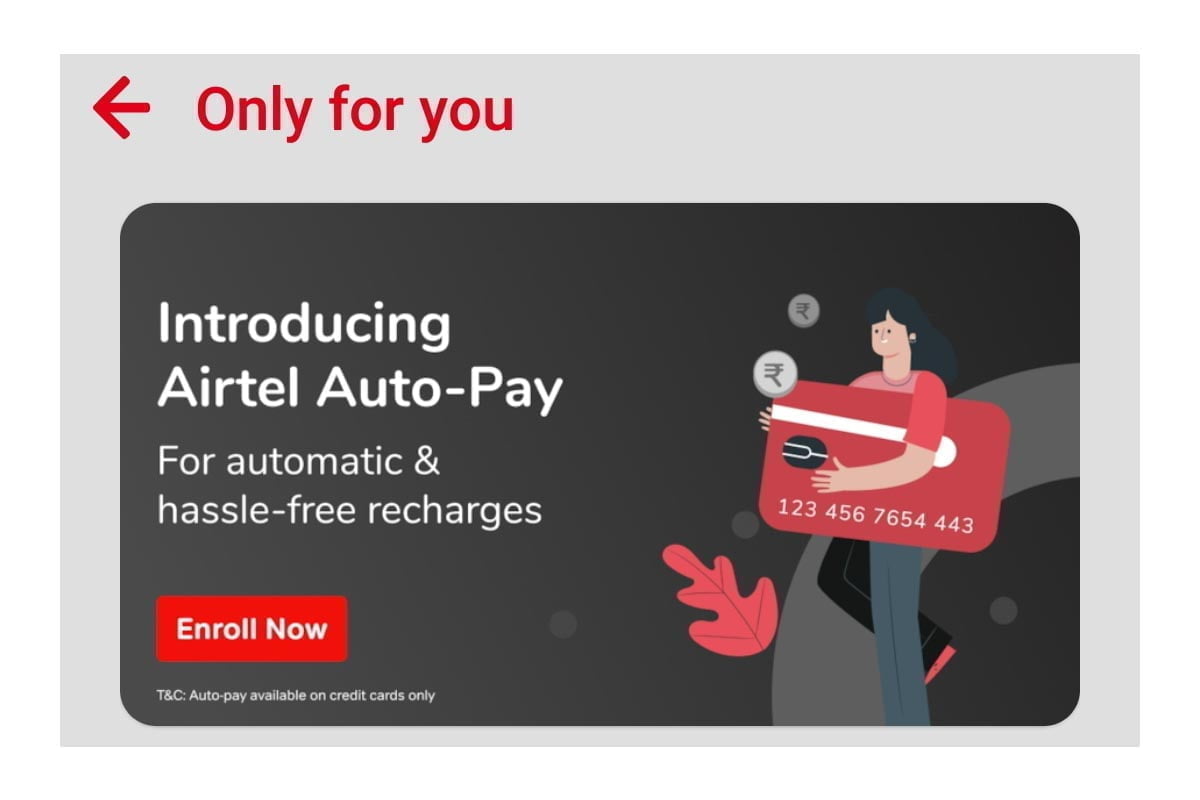 Bharti Airtel's auto-pay feature for its prepaid customers has gone live within the Airtel Thanks app a few weeks after the Airtel Thanks app received an update to support the auto-pay feature which will be linked to your credit cards. Airtel is however only showing select plans for auto-pay feature depending upon the plan one is subscribed to.
The personal recharge assistant can be accessed within the app by following the path More>Settings>Payment settings>Auto-pay which will lead you to the above-depicted page. Separately, Airtel is showing the auto-pay feature as a tile card within the Airtel Thanks app.
One needs to press on activate which will bring up a popup asking you to select the pack which is to be set up for auto-pay post which you need to select payment method. You can choose from the save cards or add a new credit card and enter requisite details post which the card will be saved for faster payments in the future with auto-pay activated in simple steps.
The recommended plan for auto-pay feature however differs based on the prepaid plan one is subscribed to. OT checked out the auto-pay on an inactive Airtel number and another Airtel number subscribed to Rs 49 prepaid plan which only recommended Rs 129, Rs 199, Rs 379, and Rs 179 prepaid pack for auto-pay feature with no option to select any other higher denomination plan.
OT checked out another Airtel number subscribed to Rs 598 prepaid plan which recommended Rs 598, Rs 599, Rs 449, and Rs 249 prepaid pack for setting up auto-pay. A third Airtel number we checked subscribed to Rs 499 prepaid plan recommended Rs 449, Rs 599, Rs 698, and Rs 558 prepaid pack.
The auto-pay feature is secure and hassle free which can be disabled at any point of time with Airtel promising to not over charging. The auto-pay feature will allow you to never miss paying bills/recharges with the chosen payment method.