Abu Dhabi based Mubadala to pick 1.85% equity stake in Jio Platforms
Estimated reading time: 1 minute, 34 seconds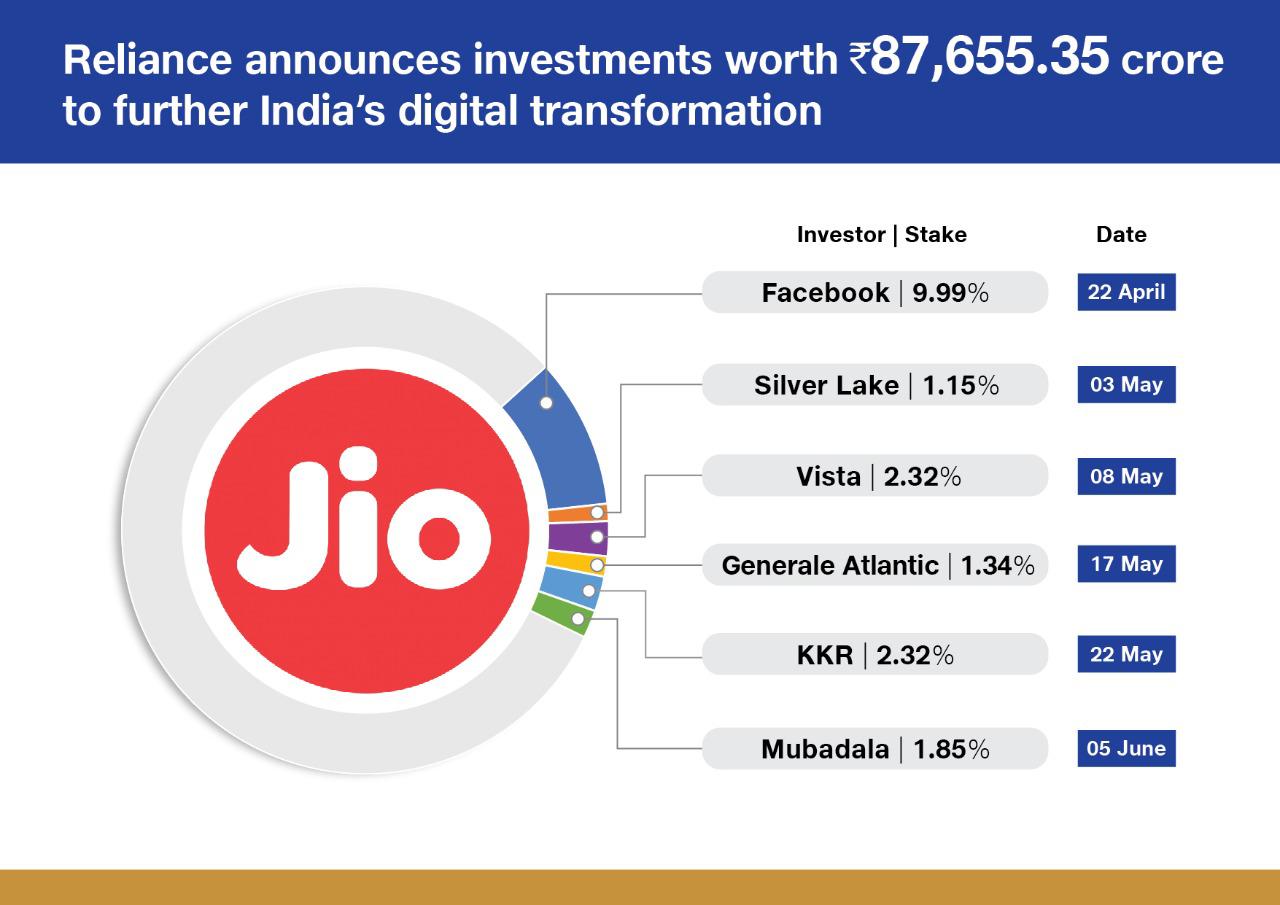 Highlights
Mubadala invests Rs 9093.60 Crore for 1.85% equity stake in Jio Platforms
This is the sixth minority equity stake sale for Jio Platforms in last 6 weeks
Total stake sale of nearly 19% has helped RIL raise Rs 87,655.35 Crore
Soon after the completion of the mega rights issue by Reliance Industries which was over subscribed 1.59 times, we now have another stake sale announcement for Jio Platforms coming in from RIL. Sixth in the series of minority equity sales, this time we have Abu Dhabi based sovereign investor Mubadala which has invested Rs 9093.60 crore for a 1.85% stake in Jio Platforms.
In the past month and a half, RIL has announced nearly 19% equity stake sale in Jio Platforms which is the holding company for Jio mobility, Jio fiber, and Jio apps ecosystem. The overall value of funds raised through investments by the sale of equity stake totals Rs 87,655.35 crore. Jio Platforms has an equity value of ₹ 4.91 lakh crore and an enterprise value of ₹ 5.16 lakh crore.
"I am delighted that Mubadala, one of the most astute and transformational global growth investors has decided to partner us in our journey to propel India's digital growth towards becoming a leading DIGITAL NATION in the world. Through my longstanding ties with Abu Dhabi, I have personally seen the impact of Mubadala's work in diversifying and globally connecting the UAE's knowledge-based economy. We look forward to benefitting from Mubadala's experience and insights from supporting growth journeys across the world."

Mukesh Ambani, Chairman and Managing Director of Reliance Industries, said
Theses equity stake sale deals are the precursor to a possible initial public offering of Jio Platforms in the next two years. RIL is also in talks with Saudi Aramco for selling 20% of its Oil-to-Chemical business apart from selling its telecom tower business to Brookfield. RIL seems to be ahead of schedule in reaching its target of making the company net debt-free by March 2021.
The Mubadala stake sale transaction is subject to regulatory and other customary approvals. Morgan Stanley acted as financial advisor to Reliance Industries and AZB & Partners, and Davis Polk & Wardwell acted as legal counsel.