SonyLIV tests 'WWE Test' section ahead of potential dedicated WWE subscription plan launch
Estimated reading time: 1 minute, 55 seconds
Sony Pictures Network India's Over The Top (OTT) platform SonyLIV has recently started testing a new section named 'WWE Test' which is said to have few PPV listings behind a paywall that are however yet not accessible. The test module further indicates that SonyLIV could soon launch a new subscription plan dedicated to WWE for its WWE fans with popups on the 'WWE Test' module teasing the WWE dedicated plan.
The test section has a few listings which include WWE NXT among others. The listings ask for a subscription to view the content. A separate listing on the 'WWE Test' sections lists an ad-free exclusive ring action subscription plan that would allow you to watch your favorite wresting same time as TV, ad-free.
The listings mention a seven-day free trial under LIV Special+ which was rolled out sometime back ago indicating that SonyLIV could launch a WWE dedicated plan under LIV Special branding. The listings indicate that the LIV WWE package will start at Rs 299 per year even though the same is yet to be rolled out.
Pertinent to note that even though SonyLIV currently does have a Rs 299 monthly pack for LIV Premium it doesn't offer any sort of package at Rs 299 offering an annual subscription. It however does have a Rs 199 and Rs 399 annual subscription plan which was rolled out 2 months ago offering access to entertainment content.
SonyLIV currently offers certain WWE content on a freemium model while the rest of the content such as WWE NXT, WWE Hell in a Cell, WWE Next Takeover 31, WWE Clash of Champions Gold Rush, WWE Payback, WWE Summer Slam, and WWE Horror Show are behind the paywall as part of LIV Premium subscription.
SonyLIV currently offers access to Live sports content only on its LIV Premium subscription. A recently launched dedicated microsite for comparing SonyLIV plans notes that WWE Raw and SmackDown is neither offered by LIV Premium and nor by any of LIV Special or LIV Special+ packages.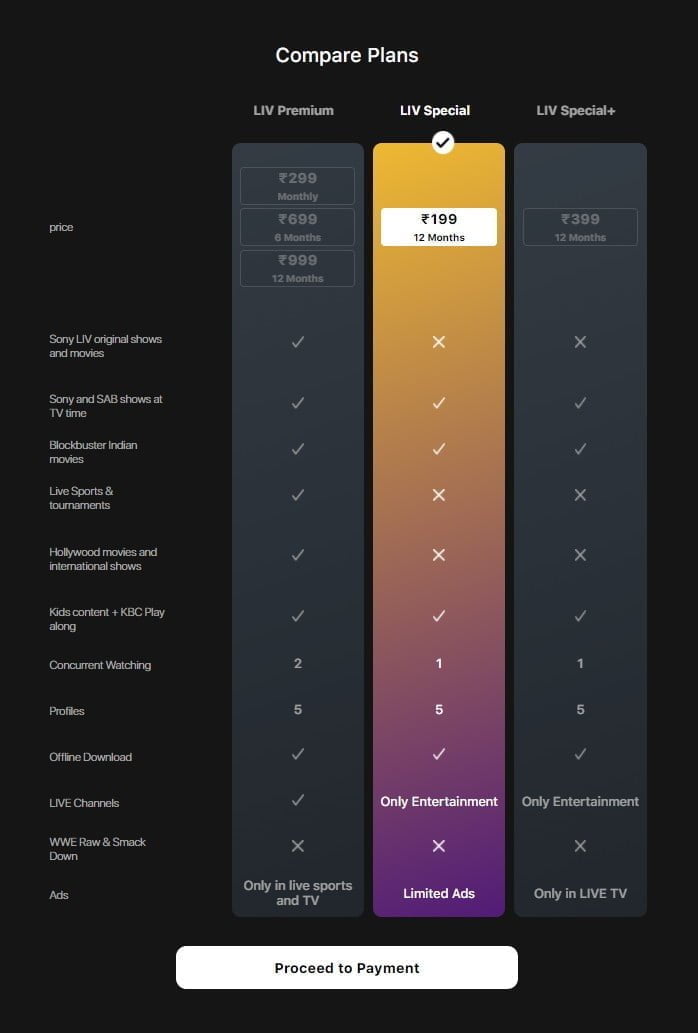 All the indicators point towards the introduction of a potential LIV Special WWE pack at Rs 299 per year which could pretty soon. It remains to be seen as and when the platform comes out with LIV WWE pack which could generate some traction from WWE followers in the country
---
Credits – Mr.Bhat, OnlyTech Community Forums