Jio launches carry-forward credit limit feature from existing operator to Jio for postpaid users
Estimated reading time: 1 minute, 29 seconds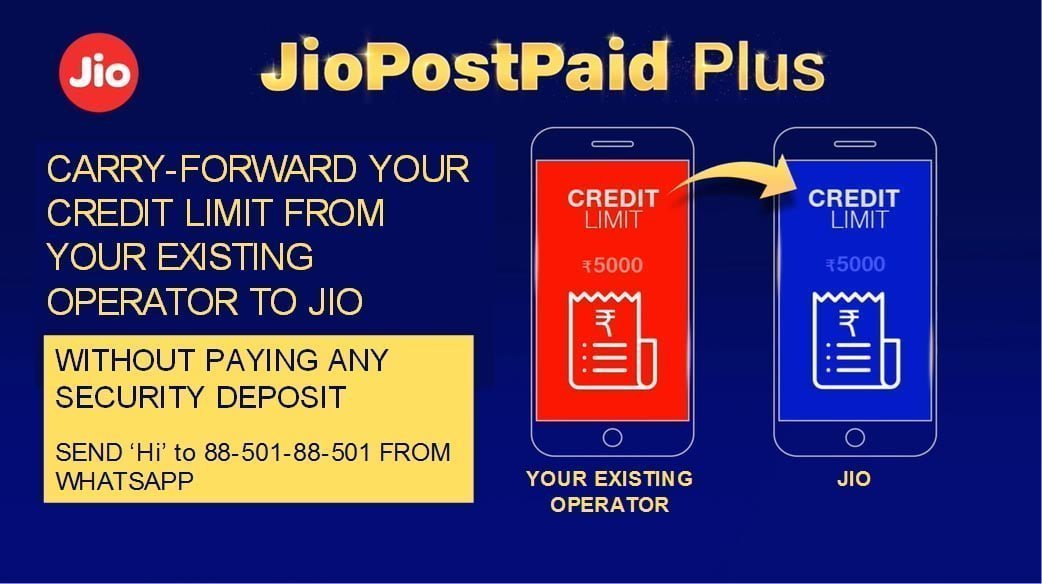 Reliance Jio today announced the launch of carry-forward credit limit feature for all existing postpaid users that are currently using other networks. The launch of the feature will make it easy for all existing postpaid users to join Jio Postpaid Plus as per Reliance Jio.
Postpaid users of other operators can simply carry forward their existing Credit Limit on the existing operator to Jio in 3 simple steps. Reliance Jio in a release said that the same would be without having to pay any single rupee or any security deposit to join Jio Postpaid Plus.
To carry forward your credit-limit from your existing operator to Jio without paying any security deposit you simply need to send "Hi" to 88-501-88-501 from Whatsapp. The message has to be sent from the postpaid number which you want to retain while joining Jio Postpaid Plus.
The next step is to upload your existing operator's postpaid bill post which after 24 hours you can walk into any Jio store or call for home delivery of your Jio Postpaid Plus SIM and get the credit limit of your choice without paying a single rupee.
As for new Jio Postpaid Plus customers, you will have to pay up the security deposit for whichever Jio Postpaid Plus plan you choose. The security deposit starts at Rs 500 for the Rs 399 postpaid plan and goes upto Rs 1800 for the Rs 1499 postpaid plan.
Steps to carry forward credit limit from existing operator to Jio
Send 'Hi' to 88-501-88-501 on Whatsapp from your existing postpaid number on non-Jio network which you want to retain while moving to Jio Postpaid Plus
Upload the existing postpaid bill on your non-Jio network
Walk into a Jio store or order a home-delivery of your Jio Postpaid Plus SIM 24 hours after uploading the existing postpaid bill