Jio adds maximum subscribers in March 2020 while Vodafone Idea faces heavy erosion- TRAI report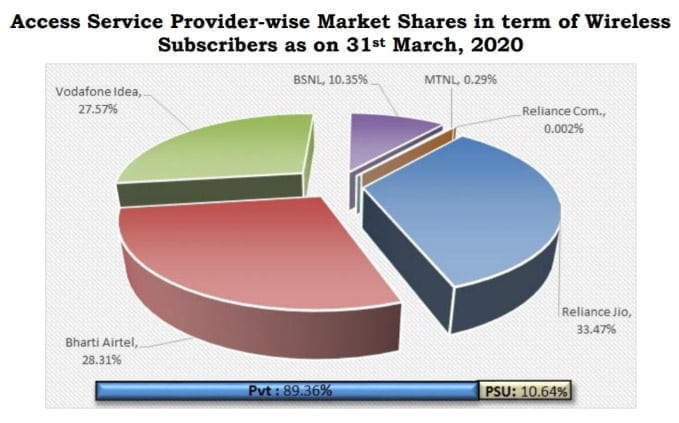 Highlights
Reliance Jio added 4.68 million subscribers while Vodafone Idea lost 6.35 million in March
Bharti Airtel continues to lead with the highest VLR percentage
BSNL lost nearly 1 lakh wireline subscribers in March
The telecom regulator has released the subscription data report for March 2020 which reveals that newcomer Reliance Jio has maintained its momentum of new wireless subscriber additions in the month of March while incumbent operators Bharti Airtel and Vodafone Idea have net losses in subscriber base. We get to see the early impact of the Covid-19 lockdown in the latter part of March with a decline in net additions and Vodafone Idea continues to bleed due to uncertainty of operations in India.
Wireless Subscriber Market share:
As of 31st March, 2020 Reliance Jio is leading with 33.47% market share which translates to 387.49 million subscribers, Bharti Airtel is at second position with 28.31% market share (327.75 million subscribers), whereas Vodafone Idea comes third with 27.57% market share (319.19 million subscribers). BSNL commands 10.35% (119.82 million) while MTNL commands just 0.29% market share (3.35 million).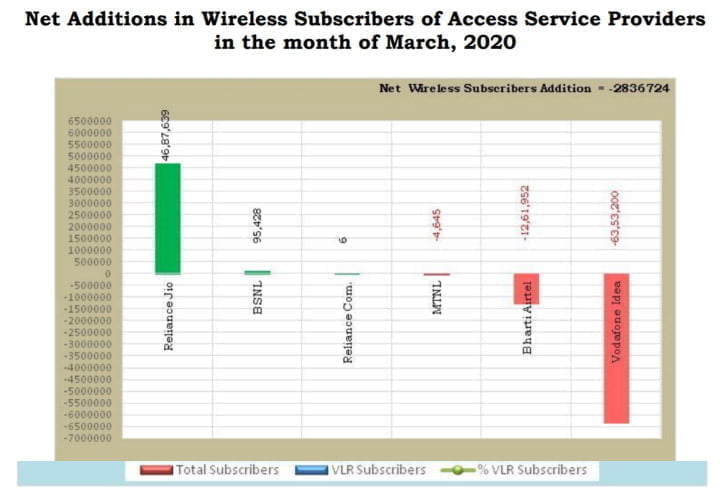 Net Subscriber Gain/Loss in March:
Jio was leading with 4.68 million new wireless subscriber additions followed by BSNL with 95 thousand. Vodafone Idea ended up losing over 6.35 million subscribers on account of the uncertainty of the Operator's future in India after the Supreme court's ruling on the AGR dues. Bharti Airtel surprisingly lost 1.26 million subscribers, meanwhile, MTNL lost over 4.6 thousand subscribers in March.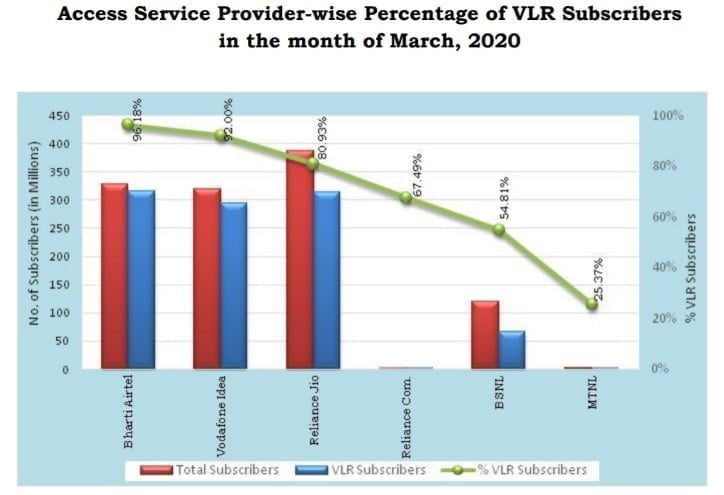 Active subscriber base, VLR data:
Visitor location register (VLR) is an indicator of what percentage of the total subscriber base is comprised of active users. Bharti Airtel leads the race in VLR numbers with over 96% of its user base being active, it is closely followed by Vodafone Idea with over 92%, Reliance Jio has nearly 81% whereas BSNL lags behind with only 55% of its total user base being active.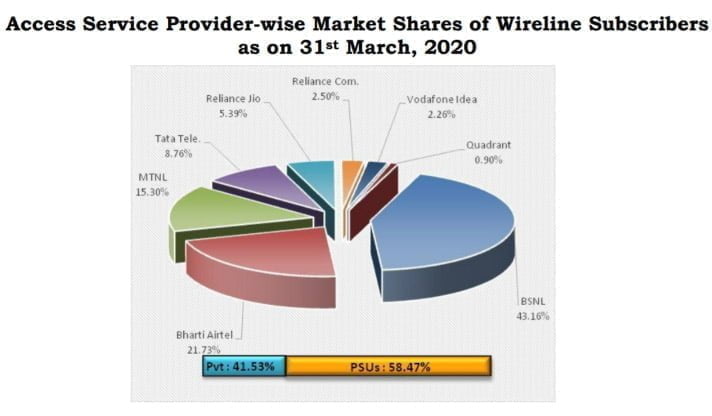 Wireline subscriber market share:
BSNL continues to lead with 43.16% share of the wireline subscriber market, even though it lost nearly 1 lakh subscribers in March 2020. Bharti Airtel commands 21.73% share as it added over 51 thousand new subscribers. MTNL follows with 15.30% share, though it lost over 8.6 thousand subscribers. Reliance Jio holds 5.39% share as it added over 32 thousand subscribers. Vodafone Idea holds only 2.26% share as it added over 13 thousand subscribers in March 2020.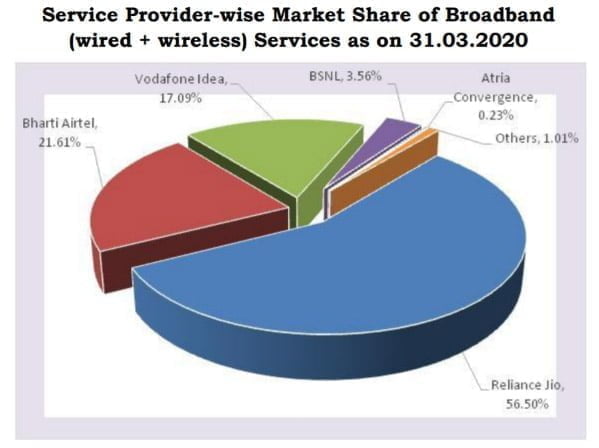 Broadband subscriber market share:
Broadband is considered when the speed offered is higher than 512 Kbps irrespective of it being a wired or wireless connection. As on 31st March 2020, the top five Wired Broadband Service providers by subscriber base were BSNL (8.08 million), Bharti Airtel (2.47 million), Atria Convergence Technologies (1.61 million), Hathway Cable & Datacom (0.97 million) and Reliance Jio Infocom Ltd (0.87 million). The top five Wireless Broadband Service providers were Reliance Jio Infocom Ltd (387.52 million), Bharti Airtel (146.10 million), Vodafone Idea (117.43 million), BSNL (16.43 million) and MTNL (0.18 million).