Jetpack Joyride 2 releases exclusively on Apple Arcade
Is the 11 year wait worth it for the sequel?
Estimated reading time: 6 minutes, 46 seconds
Highlights
Halfbrick Studios releases Jetpack Joyride 2 exclusively on Apple Arcade
The game is a sequel to the award winning 2011 game Jetpack Joyride
The sequel features a lot of upgrades to all the features you've loved in the original
Released in 2011, Jetpack Joyride, developed by HalfBrick Studios was a popular title on iOS which later made its way to Android devices as well. Now in 2022, HalfBrick Studios have released Jetpack Joyride 2 after a long delay. Unlike its predecessor, this game is exclusively available on Apple Arcade, with no word on an Android release yet. Apple Arcade is a premium video game subscription service that lets players enjoy games without advertisements and features no in-app purchases.
We have played the game for a few hours now, and here is a hands-on review of this addictive sequel.
No more endless running
This is the biggest point of differentation from the predecessor. The original was an infinite runner like the Temple Run games. The primary goal in it was to survive for as long as possible to get as far as you could. Whereas in Jetpack Joyride 2, you'll be trying to get a certain distance in individual levels, just like Minion Rush which was once an endless runner as well. You now have a progression system where you play in 3 maps in a sequential order, with each map having 10 sectors, making it a total of 30 levels along with a Tutorial level.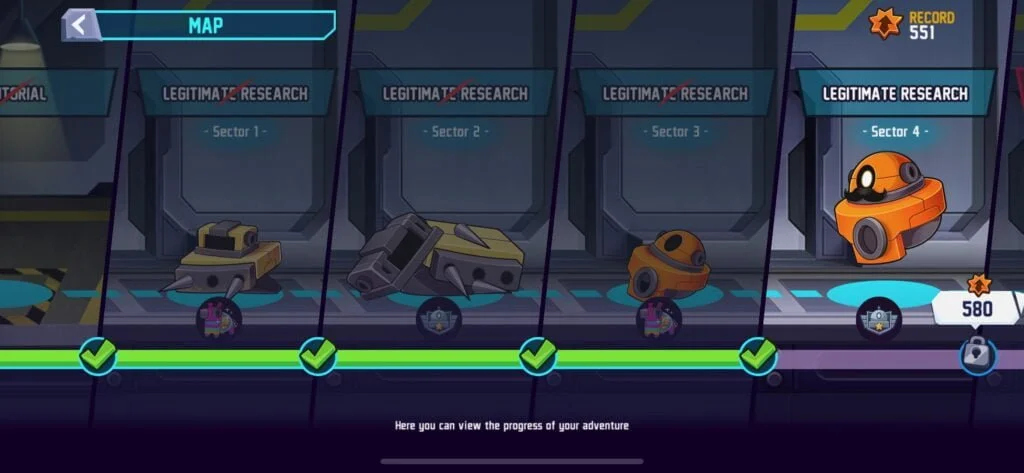 This move to a level based progression system is going to have mixed reactions. While people who loved the original infinite runner and still play it are set to be disappointed, for others the switch to the level system means that rounds will finish quicker, and won't have to deal with the original game's increasing pace of gameplay as you scored really higher. While playing each level, there is a meter at the top which fills up as you progress and collect items. When you complete that meter, you can either try a bonus challenge, like smashing a unicorn using your gun to get coins or fight a boss level and earn XP, Gems among other perks.
Gameplay Mechanics
The way you play the game hasn't changed much though. You still dash out of the garage into the Playable area and you tap and hold the screen to fly your jetpack higher while dodging obstacles like missiles and electric zappers. What's new is the addition of enemies in each sector. You can take out these baddies using the new additions, like a gun attached to your jetpack or other special powerups like a Flamethrower.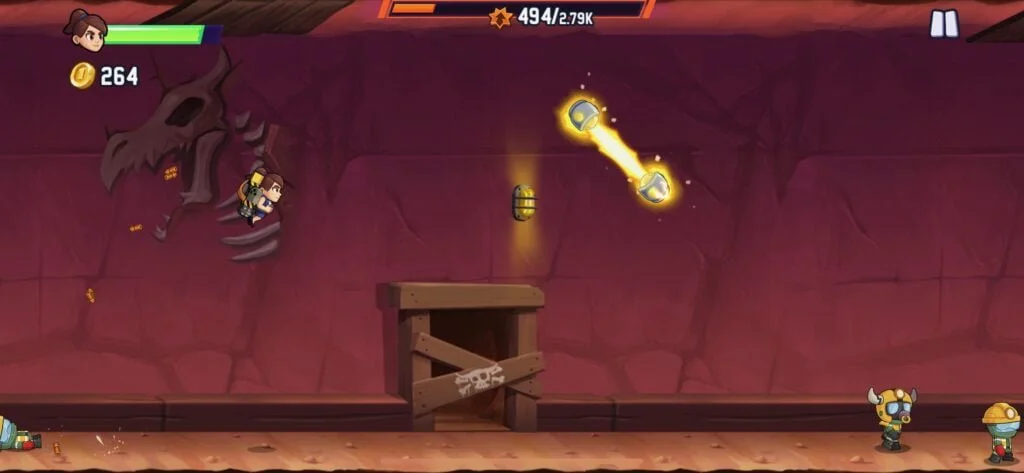 Another big change in the gameplay is that you now have a health bar at the top left corner. You no longer instantly die on hitting a missile or an electric zapper. Instead your health decreases by a certain amount on hitting an obstacle. The round ends on either your health bar getting drained out completely, or when you kill the villain or finish the bonus mission at the end of a round.
Jetpacks, Badges and Vehicles
Your jetpack is no longer just for showing off the cosmetic skins. While you can still customize the cosmetic skin of your jetpack along with the player suit, the jetpack now has cores which decide how much health and attack ability your player gets at the start of a game. On upgrading these cores, you will get increased health and improved attack ability. You can also individually upgrade the health and attack of your jetpack upto 15 levels, while you keep collecting experience to upgrade the cores.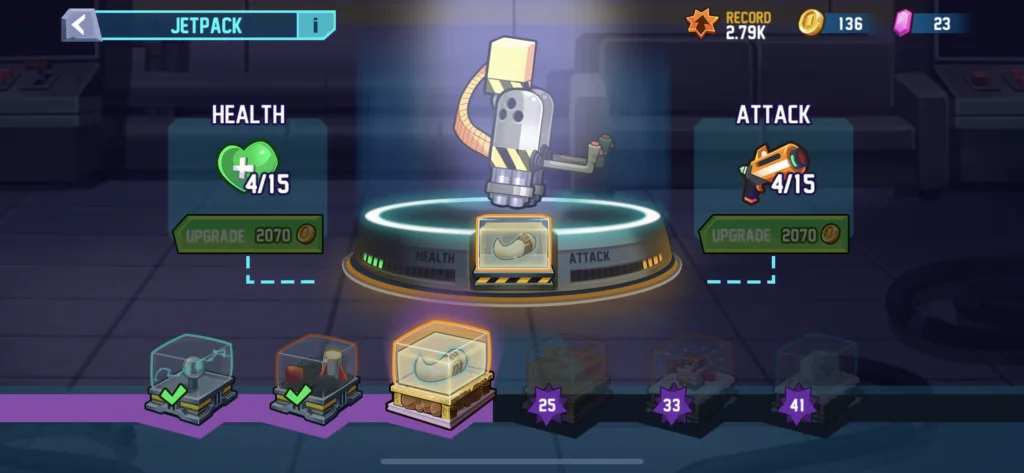 Gadgets from the previous game are now called Badges, and just like the first game you can only equip 3 at a time. The number of badges looks to be slightly lower than the original, just like the number of vehicles. At launch, you can only find 3 vehicles in the garage section, with none of them having any cosmetic skins available. Just like the levels themselves, the vehicles are no longer endlessly available. Each vehicle has a certain time limit which decreases on hitting obstacles and can be increased by upgrading the vehicle's level. Lil Stomper returns to the game in a new form – the Big Stomper which can also shoot solar charges at the obstacles. The Gravity Suit also makes a comeback, but this time the players are transported to another world for the duration of the vehicle, and there are quirky effects available while using this vehicle.
Other Changes
We also now have a Factory which has various rooms that reward you with something every few hours. These rooms can be unlocked at various levels and can generate passive in-game income/items for you, even if you don't have the game open.
Apart from the Regular mode, we now have an Arcade mode as well which seems to refresh game modes once every few hours. There are 3 games available in the Arcade mode at any given time, with each of them bringing in a unique experience in a limited runner game like Jetpack Joyride 2. Playing games in Arcade mode can give you items which can be used to manufacture or upgrade badges.
The variety of the powerups is another area where people can notice a lot of changes. The predecessor had only 4 of them, but the new one has more than 15 at release, with further more to come. Some of the previous powerups are still available, like the Piggy Bank and the Speed Boost, while rest of them are mostly supercharged weapons used to destroy enemies in a level. Powerups can be upgraded by getting more cards and covering the cost of upgrade in coins. Powerup cards can be earned either by completing the challenges, going on expeditions inside the Factory or through XP progression.
You can also earn gems inside the game through the same ways you earn tokens. The gems are used to buy skins, install Jetpack cores and revive a player if he is terminated due to lack of health.
Review
I had mixed feelings when I played the game for the first time. I definitely mourned the lack of an endless runner in this game, but I was thrilled with the number of upgrades this game has made over its predecessor. Nevertheless, the number of levels in this game is only 30 at launch, which means if you really put in an hour or two, you will easily finish the game rightaway. Thus there would be no point in playing the same levels again and again. You would have to wait for the developers to create new levels and provide it to you in a future update. I wish there was an endless runner in the Arcade mode, if not the regular mode.
The gameplay experience was smooth at most of the times, however if I opened another app and then came back to the game, there were visible stutters on my iPhone 13 Pro Max (This could also be because I'm running iOS 16 Public Beta but other games like Call of Duty or BGMI don't have such stutters at all). This is something that the developers can fix through updates very soon.
One thing that irked me the most is the game's exclusivity to Apple Arcade service. That is because the game was available as a beta on both Play Store and the App Store. So I suspect Apple must have paid the developers to keep it exclusive for Apple Arcade. We would hope that this exclusivity is only for a limited time period, and eventually lands on either Play Store or the Play Pass as well. On the flip side, this also guarantees that there will never be ads in the game, nor any in-app purchases. You can fully unlock your gameplay experience without having to pay for anything.
Nevertheless, this is a fun game which will give you all the nostalgia of playing the previous game. So if you are ready to spend 99 bucks for a month of Apple Arcade – or get it via iCloud+ subscription – this game will be worth your time.