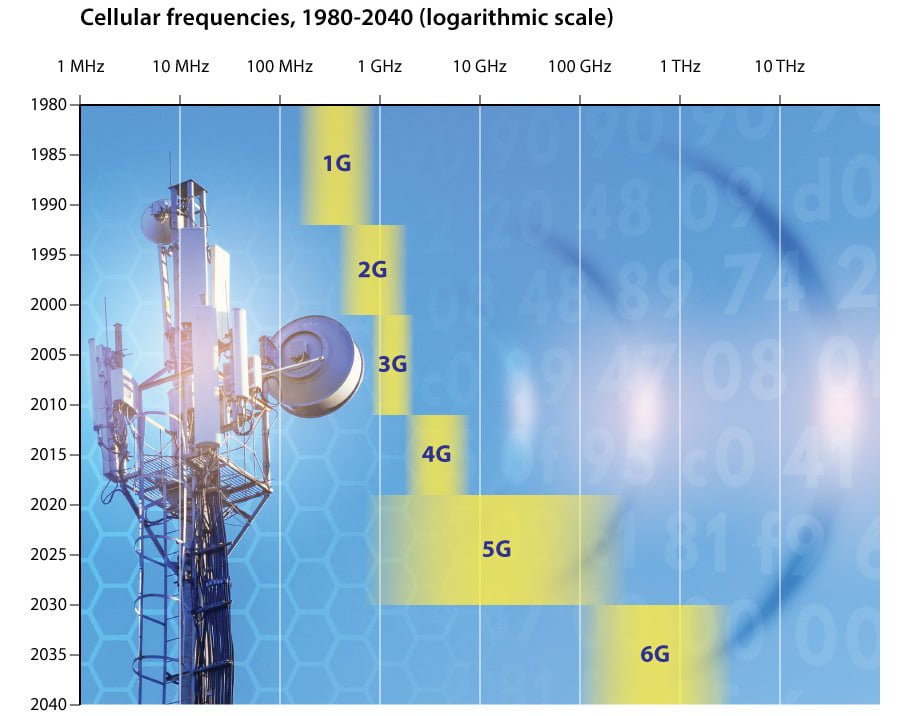 Highlights
Reliance Jio holds spectrum in 850 MHz/ 1800 MHz and 2300 MHz bands
Bharti Airtel holds spectrum in 850 MHz/ 900 MHz/ 1800 MHz/ 2100 MHz and 2300 MHz bands
Vodafone Idea holds spectrum in 900 MHz/ 1800 MHz/ 2100 MHz/ 2300 MHz and 2500 MHz bands
BSNL/MTNL holds spectrum in 900 MHz/ 1800 MHz/ 2100 MHz and 2500 MHz bands
Spectrum is for telecommunication what fuel is for aviation. Spectrum is a range of electromagnetic frequencies or airwaves which are used by the telecom companies for establishing a connection between a cell tower and a mobile phone. The bandwidth of this spectrum is directly proportional to the speed of a wireless data network (since more data can be transmitted simultaneously through a broader data pipeline) whereas the frequency is inversely proportional to the coverage (since lower frequencies penetrate better through physical barriers and thus have wider coverage).
Spectrum was administratively allocated to operators in each of the 22 licensed service areas or circles pre 2010, this spectrum is called non-liberalised and can only be used for 2G services whereas all airwaves allotted post-2010 has been through a Spectrum Auction where operators have paid market discovered price and this spectrum is called liberalised and can be used for any technology platform 2G/3G/4G.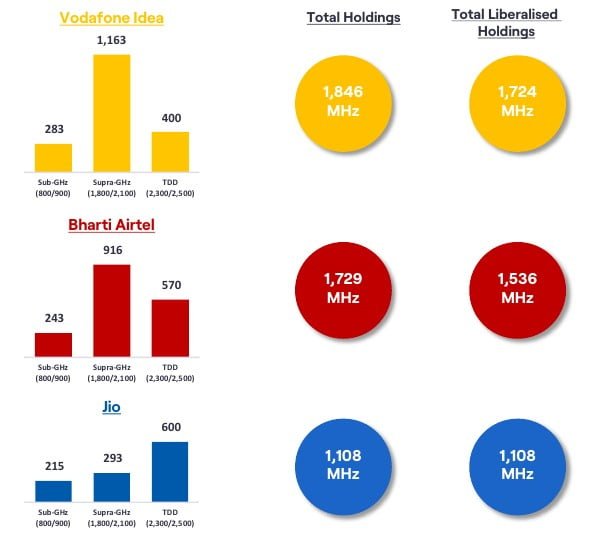 The spectrum holding data sheet embedded in this article represents the current spectrum holdings of all active telecom operators across all frequency bands across all 22 telecom circles along with their liberalisation status and expiry dates (Spectrum is allotted for a period of 20 years). All figures represented are in MHz. The value mentioned in the bracket beside the frequency at the base of each sheet is the band number where 'B' stands for 4G LTE band whereas 'n' stands for the corresponding 5G NR band.
Spectrum is auctioned in blocks which are chunks of spectrum, the block size is different for different bands. Block size for 700 MHz band is 5 MHz, for 850 MHz it is 1.25 MHz, for 900 and 1800 MHz bands it is 0.2 MHz, for 2100 MHz it is 5 MHz, for 2300 and 2500 MHz bands it is 10 MHz. Private operators like Bharti Airtel, Reliance Jio, and Vodafone Idea bid for these blocks in the auction whereas spectrum is reserved for PSU operator BSNL which matches the highest bid of the auction.
Spectrum may be paired or unpaired, bands 1/3/5/8/28 are all paired where one set of frequencies is used for uplink whereas another distinct set of frequencies is used for downlink known as Frequency-division duplexing (FDD), whereas bands 40/41/42 are unpaired where both uplink and downlink happens in the same set of frequencies separated by the time of uplink and downlink known as Time-division duplexing (TDD).
List of Indian FDD Bands:
| 4G LTE band | 5G NR band | Uplink frequency range (MHz) | Downlink frequency range (MHz) | Bandwidth for telecom (MHz) |
| --- | --- | --- | --- | --- |
| B1 | n1 | 1939-1979 | 2129-2169 | 40 X 2 |
| B3 | n3 | 1710-1765 | 1805-1860 | 55 X 2 |
| B5 | n5 | 824-844 | 869-889 | 17.5 X 2 |
| B8 | n8 | 890-915 | 935-960 | 23.2 X 2 |
| B28 | n28 | 713-748 | 768-803 | 35 X 2 |
Note: The frequency ranges and total bandwidth mentioned are specific to Indian telecom.
List of Indian TDD Bands:
4G LTE band
5G NR band
Frequency range (MHz)
Bandwidth for
telecom (MHz)
B40
n40
2300-2380
80
B41
n41
2535-2555/ 2635-2655
40
B42
n78
3425-3600
175
Note: The frequency ranges and total bandwidth mentioned are specific to Indian telecom.
There is a spectrum cap which dictates how much spectrum a particular operator can hold in a circle in a particular band. An operator can own the right to use spectrum only in a quantum less than or equal to 50% of the combined available spectrum in all sub GHz bands (Band28+Band5+Band8) in a given licensed service area (circle) and less than or equal to 35% of the total available spectrum across all bands put together in a given licensed service area.
Apart from auctions, operators can buy or sell spectrum usage rights from each other which is called spectrum trading. Operators may also sign a spectrum sharing agreement to share their spectrum holdings to achieve a pooled spectrum holding with more bandwidth. Only intra-band spectrum sharing is permitted where both operators need to hold spectrum in the same band in a given circle, inter-band spectrum leasing is not allowed.
---
Note: We update this chart in realtime to ensure it is always up to date with the latest changes in spectrum holding. Certain human errors might have crept in during manual compilation of the data, any mistakes/ rectification can be brought to the notice of the Team through the comments section below.