Comparing entry-level recharges of all operators providing 1 year of Disney+ Hotstar mobile plan
Today we compare the entry-level prepaid recharge plans by Jio, Vi and Airtel offering a bundled annual subscription to the Disney+ Hotstar Mobile plan which has a standalone cost of Rs 499 and offers all content (movies, TV shows, specials, live sports)
Estimated reading time: 2 minutes, 25 seconds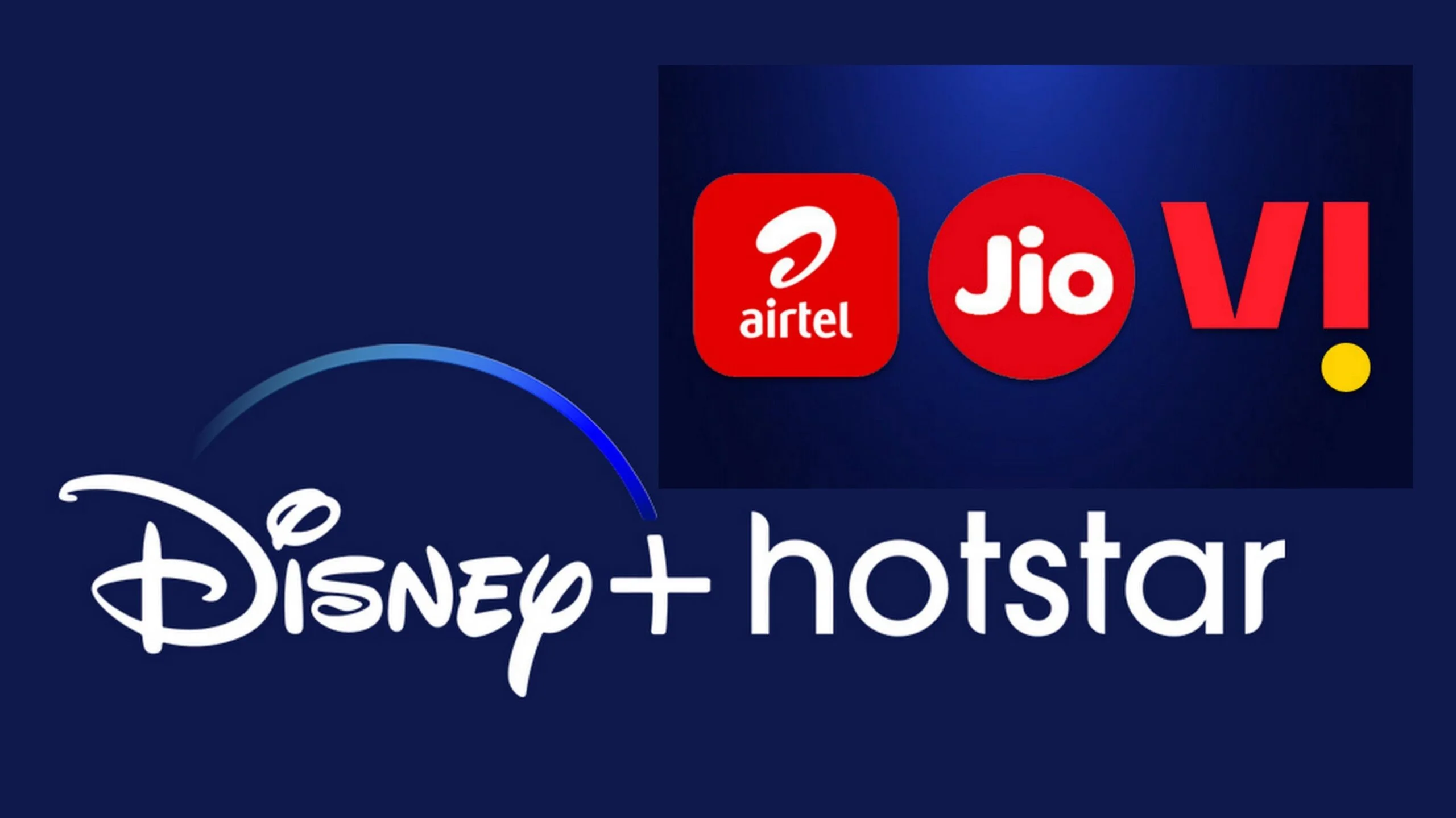 In a scenario where there is an overwhelming number of OTT players offering a plethora of video content, a subscriber finds it difficult to manage multiple subscriptions without burning a hole in his/her pocket. Considering that a vast majority of Indians consume content on their mobile screens rather than on TV screens, telecom operators have taken the bundling route where they bundle a mobile plan with an OTT subscription to offer the consumer a cost-effective solution.
Today we compare the entry-level prepaid recharge plans by Jio, Vi and Airtel offering a bundled annual subscription to the Disney+ Hotstar Mobile plan which has a standalone cost of Rs 499 and offers all content (movies, TV shows, specials, live sports) on an ad-supported format with a maximum resolution of 720p and can be viewed on one mobile or tablet device at a time and cannot be viewed on PC or TV screens. The plan offers only stereo audio.
Operator
Jio
Airtel
Vi
Denomination (Rs)
499
599
601
Validity
28 days
28 days
28 days
Data / day
2 GB
3 GB
3 GB
Voice
Unlimited
Unlimited
Unlimited
SMS / day
100
100
100
Additional
benefits
JioTV, Jio Cinema,
Jio Cloud
Prime video mobile
trial, Wynk music
Vi Movies & TV
Entry-level plans with Disney+ Hotstar mobile subscription
Jio 499 Plan:
The Rs 499 plan by Jio is the cheapest one that gives access to the annual Disney+ Hotstar mobile plan but it has a daily data allotment of 2 GB which is less than the 3 GB per day offered by its two competitors. All plans have the same validity, voice and SMS benefits. Jio plan also gives access to Jio TV, Jio Cinema and Jio Cloud services. Jio also has a Rs 601 plan with the same 3 GB/day offering along with Disney+ Hotstar plan but since we are focusing on the entry-level plans we have considered the Rs 499 plan.
Airtel 599 Plan:
The Rs 599 plan by Airtel is the next cheapest one offering the Disney+ Hotstar annual mobile plan and has a daily data allotment of 3 GB which more than sufficiently justifies the Rs 100 premium pricing over the Jio counterpart. The Airtel plan also gives access to a one month trial to Amazon Prime Video mobile plan, applicable once per user and also includes access to Wynk music service.
Vi 601 Plan:
The Rs 601 plan by Vi is the costliest among the three offering annual subscription to Disney+ Hotstar Mobile plan and has the same data allotment as Airtel at 3 GB/day. Both Airtel and Vi plans are at a Rs 100 premium over Jio but offer higher daily data. Though the validity, voice and SMS benefits are identical across the 3 operators, Vi differentiates its offering with benefits such as 'Binge All Night' and 'Weekend data rollover.' Vi users also get access to Vi Movies and TV.
It is worth noting that even though these 28-day validity plans by these operators offer a 365 days subscription to Disney+ Hotstar mobile plan, it is mandatory to have an active plan on the linked number throughout this duration, failing which the subscription will be terminated.