Airtel Xstream Fiber offers Double Data for 6 months to new customers in newly launched cities

Airtel Xstream Fiber is offering Double Data for 6 months to its new customers who signup in newly launched cities wherein Airtel has expanded through local cable operators (LCOs). The offer has been rolled out yesterday and available for the next 5 days.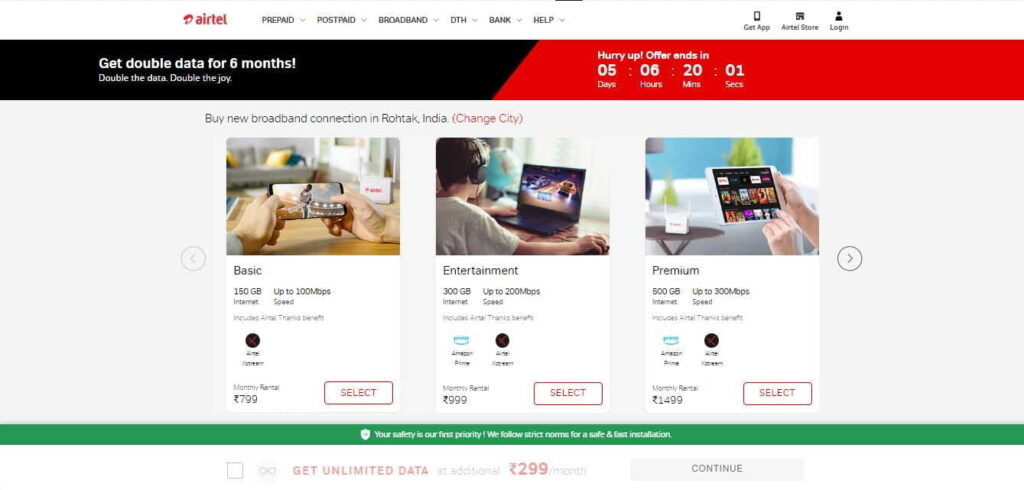 According to the listings on Airtel's website, cities like Shimla and others wherein Airtel Xstream Fiber went in recently is offering double data offer for 6 months to new prospective customers. A note on the website listings further states that Airtel would charge Rs 1000 wiring charges on the time of installation for up to 100 meters.
Rohtak, Shimla, Ajmer, Ghazipur, Kota, Jagadhari, Yamunanagar, Jhansi, Thanjavur, Bhilwara, Bikaner, Bundi, Dharamshala, Gorakhpur, Jodhpur, and Kakinada are the cities wherein the offer as per Airtel's website.
In other news, Airtel's 1000GB extra data offer for new customers in major cities which was to end on 17th August has now been extended for another 5 days. The ticker on the banner indicates that it will available until 23rd August.