Netflix India slashes plan price up to 60%, now starting at Rs 149 per month
The Basic plan saw the biggest price cut of 60% and is now available for only Rs 199 per month.
Estimated reading time: 1 minute, 39 seconds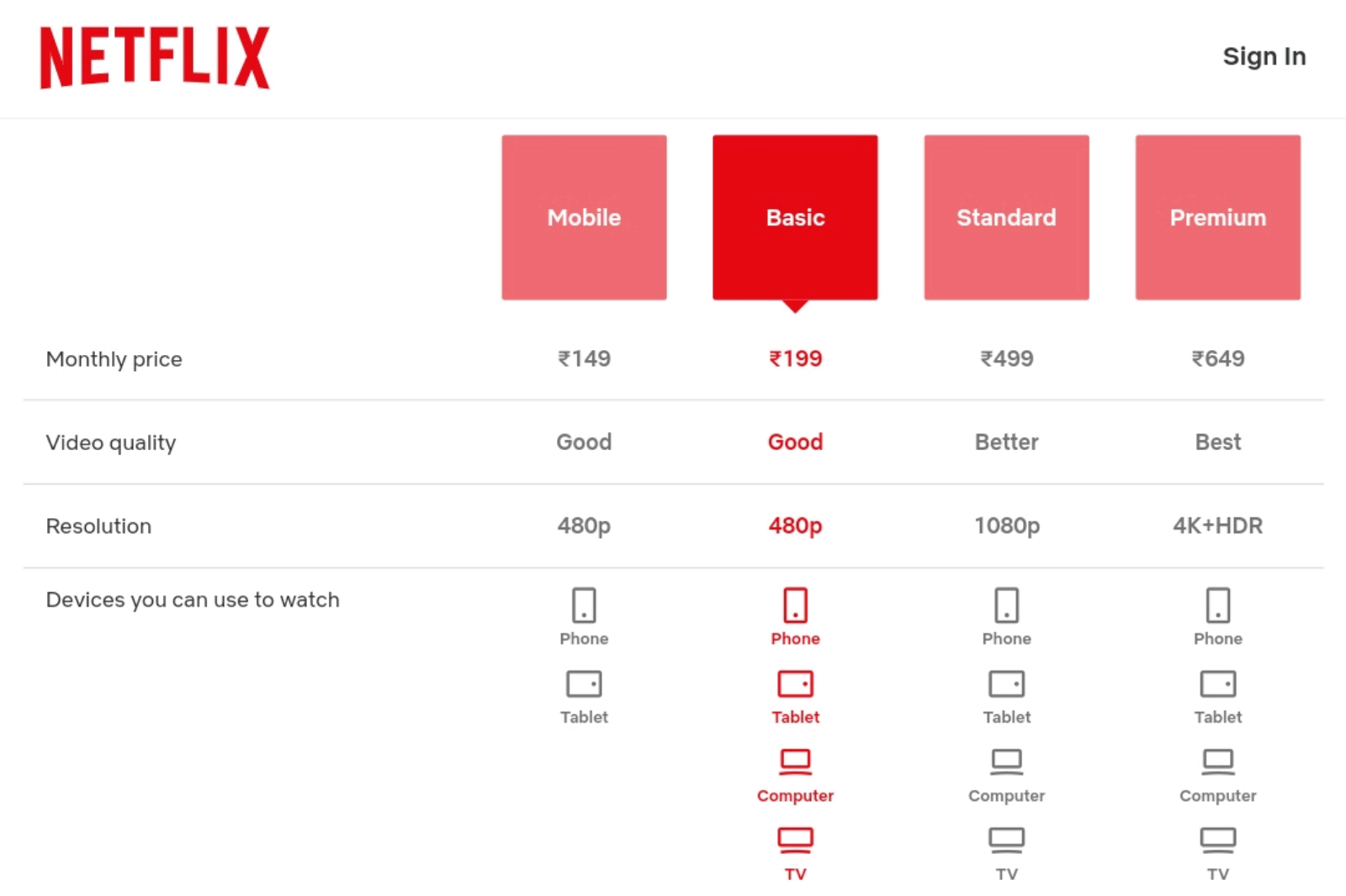 OTT giant Netflix on Tuesday significantly dropped the cost of its plans up to 60% in India effective immediately. The plans now start at Rs 149 for Mobile and go till Rs 649 per month for Premium with 4K HDR video quality. 
The Mobile plan which was previously priced at Rs 199 per month will now cost 25% lesser at Rs 149. The Basic plan saw the biggest price cut of 60% and is now available for only Rs 199 per month. The Standard plan's price dropped from Rs 649 to Rs 499 (23%) and lastly, the Premium plan's cost decreased from Rs 799 to Rs 649 per month which is about 19% lower.
Users with already active subscriptions are going to be easily upgraded to the higher starting from today. Upon logging in, you will get a notification to confirm the upgrade or choose any other plan based on your needs. New prices will come into effect from the next billing cycle for Premium subscribers and users who opt to stay on their current plan.
The benefits of these plans remain unchanged. The mobile plan offers 480p SD content quality and is restricted to mobile or tablet only. The Basic plan offers access to content from any device but at the same 480p resolution. With the Standard plan, video quality is improved to HD or 1080p and Premium allows you to watch content in 4K HDR.
This move comes when Amazon has increased its Prime Membership price for all monthly, quarterly and annual tiers which now starts at Rs 179 per month or Rs 459 quarterly or Rs 1,499 annually. It offers access to simultaneous streaming on multiple screens and 4K HDR quality.
Recently, Disney+ Hotstar also revised its plans and gave access to its complete library to all paid subscribers. Its prices start at Rs 499 annually for Mobile (about 42 a month) with ads and 720p resolution, Rs 899 per year for Super plan also shows ads and gives access on all devices with 1080p resolution while the Rs 1,499 plan is ad-free and allows 4K video quality.