Jio Fiber effect: Asianet offering 200 Mbps plans starting Rs.500/month
Asianet being a multi system operator (MSO) also offers Asianet Digital Tv (cable) connection with free monthly subscription credit of up to Rs.250 a month for 1 year for subscribers in Giga Fibernet coverage
Estimated reading time: 1 minute, 4 seconds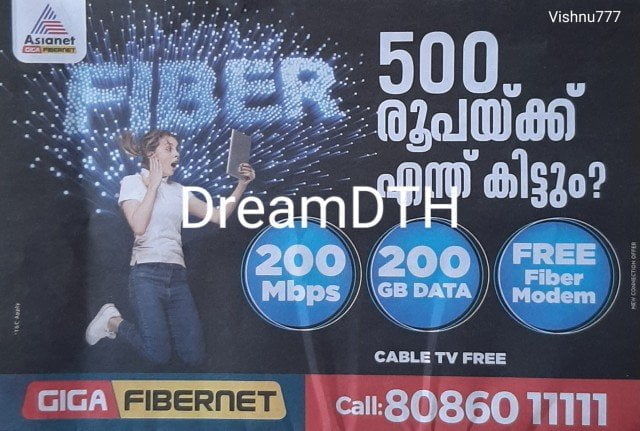 With the Jio fiber launch just around the corner, Asianet Broadband, one of the leading Internet service providers in Kerala has revamped its high-speed broadband offering for its postpaid subscribers with plans of up to 200 Mbps starting at just Rs.500/month (For a 6 monthly billing denomination of Rs.2999).
The Rs.2999 plan offers 1200 GB of data for a period of 180 days which translates to 200 GB/month at Rs.500+GST. The Rs.2499 plan offers 1200 GB of data for a period of 120 days which translates to 300 GB/month at Rs.625+GST. The Rs.1499 plan offers 1000 GB data for a period of 60 days which translates to 500 GB/month at Rs.750+GST. The above-mentioned plans are available at 200 Mbps for Giga Fibernet users, 100 Mbps for GPON networks and 50 Mbps for DOCSIS networks. Subscribers will get unlimited browsing at 2 Mbps post FUP limit.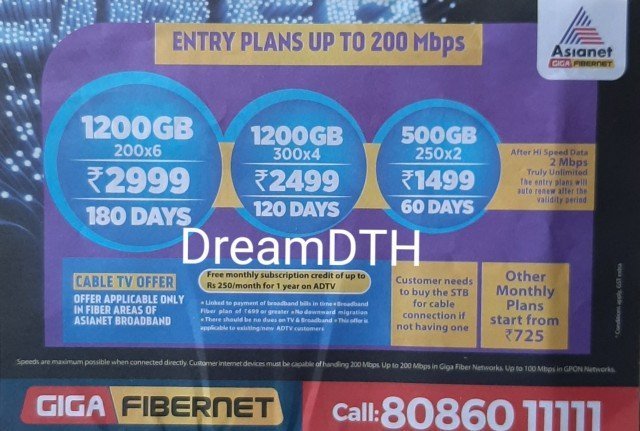 Asianet being a multi-system operator (MSO) also offers Asianet Digital Tv (cable) connection with free monthly subscription credit of up to Rs.250 a month for 1 year for subscribers in Giga Fibernet coverage areas who have subscribed to plans of Rs699/month or above. This is provided there are no pending unpaid dues for Broadband or cable connection. Also, there is no downward plan migration allowed for the cable Tv bundled offering. Entry plans will auto-renew post expiry.