Joined

2 May 2011
Messages

3,162
Reaction score

596
Dropbox is a "cloud based" file sharing service for all. Dropbox allows you to synchronize files among different computers.But Dropbox has also some disadvantages such as:
You can't host your own server.
It Provides you only 2 GB storage.
It's not an open source.
There are no remote access to computers.
So if you are using Dropbox, but not satisfied with their services than here is a
Top 10 best alternative to Dropbox:
============================================================================================================
1.Dmailer Backup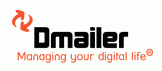 Dmailer is a free online file hosting service, which provide a backup of 2GB data.We can also use this on Windows and Mac operating systems
http://www.dmailer.com/dmailer-backup.html
2.Syncplicity
Syncplicity is also a great automated sync, back-up, collaboration and file management service for a business user and easy enough for a novice.
http://www.syncplicity.com/
3.Wuala

Wuala is a Linux friendly secure Dropbox alternative.It gives you 1GB cloud space for free, but you can also gain more space via 'trading idle HDD space' or by inviting other users.
http://wuala.com/
4.Live Mesh
Live Mesh is also a best alternative to Dropbox.The great feature of this, it provide 5GB online backup space.We can also connect our computers remotely using any browser.It works on Windows, Mac, and even your cell phone.
http://www.mesh.com/
5.SparkleShare

SparkleShare is an Open Source collaboration and sharing tool that is designed to keep things simple and to stay out of your way.
http://www.sparkleshare.org/
6.SugarSync

Same as Dropbox, it gives 2GB space.It also backup your data online and syncs across multiple computers.It supports Windows and Mac.SugarSync also suports all types of mobile devices such as iPhone, Android, Blackberry, Windows Mobile and more.
http://www.sugarsync.com/
7.LiveDrive

LiveDrive is an Online storage and online backup service. Easily backup, share and store documents online, online file storage that's as easy as using an external drive and more.
http://www.livedrive.com/
8.Box.net
Box.net is a Collaboration tools adopted by over 100000 companies globally. Box simplifies online file storage, replaces FTP and connects teams in online work-spaces.
http://box.net/
9.SpiderOak
SpiderOak is a zero-knowledge encrypted data backup, share, sync, access and storage service. Online and multi-platform with 2GB of storage free for life.
http://spideroak.com/
10.Tonido
Tonido is a smart way to access your applications and share, sync, collaborate with friends and family without relying on public online services.
http://www.tonido.com/