Hello Everyone
I have a 5 year old Sony Vaio Laptop (SVE15123CNW). It came with Original Windows 8 and I have upgraded it to Windows 10 two years earlier. From January 2018 it started giving issues some times like sudden freezing, Hard Disk 100%,etc. and from February begining it was used to get hanged every time i switched it On. So i decided to do a factory reset to windows 8. After resetting successfully the problem still persisted. Then suddenly a week earlier it showed me S.M.A.R.T. Hard Drive error eerytime while switching the laptop On. Then I understood that it was the Hard drive which is the culprit. I some how managed to Back up my Important Files and also Created a Recovery Drive in my pen drive. And then the next day as expected my Hard Drive failed totally.
So I started searching in Computer stores in city for a good 500GB Hard Drive. But after visiting almost a dozen stores I found only Toshiba Hard Drives and in one store HGST was available. My brother had very poor experience with Toshiba so I ignored Toshiba. Then I started searching online and shortlisted the following two Hard drives on amazon.in
https://www.amazon.in/gp/product/B013QFRZL2/?tag=dreamdth-21
https://www.amazon.in/gp/product/B01LZY5T8Y/?tag=dreamdth-21
But i am totally confused between WD Blue and Seagate Barracuda. So I need you guys help. The only difference i found is Seagate Barracuda is have 128MB Cache (Disk Buffer) while WD Blue is having 16MB Cache(Disk Buffer). I am also uploading the pic of my old Hard Disk that came pre installed with my laptop for your reference.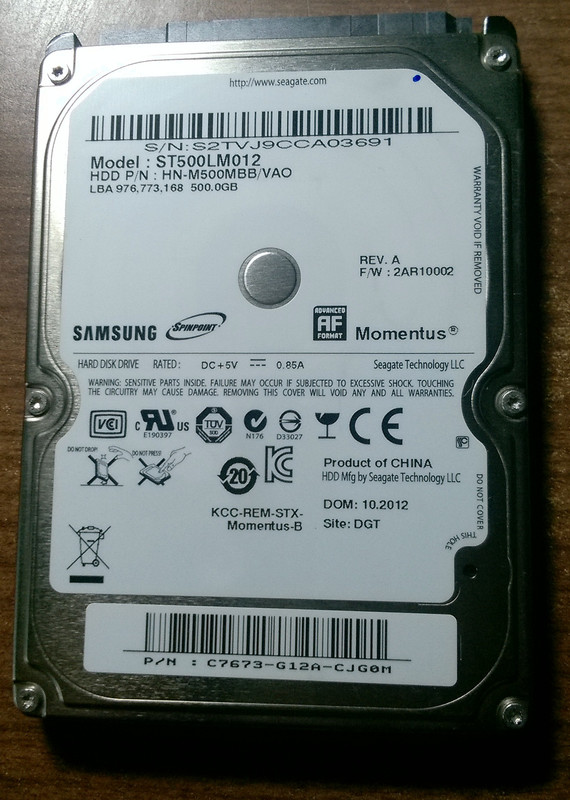 Thanks a lot
Last edited: