Airtel launches 'Airtel Office Internet' for small businesses
'Airtel partners with Google Cloud and Cisco to launch 'Airtel Office Internet' to accelerate digital transformation of small businesses'.
Estimated reading time: 1 minute, 57 seconds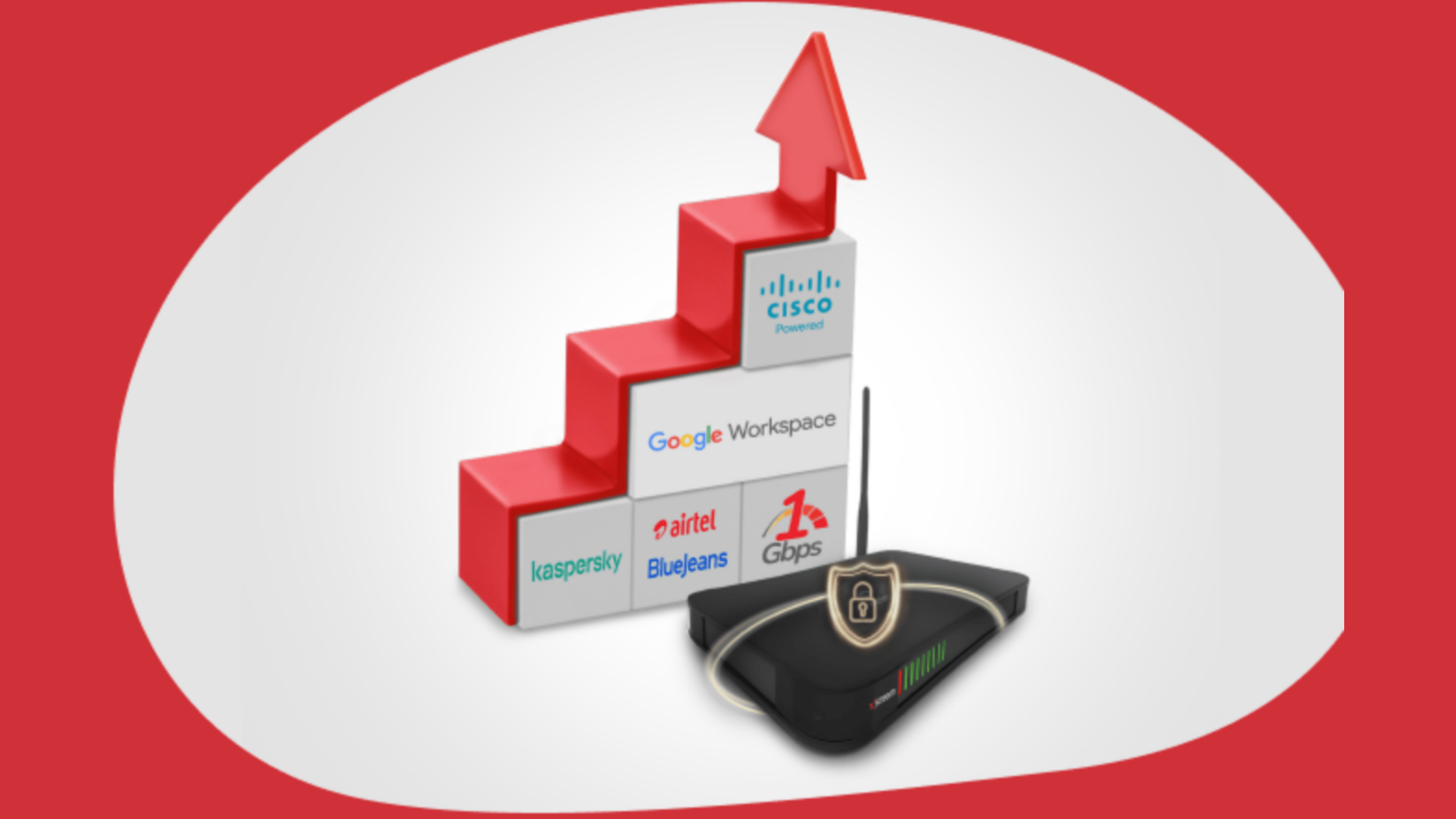 Bharti Airtel yesterday announced the launch of 'Airtel Office Internet' to accelerate the digital transformation of small businesses. Airtel has tied up with Google Cloud and Cisco to launch the all-in-one enterprise-grade solution with secure connectivity and productivity tools. The unified enterprise-grade solution is for the needs of small businesses, SOHOs, and early-stage tech start-ups.
Airtel Office Internet plans start at Rs 999 with a range of add-on services like Static IPs and parallel ringing. "More than ever, emerging businesses across India are looking for reliable connectivity and digital productivity tools that enhance their agility, efficiency and enable them to serve their customers better. Importantly, these businesses want to access these solutions with the convenience of a single relationship," said Airtel in a release.
Airtel Office Internet brings together high-speed data connectivity, conferencing, and business productivity tools as a unified solution with one plan and one bill.
Ajay Chitkara, Director & CEO – Airtel Business, "The pandemic has accelerated the digital transformation journeys of businesses of all sizes. Emerging businesses are looking for trusted partners to help them in their journeys by eliminating the complexity of managing multiple relationships. Airtel Office Internet is yet another innovation from Airtel in this direction. It brings together Airtel's network and world-class partner ecosystem to bring to market tailor made solutions for India's unique needs."
The solution offers FTTH broadband with symmetric speeds up to 1 Gbps along with unlimited local/STD calling, super fast and reliable connectivity with built-in enterprise-grade security from Cisco and Kaspersky to block malicious and unwanted domains, viruses, crypto-lockers, and attacks, complimentary Google Workspace licenses allowing businesses to use GMail for all professional email communication along with an entire range of productivity and collaboration tools from Google, free Airtel BlueJeans license for unlimited and secure HD quality conferencing, and digital self-serve portal for businesses to manage all the services at one place.
Airtel Office Internet Pricing
| Key features | AOI 999 Plan (Advanced) | AOI 1499 Plan (Premium) | AOI 3999 Plan (Premium Plus) | AOI 6999 Plan (Ultra) | AOI 9999 Plan (VIP) | AOI 499 Plan (Basic) | AOI 799 Plan (Standard) |
| --- | --- | --- | --- | --- | --- | --- | --- |
| Maximum Speed(up to) | 200 Mbps | 300 Mbps | 1 Gbps | 1 Gbps | 1 Gbps | 40 Mbps | 100 Mbps |
| Device Security by Kaspersky Licenses | 2 | 2 | 4 | 10 | 20 | – | – |
| Airtel BlueJeans Licenses | 2 | 2 | 2 | 4 | 4 | – | – |
| Google Workspace Licenses | – | 2 | 4 | 10 | 20 | – | – |
| DNS Security by Cisco | YES | YES | YES | YES | YES | – | YES |
| Free Parallel Ringing Service | YES | YES | YES | YES | YES | – | YES |
| 1 Static IP Free | – | YES | YES | YES | YES | – | – |