Airtel Black is here as Airtel rebrands One Airtel
Airtel Black to offer combining of two or more services in one plan from Airtel's portfolio.
Estimated reading time: 1 minute, 51 seconds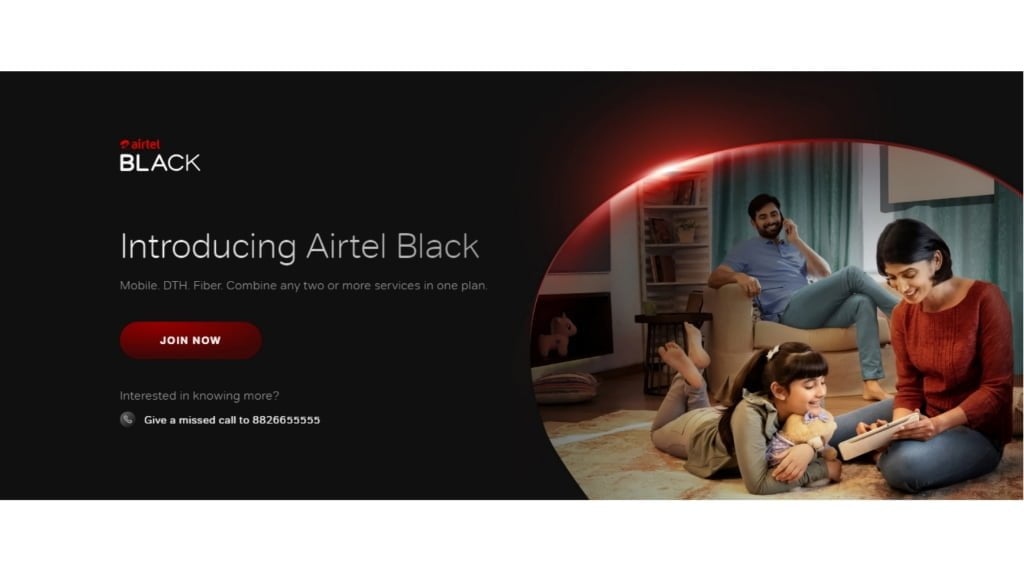 Telecom giant Bharti Airtel is all set to revamp One Airtel as Airtel Black. The company's website has gone live with dedicated microsite for Airtel Black along with the terms and conditions documentation ahead of the media briefing tomorrow. Airtel has scheduled an online press briefing tomorrow with Airtel Homes Director Sunil Taldar set to brief the media.
Airtel Black will allow Airtel customers to combine any two or more services into one plan from Mobile, DTH, and Fiber. Airtel customers can give a missed call on 8826655555 to know more about Airtel Black.
Airtel Black benefits include One Bill and One call centre, Dedicated relationship team, Priority Resolution, Call Pick-up in 60 secs, Free service visits, Zero switching & installation costs, Airtel XStream Box at no extra cost, and Buy Now & Pay Later on Airtel Shop. The service will let you combine not only your services but also those of your family and friends under a single bill.
| MONTHLY RENTAL OF THE AIRTEL BLACK FIXED PLAN | MINIMUM BB CONNECTIONS | MINIMUM PP CONNECTIONS | MINIMUM DTH CONNECTIONS |
| --- | --- | --- | --- |
| 2099 | 1 | 1 | 1 |
| 1598 | 1 | 1 | 0 |
| 1349 | 0 | 1 | 1 |
| 998 | 0 | 1 | 1 |
Airtel Black will offer both Fixed plans and Custom plans. Airtel Black Fixed plans will offer value and savings when you sign up for two or more services as a bundle. Airtel Black Fixed plans start at Rs 998 price point with other plans priced at Rs 1349, Rs 1598, and Rs 2099. These plans offer different combination of services and count of connections. The count of services and plan rental as per the number of lines is fixed.
Airtel Black Custom plans will offer flexibility with customers allowed to combine any plan available in the market – Airtel XStream Fiber, Airtel DTH, Airtel Postpaid. This will be like your own alacarte plan where you get to choose plan benefits basis what's available.
Airtel Black Custom plan allows a maximum of 10 Airtel Parent Postpaid, 2 Airtel Xstream Fiber, and 2 Airtel DTH primary connections. Every primary DTH connection can have 3 secondary connections as per existing DTH norms while every parent Postpaid connection allows 8 Child connections as part of the Postpaid Family construct.
Airtel Black Custom plan will offer first 30 days Free equivalent to the bill rental value, Xstream Box at no cost, HD Box free of cost for the first connection taken, and Zero Switching cost.