Airtel Xsafe offering security solutions at Rs 99 per month
Photos, Videos captured from the cameras are stored in Airtel Cloud for 7 days and they can be shared with anyone.
Estimated reading time: 1 minute, 53 seconds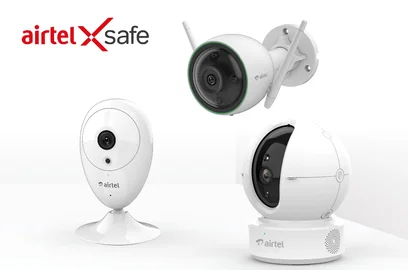 Bharti Airtel is offering security surveillance solutions under the brand 'Xsafe'. The company is selling three different security cameras and Xsafe plans for advanced analytics and cloud storage.
'Sticky cam' is the cheapest camera available from Airtel at Rs 2,499. It comes with a magnetic base, wide-angle lens and flexible mounting option. It supports up to H.265 Ultra-HD video compression, max 20 FPS, up to 256GB microSD card, 1080p HD video and Night vision.
'360° cam' carries a price tag of Rs 2,999. It gives 360° full coverage without blind spots and has an auto-tracking feature. Recording can be done at 1080p HD quality, and night vision up to 10 meters is there. Both Sticky and 360° cams are indoor cameras.
'Active defence cam' is priced at Rs 4,999. This is the only outdoor camera offered by Airtel Xsafe. It is designed to withstand extreme weather conditions and is IP67 rated for dust resistance. Night vision is up to 30 meters and there are also two spotlights to scare the intruders.
All Airtel Cameras include a 12 months warranty for manufacturing defects excluding physical damage. They support 2.5GHz WiFi and ethernet for connectivity. In absence of an internet connection, the cameras will record locally on an SD card.
Photos, Videos captured from the cameras are stored in Airtel Cloud for 7 days and they can be shared with anyone. The company also mentions that all the data in Airtel Cloud is safe and end-to-end encrypted.
The live feed from cameras and other features can be accessed via the Airtel Xsafe app which is available on Play Store and App Store for Android and iOS devices respectively. Windows PC is not supported.
Plan Pricing
Airtel Xsafe camera buyers have to opt for the Xsafe plan to continue using full benefits. Xsafe monthly plan costs Rs 99 per camera while the annual plan is priced at Rs 999 per camera. They enable smart features of the Camera and give 3 months of free service. Additional cameras will be charged separately at Rs 699 per year or Rs 69 per month.
The smart features which are provided to paid subscribers include person detection, cloud storage, full HD video, two-way talking through the camera, downloading and sharing clips, perimeter zoning, motion sensitivity control, device alarm, simultaneous viewing and motion detection.