The Earth will be better without Us..
Staff member
Community Manager
Joined

6 May 2012
Messages

4,923
Solutions

6
Reaction score

8,377
Forgive me its a loooonnngg article.. :shy:shy but believe me its a useful one..
​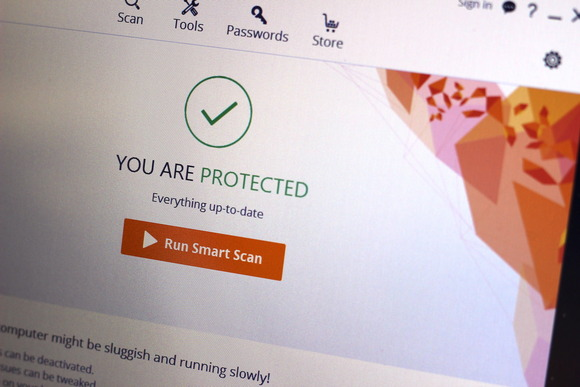 If you have a PC, you're a target.
You need security software. That's as true today as it was a decade ago, despite significant security improvements to Windows over the years. But you have a choice—you can either continue paying the security software vendor of your choice an annual fee for protection or you can take matters into your own hands and build your own suite of security tools using free products. Here's how to keep your PC protected without paying a dime.
The pros and cons of free
Going free can save you some cash, but it isn't a panacea. When you buy a paid antivirus product, you usually get some form of customer support with it; with free products, you are often on your own when it comes to solving problems. Also, going free means that you have to stitch together a combination of utilities, so it sometimes takes a little trial and error to find the best tools for your needs. Premium suites offer seamless, relatively pain-free security solutions.
Free products also often include browser toolbars or other add-ons that you might not necessarily want. In some cases, freebies will include ads that help their makers pay the bills. In some cases, the ads and add-ons are a small price to pay for saving some dough; in others, though, they can be downright intrusive. As ever, be sure to be mindful while you're installing free programs to avoid installing bloatware you don't want, which is often marked for installation by default.
If you can put up with those caveats, going the freebie route might be for you—just think of all the money you're saving.
Grab some antivirus software
Antivirus software is the key component of any security suite, and for good reason—it's going to be your primary defense against malware. And when it comes to free antivirus apps, you have some good options.
Avast Free Antivirus and Panda Free Antivirus are two free products that are worth your attention. According to recent benchmarks published by the German antivirus testing firm AV-Test, Panda's freebie did and excellent job at stopping malware and it didn't result in a single false-positive. Avast Free Antivirus put up solid all-around numbers, though it wasn't quite as good as Panda's showing.
No matter which antivirus app you choose, make sure you pick one that does a good job at catching so-called "zero-day" attacks. Antivirus programs that can stop zero-day attacks are going to be more effective at stopping brand new malware, which is very important given how quickly malware can evolve.
Have a secondary antivirus app
Even the best traditional antivirus software can have a hard time removing stubborn, deeply embedded malware. With that in mind, it's good to have a secondary antivirus app at your disposal.
Malwarebytes Anti-Malware Free can provide an extra layer of security against Internet baddies. It isn't really intended for use as your primary antivirus, but you can use it alongside most other antivirus programs, and it's earned its stellar reputation by offering above-average protection against cutting-edge zero-day attacks. In other words, it can sometimes catch infections that other antivirus software might miss.
Another utility worth downloading is Norton Power Eraser: This free tool targets so-called scareware—those annoying bits of malware that try to get you to buy phony antivirus programs—that traditional antivirus software may miss. Symantec warns that Norton Power Eraser is an aggressive scanner that may occasionally flag a legitimate program as malware, so you'll want to use it as a last resort, but it's a good weapon to have in your PC security arsenal.
Use a firewall
Windows comes with a built-in firewall that's turned on by default. it's a good basic option, but if you want something with more flexibility, you have some options. Take a look at both Comodo Free Firewall and ZoneAlarm Free Firewall: These two utilities come with additional features and configuration options and offer more protection than the built-in firewall alone.
Windows Firewall should suffice for most people. It sits quietly in the background until it detects a suspicious connection attempt, and it's as low-maintenance as low-maintenance can be—but it only flags inbound penetration attempts by default. That's where the more robust Comodo and ZoneAlarm tools come in handy, as they also monitor outbound connection requests, though they require a bit more manual labor as you teach them which processes and applications should be allowed to reach out to the Internet.
Bolster your browser's security
Of course, even with the best security software in place, you can still be taken for a fool online.
Malwarebytes Anti-Exploit Free is virtually a must-install. This itty-bitty program monitors your browser and protects against zero-day exploits that your standard AV program might miss. It's highly recommended, especially with so many exploits specifically taking aim at browsers these days.
McAfee SiteAdvisor will check links in search results and indicate whether they're safe to visit with a small icon next to the link. It also works on social networks like Twitter or Facebook, which tend to be security minefields thanks to the widespread use of URL shorteners as well as viral links of questionable origin.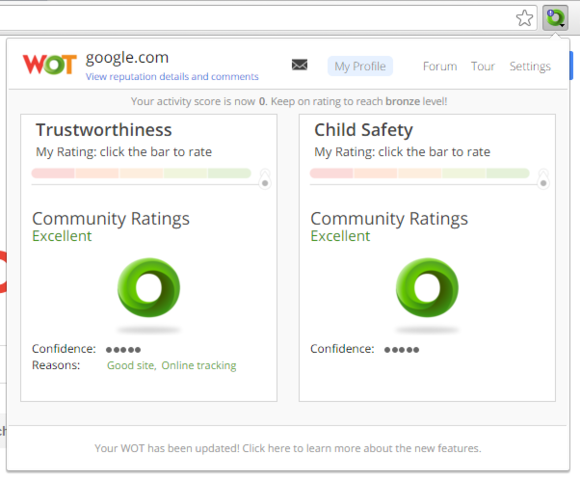 Web of Trust (WoT) is a browser add-on for all popular browsers that basically accomplishes the same thing, but since it's crowdsourced, you can add your own ratings to the mix. And in addition to basic safe/unsafe ratings, WoT lets you see whether a site has been deemed safe for kids, as well as why it's been flagged as problematic (it's spammy, it distributes malware, it's a trap, and so on).
If you're on Firefox, check out NoScript, an add-on that blocks all JavaScript from running unless you approve it. It's a bit of a power-user tool, and it can disable some features on websites you visit, but it can help protect you from all-too-common JavaScript attacks online, assuming you're OK with the added hassle.
Meanwhile, the HTTPS Everywhere extension from the Electronic Frontier Foundation can automatically encrypt your connections to most websites—useful if you want to prevent others on your network from potentially eavesdropping on your Web browsing.
Automatically keep your software up to date
Oftentimes, malware creators don't target Windows itself—instead, they'll target security holes in popular PC software such as Adobe Reader. To reduce this risk, you'll want to keep all your software up to date. Doing this manually can be a pain, so an update checker can save you lots of time.
Secunia PSI is a free tool that does just that: It scans your PC for insecure older versions of popular programs and can even automatically install the latest security patches for them.
Granted, these are only a few of the free security options you have—there are countless other tools at your disposal.
Here are the Download Links for all Softwares discussed above....
Avast Free Antivirus
Panda Free Antivirus
Malwarebytes Anti-Malware Free
Norton Power Eraser
Comodo Free Firewall
ZoneAlarm Free Firewall
Malwarebytes Anti-Exploit Free
McAfee SiteAdvisor
Web of Trust (WoT) browser add-on
NoScript - Firefox Addon
HTTPS Everywhere browser add-on
Secunia PSI
How to build the best free PC security suite